Have you ever asked yourself, which is the smallest research paper? Who has written the smallest research paper? Is it possible to write a very small paper?
If your answer is yes, you are reading the correct article, and you will appreciate this exciting fact.
Before moving further, assuming you are new to Research, lets first understand:
What is Research?
What is the importance of Research?
What is Research?
Research is the name of the work or process by which you comprehend the facts with conscious effort, observe and analyze them with subtle and prudent intelligence to open new facts or theories.
Radman and Mori, in their book "The Romance of Research," have clarified the meaning of Research as A systematic effort to acquire new knowledge.
Importance of Research
Research is a well-planned and scientific method of finding solutions to a wide variety of problems. Under this, an attempt is made to obtain a solution to the problem by collecting various types of data (methodical analysis) about various aspects of the related problem, such as:
Why do students fail in examinations?
Why do children lie?
Now, let's check the smallest Research and Abstracts ever written by scientists:
Shortest Research Paper
The shortest research paper is only zero words long!
Yes, exactly! You have heard it right! It is almost blank!
This paper was published in the Journal of Applied Behavioral Analysis, which is a prestigious Journal.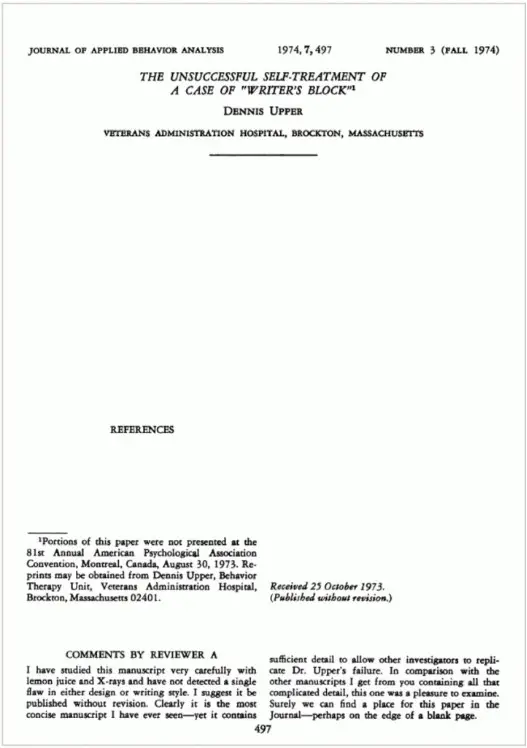 Upper, D. (1974) Journal of Applied Behavior Analysis, 7(3), 497–497.
Shortest Maths Research Paper Ever Published
Proofs in Mathematics are generally complicated, and that is why research papers in the Maths stream are usually very long and elaborated. You will be surprised to hear that the Proof of Fermat's Last Theorem is around 108 pages long. Fermat's theorem paper was published in 1995.
But yes, some brilliant researchers had the potential to make anything possible.
Lander and Parkin's research paper, which focuses on Euler's conjecture (which is related to Fermat's Last Theorem), is the smallest Maths paper ever written or published. This paper contains only two sentences and is extremely easy to comprehend. Below is the image of the same.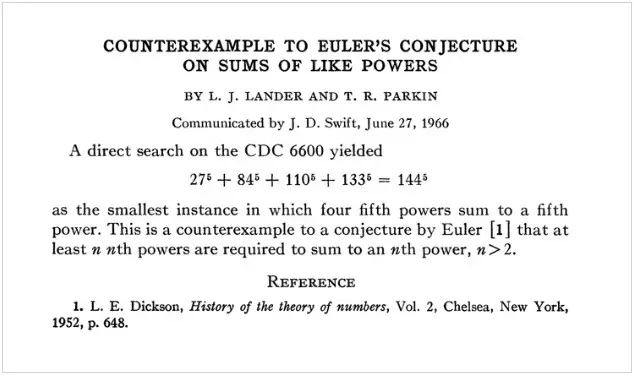 Lander, L. J., & Parkin, T. R. (1966) Bulletin of the American Mathematical Society, 72(6), 1079.
Did anyone try beating this record?
Yes, John Conway and Alexander Soifer, in 1995, tried writing the research paper, having only two words. Yes, you heard it right. Only two words. They also tried to publish the shortest Mathematics paper.
This paper had only two words and two different pictures to show the proofs of a well known open research problem.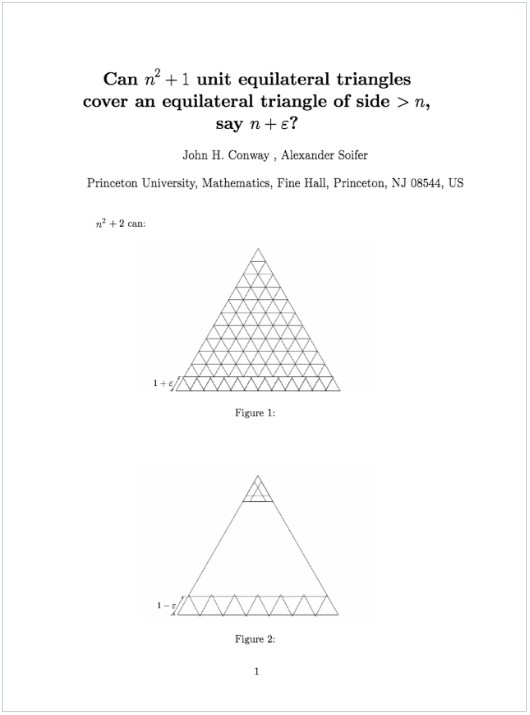 Conway, J., Soifer, A. (2005). The American Mathematical Monthly: The Official Journal of the Mathematical Association of America.
The chief editors were somewhat astonished and replied: "Your article, however, is a bit too short... more explanation would really help."
Authors didn't surrender and could persuade the editors: "I respectfully disagree... What else is there to explain?"
Shortest Abstracts Ever Written
What is an Abstract?
Your Abstract is a brief, complete summary of a paper or work in itself, which others use for a grand presentation. The description of what you see written in the article is abstract. Whether it is a scientific test or a literary paper, it should help your reader understand the paper. Those who are searching for your paper, before reading it, they should be able to decide whether it is of their use of them or not.
Lets now check some of the shortest abstracts ever written.
There are many papers with smaller abstracts. But including all of them here is not possible for us. We tried listing some of the interesting ones and included the pictures of the same.
Gardner, J. K. & Knopoff L. (1974) Bulletin of the Seismological Society of America, 64(5) 1363-1367.

Doyle J. C. (1978) IEEE Transactions on Automatic Control, Vol. AC-23, No.4.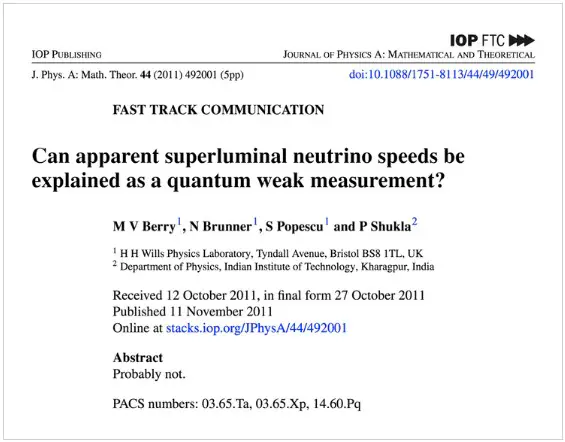 Berry, M. V., Brunner, N., Popescu, S., & Shukla, P. (2011) Journal of Physics A: Mathematical and Theoretical, 44, 492001.
Summary
In this article, we talked about the world's shortest research paper ever published. We also have discussed the shortest research paper of Math and checked various smallest abstracts ever published in different domains.
Frequently asked questions
Which is the shortest scientific paper published?
The shortest known scientific paper published in a prestigious math journal consisted of only two sentences and swiftly overturned a 200-year-old mathematical precedent known as Euler's conjecture.
This paper has appeared in the Bulletin of the American Mathematical Society.
References: