Background not found
Quote Maker
Quote Maker
Best free online tool to create quote pictures
Scroll down to start using it!
---
Enter the quote and author name
Click here to select quotes from our finest collection.
Introducing Quotes Maker by QuotesLyfe
Introducing Quotes Maker by QuotesLyfe
Make beautiful quotes images in seconds
Best free online quote image making tool
Using this online web application you will be able to create excellent quotes images on an eye blink. You don't have to bother much. You just have to enter the quote and see the magic happen in an eye blink. Our quote maker app will write quotes on pictures online for free and the best part is don't need to login or signup to do so. Our tool is fast, secure, and very easy to use. Moreover, it is currently available for free. We don't charge anything now. We have selected some of the best-looking backgrounds, excellent fonts to make your images mind-blowing and attractive to others. You don't need to be a professional designer in order to use this tool. So, why are waiting? Start using our all new famous quote generator application:)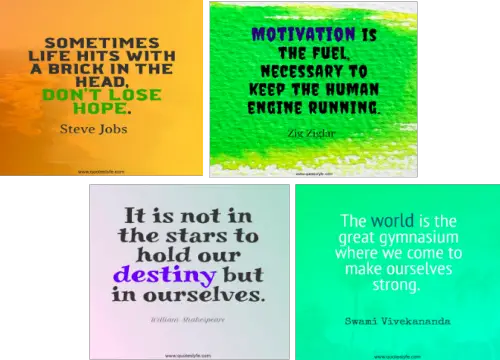 Important Highlights
Platforms supported
The best part of this quote image creator is it works on all the platforms be it is your desktop, laptop, mobile, or tablet. All you need to do is just open this tool in your browser and start using it.
No need to install anything
Since it is a web tool, you do not need to install anything. You just need to open the link of this tool and start using it. No hefty installation required!
Browsers supported
Whether you are using firefox, safari, chrome, internet explorer, or any other browser, you do not have to install any new browser for using it. We have made this web tool keeping in mind it should work on all the browsers. Hence, start creating your quotes images on whatever browser you have.
License
All the fonts and backgrounds used by this tool are safe for both commercial and personal use.
Free to use with no limitations
Currently, this tool is available for free without any limitations. You can create any number of images using this tool. We do not restrict you as of now.
Super intelligent design system
This tool is backed by a highly efficient automated backend algorithm. It itself computes the best font size for your text and adjust well on any background. Your content is automatically well shown with the best size and the best fit for the chosen background.
Suitable for all social media channel
The high quality images created using this quote maker are suitable for all social channels like Facebook, Linkedin, Pinterest, Instagram, Twitter. Just download the image after creation and share it on any media channel of your choice.
How this quote maker works?
How this quotes maker works?
This tool is very easy to use. Just follow these steps and enjoy your created quotes pictures:
Step 1

Enter the quote and click on generate button

Type the quote or text you want to see in the images in the text area. You can also enter the author's name if you want to display it in your image. After entering the details just press the generate button to create your first image.
Step 2

Change the background and font of your choice

Change the fonts and background of your choice by just clicking on Next or Previous buttons.
Step 3

Download

Click on the download button to save your image to your phone or computer. And now you are ready to share it on any medium.
Features
Important features of this quotes maker