Martin Luther King Jr. is one of the most famous and significant American ministers, who also happened to be recognised as the most renowned activist and spokesperson.
He led the civil rights movement from 1955, and very passionately fought against injustice and inequality.
King has written several great books like "I have a dream", "Where Do We Go from Here", etc. Some of the most popular and inspiring Martin Luther King Jr. quotes are as follows:
Lightning makes no sound until it strikes.
This quote essentially focuses on the fact that if an individual is moving in silence, it does not mean they're moving slow. Rather, it is always better to work silently without boasting or spreading the word a lot because this will highlight your achievements even more.
Being quiet all along and then coming out with a smash of success is just about the perfect medicine for your haters and enemies.
Besides, big words are of no use until and unless you prove yourself and act on them.
Every man must decide whether he will walk in the light of creative altruism or in the darkness of destructive selfishness.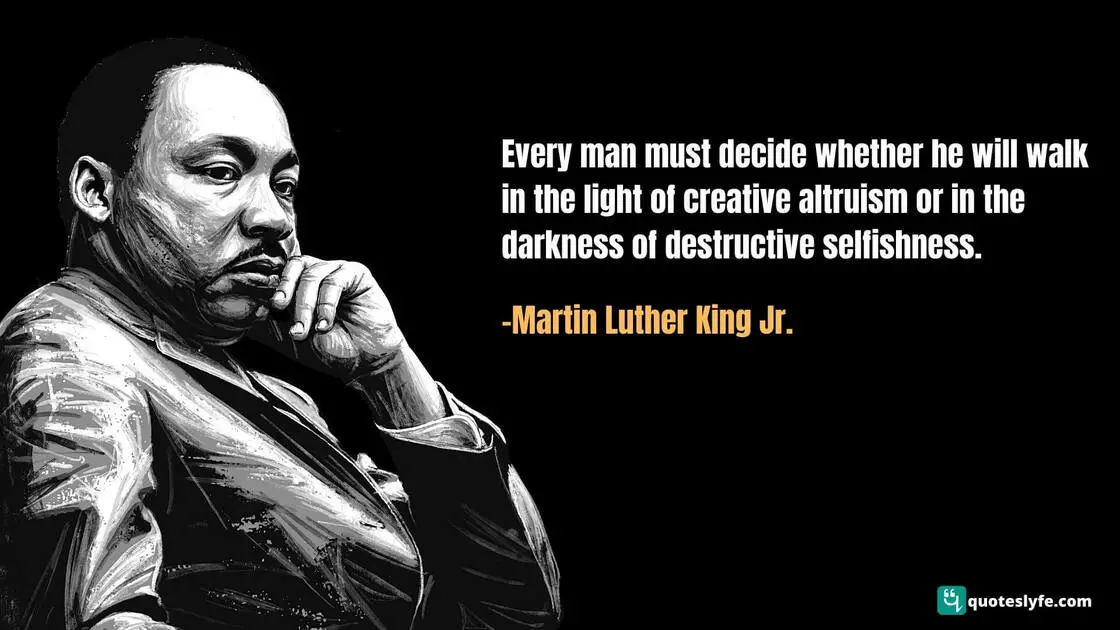 Altruism requires engaging in the act of helping people and being kind and compassionate towards everyone. Selfishness, on the other hand, is rather perilous for oneself as well as for the others but is more self-destructive.
King here asks people to choose between being a good person and leading a quaintly good life or being a bad one and destroying both yourself and other people.
All labour that uplifts humanity has dignity and importance and should be undertaken with painstaking excellence.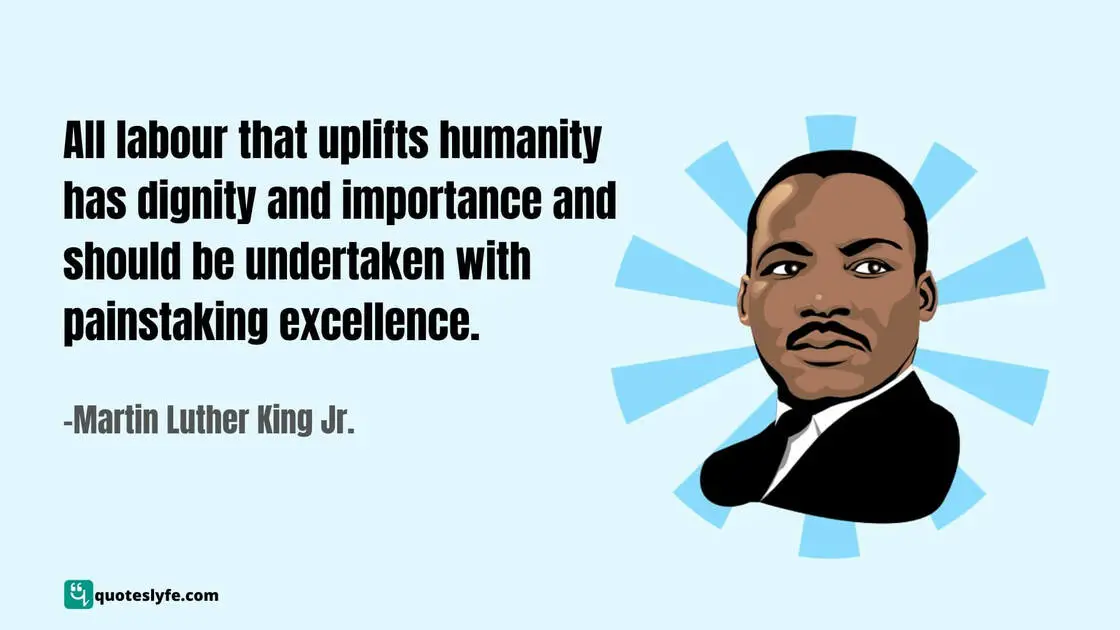 Being a profound activist, King has always been the leader of the common people and has severely fought against the rather unjust acts of society. He never believed in belittling any profession or job and is asking people to do the same through this quote.
Any service and any kind of labour that helps in the betterment of the society economically, socially, or politically, should be given the same respect and dignity as any other. No job is small, and every job takes time, energy, and hard effort, which is why any and every work should be acknowledged thoroughly and should never be judged.
An individual has not started living until he can rise above the narrow confines of his individualistic concerns to the broader concerns of all humanity.
Until and unless a person rises above petty selfishness and looks beyond his/her personal benefits and gains, they are not considered to be living to the fullest. One can only unlock that level of life when one starts to think about society as a collective and not just oneself and has actual concerns for somebody other than themselves.
The quality, not the longevity, of one's life is what is important.
Always put quality above quantity because if the former is not satisfactory and good, then the latter is not going to make much of a difference.
The way an individual lives their life is way more important than for how long they live it. People could live their best lives in aa short span, and people with a long life would be doing nothing but existing. This is how important the quality of one's life is.
A life cannot live.
No matter how clever or treacherous your lie is, it will never be able to overthrow the truth, and the latter will always prevail. The truth is bound to come out regardless of how hard you try to hide or shadow it, for it is the truth that holds the capacity of greatness and growth in the world, and not a lie.
Only in the darkness can you see the stars.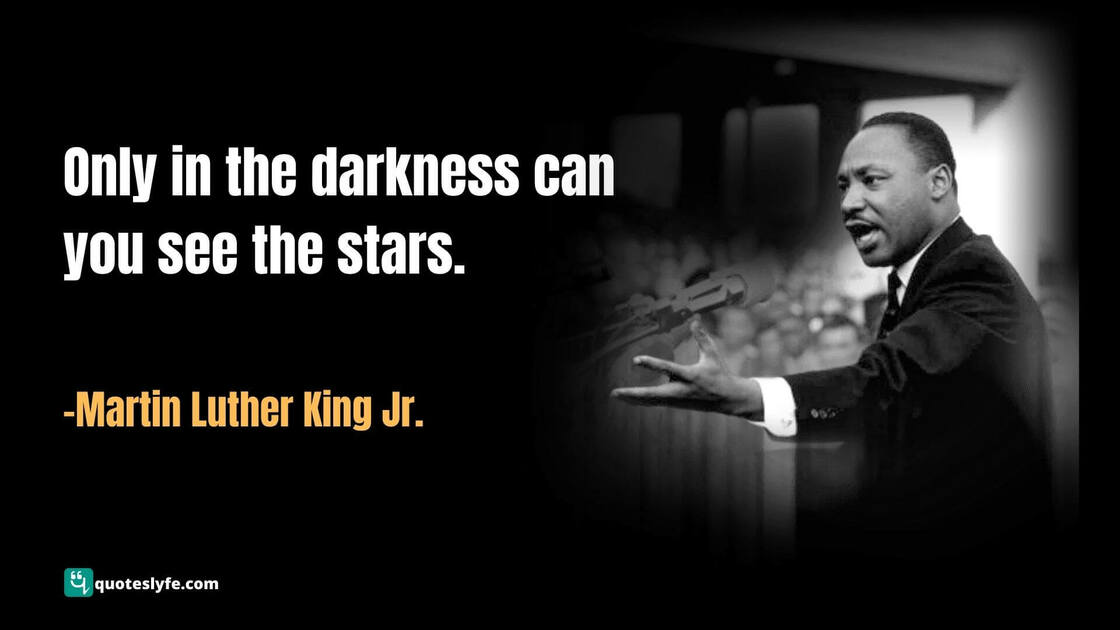 One cannot view the beautiful stars in the bright light of the day. Darkness needs to take over the day for one to see the stars. In the same way, one cannot excel or shine in life without failures and tough times, for difficulties will only make you stronger and help you grow.
After all, for you to be at your best, you will need to go through the worst.
Let no man pull you so low as to hate him.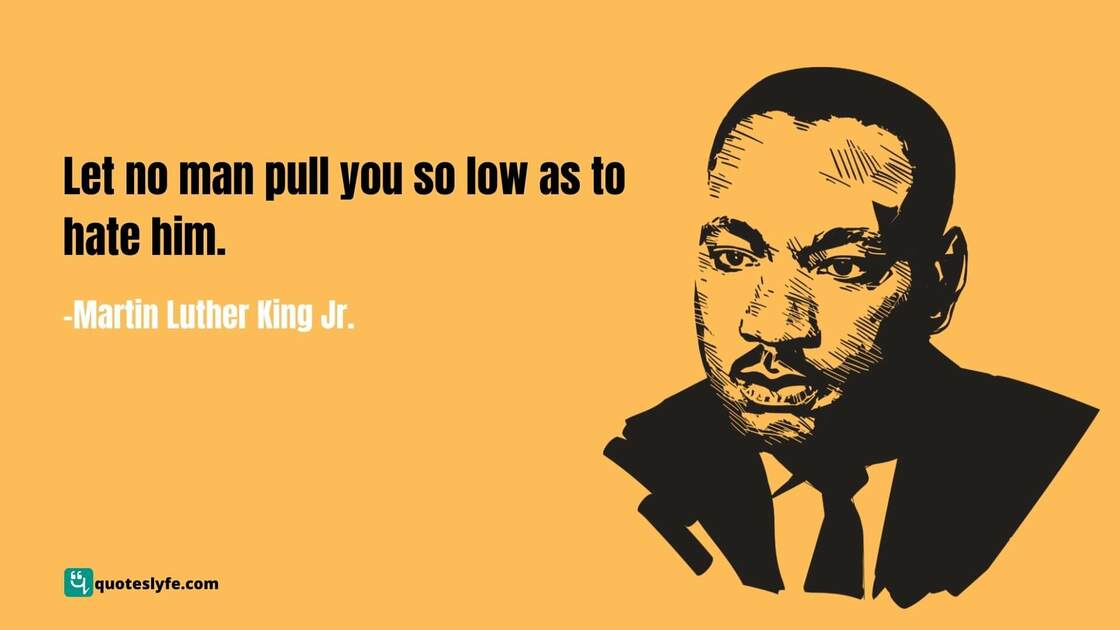 Hatred not only passes on negative energies to the other person, but it also wastes up a lot of your own time and energy and further tends to convert it into exhaustingly negative energy which is very unhealthy. Hating someone will always cost you of your peace of mind, whereas kindness and compassion cost you nothing and also makes you feel good too. It's a win-win for both parties!
Rise above futile vendettas and don't hate on anybody; you can always do better than that.
We must accept finite disappointment but, never lose infinite hope.
One must never lose hope regardless of how difficult times might get for it is that hope which will spark up the will to go on in you when you need it the most. This is because disappointments are only temporary, but the hope is forever.
Forgiveness is not an occasional act; it is a constant attitude.
Forgiving someone tends to reflect on your personality and attitude and speaks about you, not about the other person. Forgiveness will make you feel better too for holding a grudge against somebody and letting hatred take over requires a lot of one's time as well as energy, and only to worsen it for themselves.
The ultimate tragedy is not oppression and cruelty by the bad people but the silence over that by the good people.
Someone who is not a part of something wrong but chooses to keep silent instead of standing or speaking against it is as bad as someone who is indulging in an unjust or a wrongful act or orchestrating one.
One should not stay quiet and watch something bad happening because an ignorant attitude towards such things is the last thing this world needs.
If you don't support something evil, then you need to show that you don't because staying silent is the same as being a part of it.
Injustice anywhere is a threat to justice everywhere.
King had always been a strict follower of justice and spent his entire life battling against injustice. This quote is not merely an expression of his thoughts and perceptions but is an established fact followed up by his personal and collective experiences.
It is not enough to have justice in scattered parts of the society; until and unless there is no trace of injustice, the goal would be incomplete for injustice anywhere present on any scale is threatening and dangerous for justice everywhere else.
Continue reading some of the inspiring Martin Luther King Jr. quotes.
The time is always right to do what is right.
Doing what is right will never go out of fashion.
One does not need the perfect timing or the best opportunity to do something right because it is always the right time for that. And a person who refuses to believe that and keeps on giving excuses for not being able to do something right is only someone who neither has a sense of wrong and right nor does he/she have the guts to do what is right.
Love is the only force capable of transforming an enemy into a friend.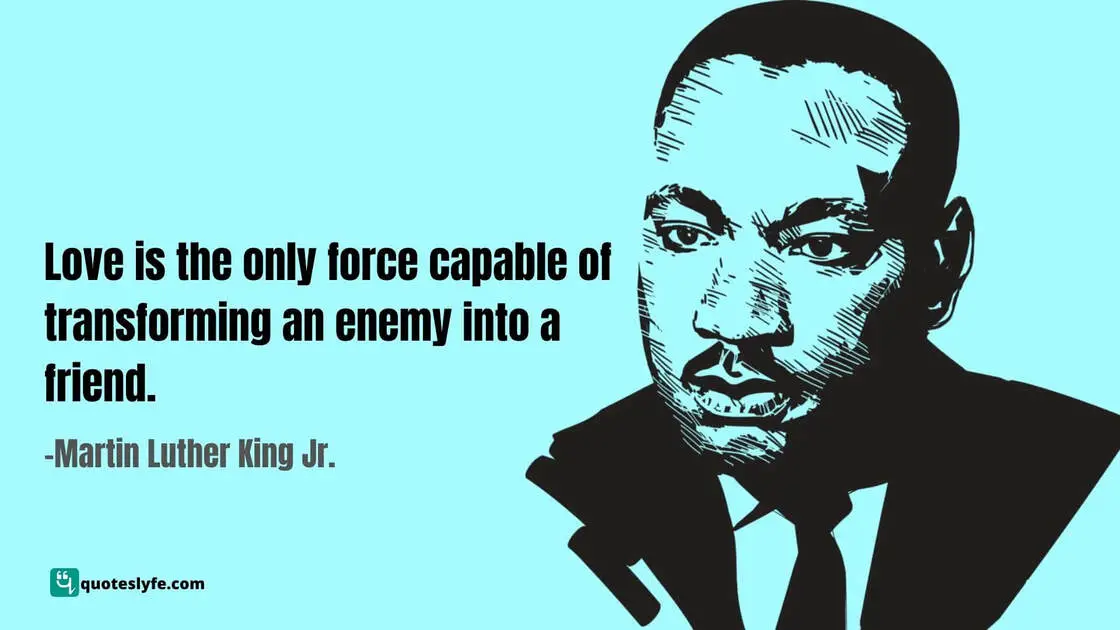 Not hate, not war, or no kind of violence or oppression is capable of turning an enemy into a friend. It is only love that holds the power to heal and transform and to step above the bad aspects of life and focus on the better ones. It is only love that teaches one good values and morals and spreads happiness and positivity in the world.
War and violence are what destroys the world and the people living in it. It is only love that tends to make the world a better place and humans capable of growth and forgiveness.
Means we use must be as pure as the ends we seek.
One cannot expect the end product or the result to be pure and good if they use evil means or malpractices to reach there. The efforts you put in must be genuine enough if you wish to get your desired results.
We must use time creatively.
One must always use their time creatively and wisely and should never commit the mistake of taking it for granted because it will prove troublesome for yourself in the long run. Time does not stop for anybody and will surpass you; once it passes, it will never come back to you. This is why one should always be extra careful about where and why they are investing their time and should always respect it.
The better the ways through which you utilise your time, the better result and greater the satisfaction.
No person has the right to rain on your dreams.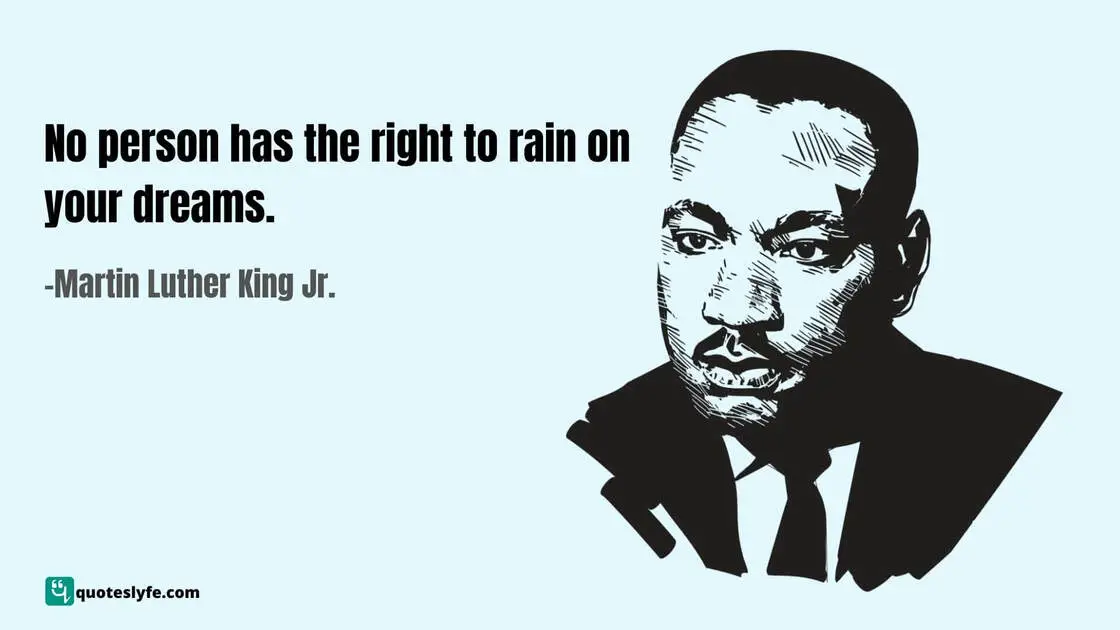 Nobody ever has the right to tell you whether your goals are too high or too low, or anything related to your dreams and aims. Never let anybody's words or actions dishearten your dreams for it is you who has to work for it and achieve it and not them.
Anybody who tries to discourage you or demoralise you is not even worth your time and energy and is simply jealous of your goals as well as of you. If they have the time to talk about other people's future and goals, then they are certainly not doing anything about their own. Don't let a person who doesn't have any aims in their life tell you anything about yours.
Let us not seek to satisfy our thirst for freedom by drinking from the cup of bitterness and hatred.
You cannot possibly achieve justice and freedom through the means of war and hatred. Indulging in acts of violence will only make the goal of making the world a better place, more difficult.
If you wish to enjoy the luxury of freedom, you need to make sure that you work for it in the most genuine and honest way possible and not by becoming a part of something as evil as hatred and revenge.
Not everybody can be famous, but everybody can be great, because greatness is determined by service.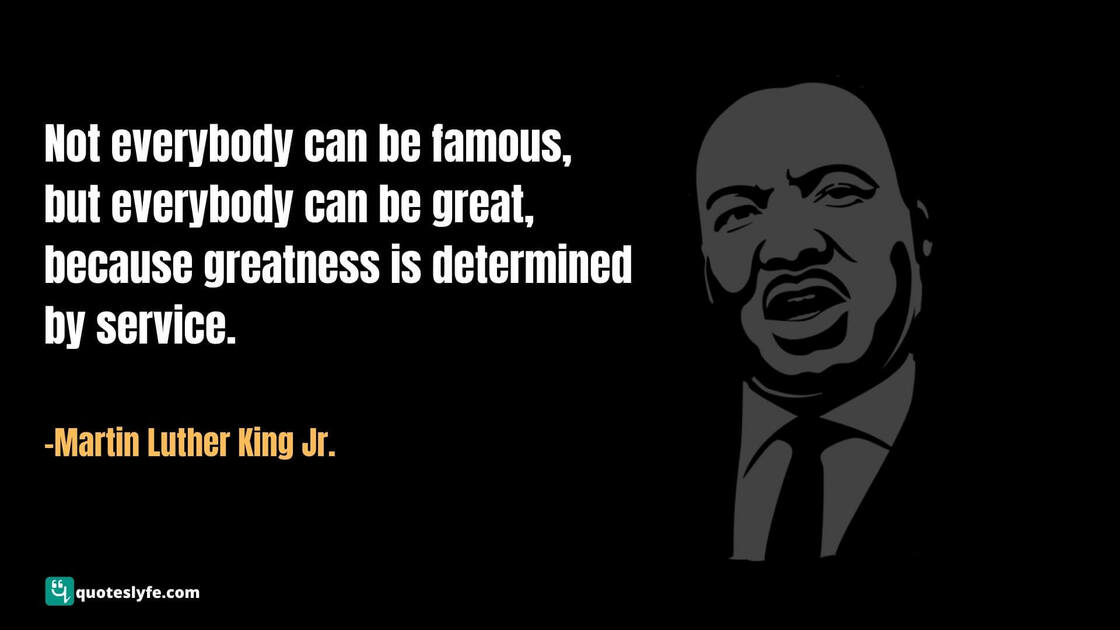 An individual does not need to be famous in order to be great. This is because greatness is measured by service, by the efforts you put in for the betterment of the society and others, by how much are you willing to do for others, and by thinking about others first and about yourself later.
Everyone cannot be popular, but they unquestionably can be great!
Be the peace you wish to see in the world!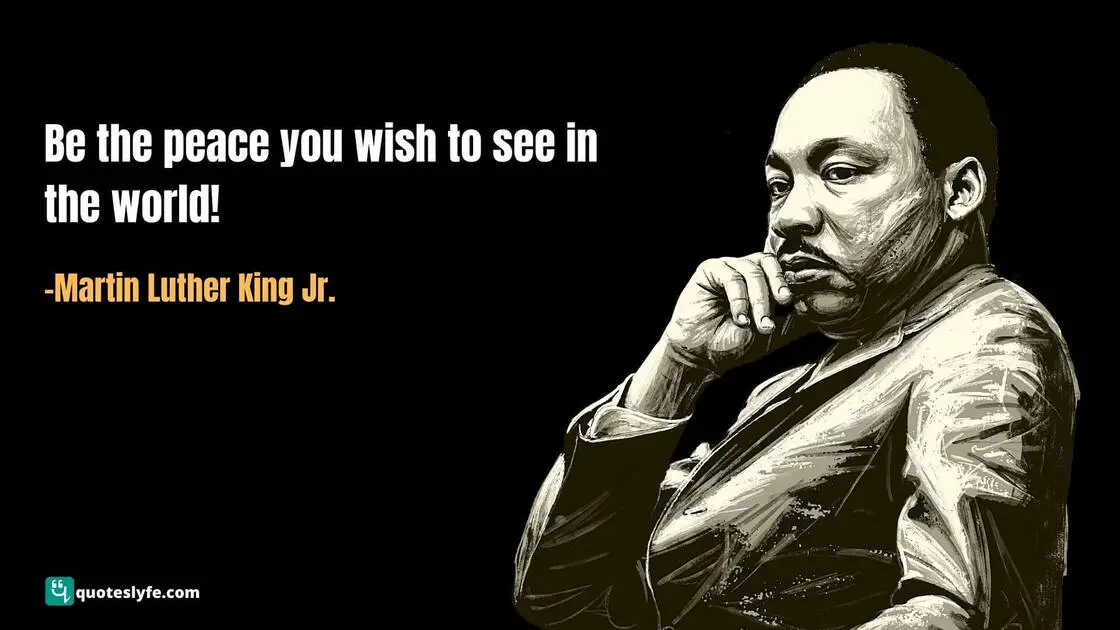 Change starts from within and around yourself. If you wish to see the world as a better and more progressed place, then start by being a better person yourself first and do all that you can to change your surroundings as well.
If you wish to see peace, avoid carrying the burden of evils such as hatred, violence, and bitterness first, and then ask others to implement it.
Start by small steps, and you will be able to see a prominent change in yourself as well as the world around you.
Conclusion
In this article, we will find some of the best Martin Luther King Jr. quotes.These top quotes are based on Humanity, Philanthropy, Forgiveness, Life, etc.
---
Co-author: Khushi Shah
Khushi has just passed her school and is now studying at PDPU. Apart from writing, she likes to sketch and dance. She also has other blogs where she posts proses and poetry.