Gifted ones have natural abilities, while talented ones have systematically developed skills. Variable factors affect talent development, such as parent's encouragement and support, family bonds, the provision the child's school makes and even the social ethos of the community.
Encouragement and assistance from home and school play a significant role in developing talent, but the child must maintain motivation and dedication to succeed. A child may be gifted in any domain of ability, intellectual, creative, physical, or social. Children, no matter how much gifted cannot achieve success unless they are prepared to work to develop their expertise.
Identification of Gifted Children
Parents are highly effective identifiers of the talents their kid can develop. Specific intellectual and physical characteristics which a talented child reveals which differentiate them from other children are- unusually early and fluent speech, early reading ability, early movements, an extraordinarily retentive memory, intense curiosity, key desire to learn things, mature sense of humour.
Intellectually gifted children differ from the children of their age in social and emotional development. They are more mature, both socially and emotionally. IQ tests can provide information about a student's intellectual profile.
Signs to identify that your child is gifted and talented:
If your child is gifted or talented, he might show the following behaviours:
Be able to concentrate and focus well on tasks
Be curious and ask sharp questions
Learn very quickly
Have an excellent memory
Be very imaginative and creative
During this Corona pandemic, while I was making a report of the young prodigy, I came across a three-year-old talented kid, named "Palaksh Oswal". I was astonished after he came into my notice. Palaksh has got exceptional skills. Unlike the kids of his age, he was more curious about things. I found him to be very imaginative, and he has his own way of expressing things. His grasping power is also palpable. He can learn and perform tasks very quickly. He has got excellent communicating skills. Palaksh is very friendly in behaviour; he can make friends easily. He has a very keen desire to learn new things. I found him to be more enthusiastic and creative. He likes to participate in various events conducted socially and at the school level.
Some of the achievements I came across are mentioned as follows:
1. As a toddler, he was quite expressive and has got a YouTube Channel at a very young age- "Monty Dada ki Vines." This channel includes funny videos and is full of entertainment.
2. At the age of 3, while most of the kids are still struggling with there speech, Palaksh performed Poem Recitation on stage in front of the crowd and distinguished guests without any hesitation. He is a very courageous and confident child.
3. Palaksh has also won the "INTELLITHON" Competition in Leadership Skills category at a very young age.
4. During Corona, he has made various Corona Awareness Videos:
1) Corona Awareness Video 1
This was the first video of Palaksh regarding corona awareness. It was shown on National Media in "ABP News", and also in various local news channels and Newspaper. He got an appreciation letter for the same. It was liked and appreciated on multiple social media platforms.
2) Corona Awareness Video 2
Video Link: Click here
Through this video, Palaksh demonstrated India's stand for the world's most affected country USA.
This video was retweeted by Consulate General of India.
It was also retweeted by Mr Sandeep Chakravorty (IFS, Joint Secretary, MEA, Govt. of India)
3) Corona Awareness Video 3
This was the joint video involving District Collector, MLA etc.
This video was liked and appreciated on various Social Media Platforms.
It went viral on social media and is covered by many Newspapers.
Viewing this, a children National Newspaper "Kids Age" with over 9 lac Subscribers offered him to review their Newspaper.
The review video was highly esteemed by the Brand, and they wanted a lasting relationship with the kid by appointing him as their Official Brand Ambassador.
This makes him probably the Youngest Professional Brand Ambassador in the world.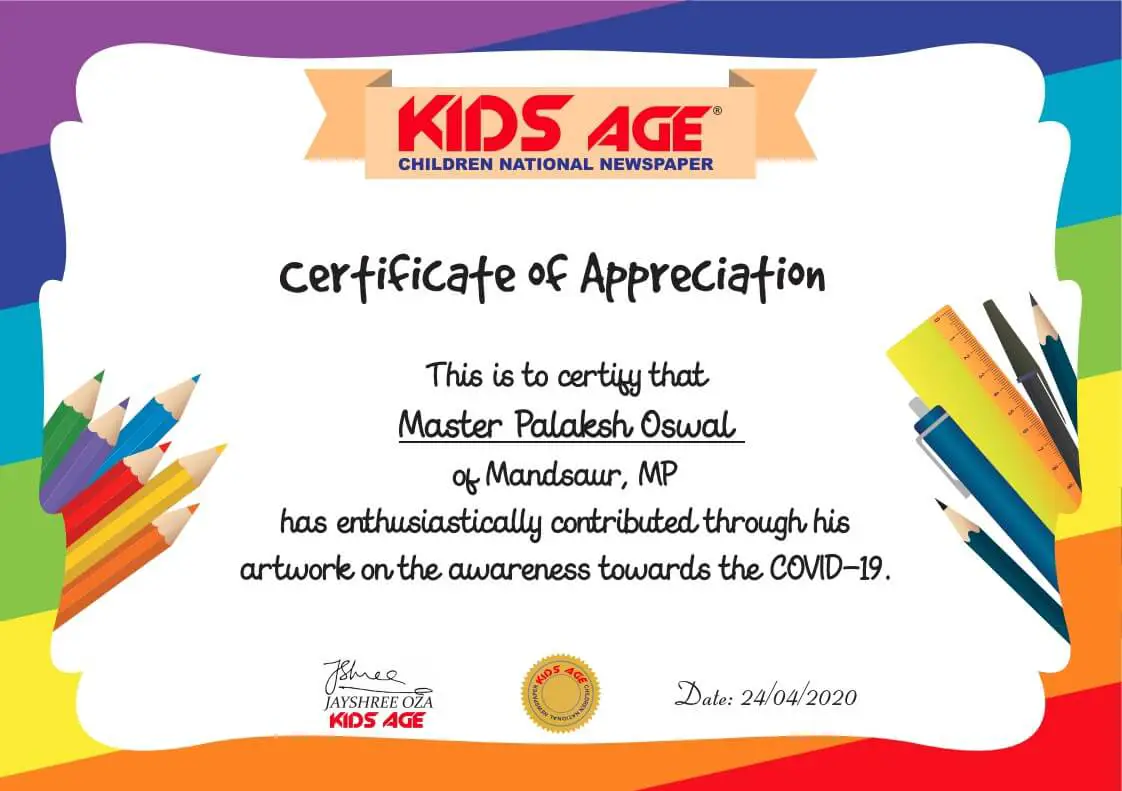 Certificate: Kid's Age
Conclusion
There are many factors which encourage and contribute to make your child a prodigy. The domain of interest, family support, parent's efforts, education, and the environment your child is brought up to play a crucial role in enhancing your child's talent. Like in the case of Palaksh, every parent must support their child in every possible way and allow your child to lead always. I hope this article will be helpful in promoting your child's talent and encourage parent's round the globe to make their child a prodigy.