The greatest dramatist in the world, and the most popular and brilliant writer in English language, William Shakespeare, besides being a playwright and actor, was also a poet. He is also regarded to be England's national poet.
The theme of his plays revolved around a variety of genres and depicted tragedy, death, love, magic, war, vendetta, and mystery in the most beautiful and exciting way. Some of his best and most famous works are Romeo and Juliet, Macbeth, Hamlet, etc. He was also widely known for his sonnets and his great theatre performances.
Thanks to his extensive talents and skills, Shakespeare was also popularly known as "The Bard of Avon".
Shakespeare's quotes and sayings have been just as popular as his work, and these live on till date, just like his spirit does in our hearts. Here are some of his best quotes:
It is not in our stars to hold our destiny but in ourselves.
We are the ones to control what happens with our lives and how, not the stars or God. We hold our fates in our own hands, for it is us who makes every decision that shapes our lives. Every move we make, good or bad, it ultimately becomes our own choice, which is why it is only us, who has a hold over our destinies.
Hell is empty, and all the devils are here.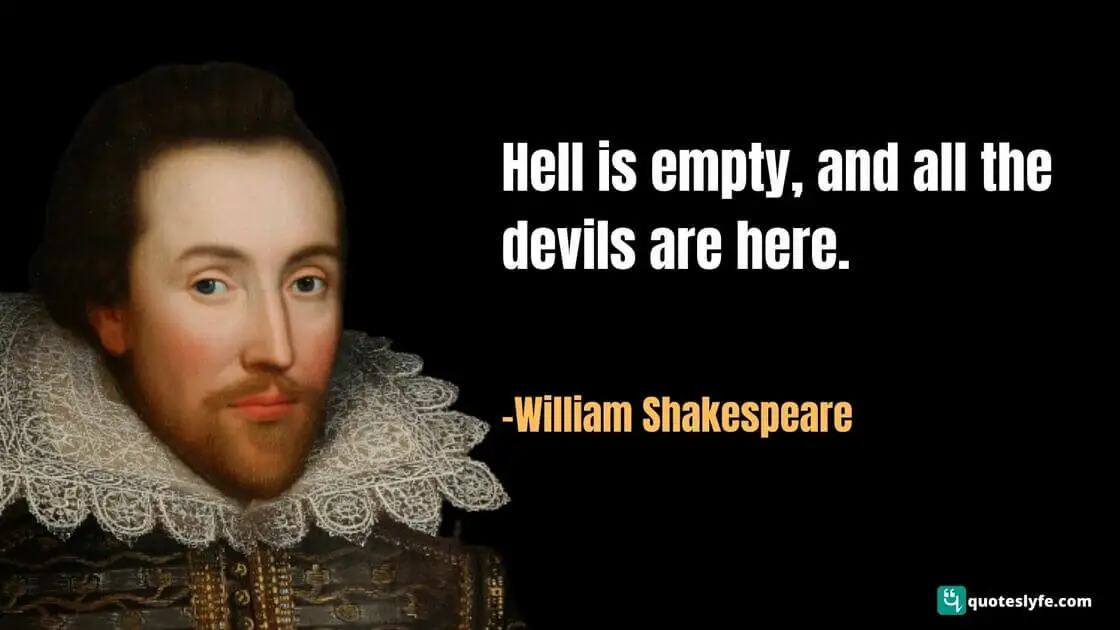 Hell is generally where all the evil and the demons reside. Shakespeare, with this statement, has tried to deliver the message that the world has become such a bad place because of humans, that they themselves are the devils, and because humans reside on Earth, hell is empty.
With war, hatred, disease, pollution, poverty, and other such evils wandering around the world due to the acts of mankind, he has righteously said that the devils reside on Earth and not in hell.
Cowards die many times before their deaths; the valiant never taste of death but once.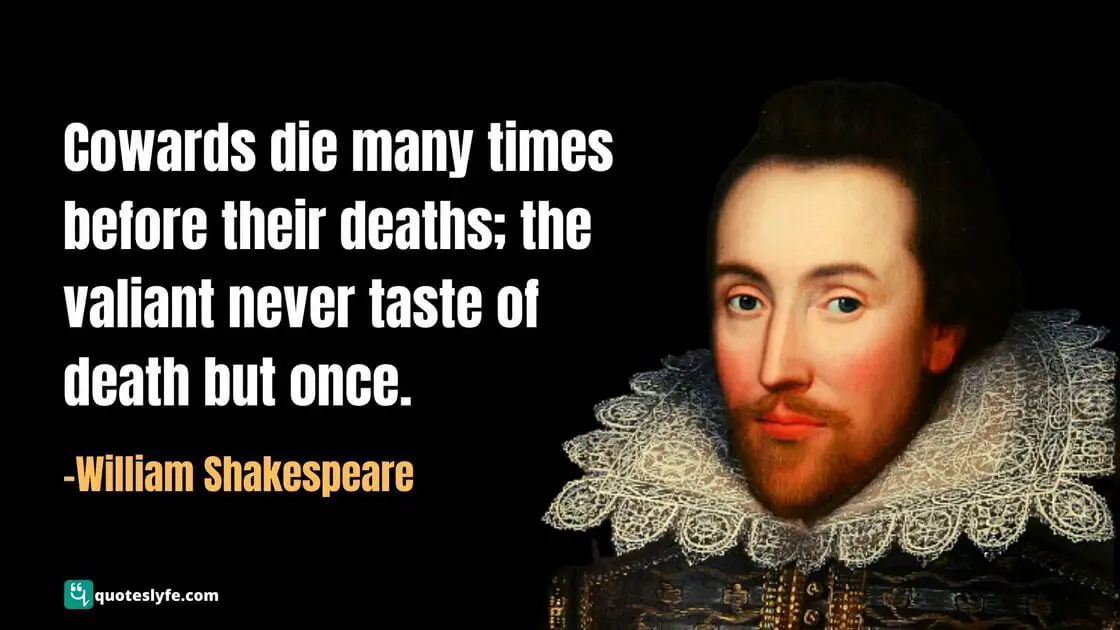 A coward is someone who spends his life constantly in fear, thereby not being able to live it to the fullest. This is because when we let our inhibitions stop us from doing something, be it anything in life, we let them take a toll on us and kill a part of us that could have seen growth and betterment.
A courageous person, on the other hand, is someone who instead of his/her fears, lets their self-confidence and belief in oneself take over, thereby being able to genuinely enjoy the essence of life. After all, life is all about taking risks.
God has given you one face, and you make yourself another.
Here Shakespeare is talking about the masks that people tend to put on in order to hide their true nature and personalities.
We tend to portray ourselves as someone who we are not, just for the sake of others. Even if someone hides their true self for any other reason, they just should not because then what's the point? If we keep deceiving people by showing them something that is completely different from what's underneath it, we aren't doing justice, not only to them but to ourselves too.
Love all, trust a few, do wrong to none.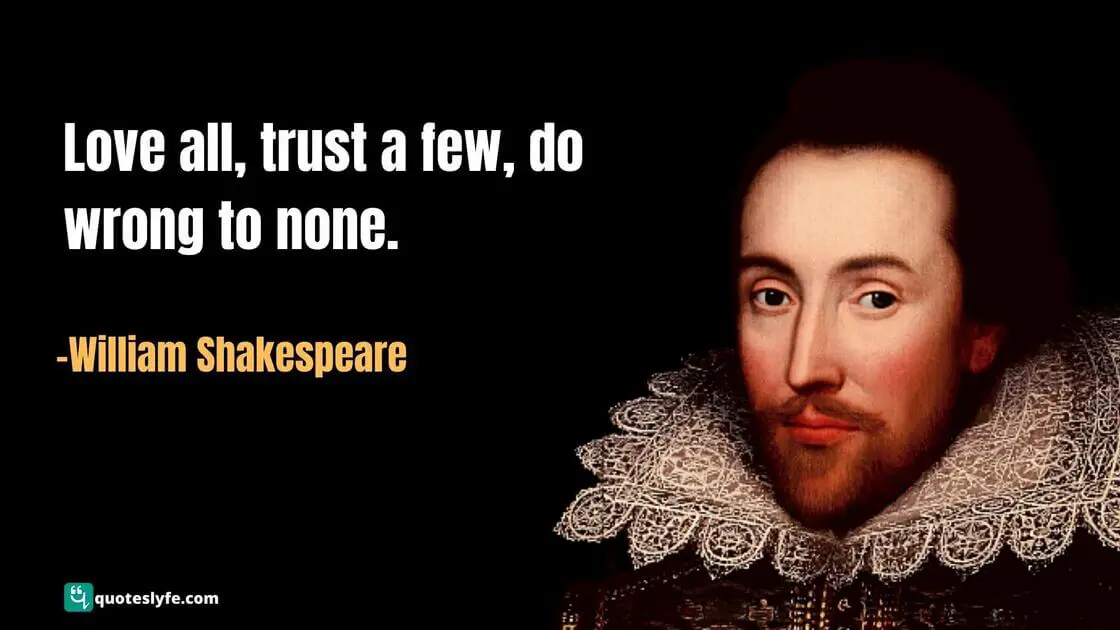 One should be kind and gentle to everyone, and love people regardless of their gender, race, colour, or caste, for at the end of the day, we all bleed the same, and we all deserve the same respect and love. Therefore, treat people the way you would want to be treated.
But don't make the mistake of trusting everybody. Although we all deserve love; trust, however, needs to be earned. This is why one should always be greatly cautious of the person in whose hands they are placing their faith and trust in and whether or not they are doing so for the correct reasons.
But that also does not mean that you treat someone badly. You not trusting or believing someone does not grant you the right to be rude to them or do them wrong in any way.
One can always be kind and polite to someone whom they don't trust, for it only requires you to be a good person and nothing else.
The course of true love never did run smooth.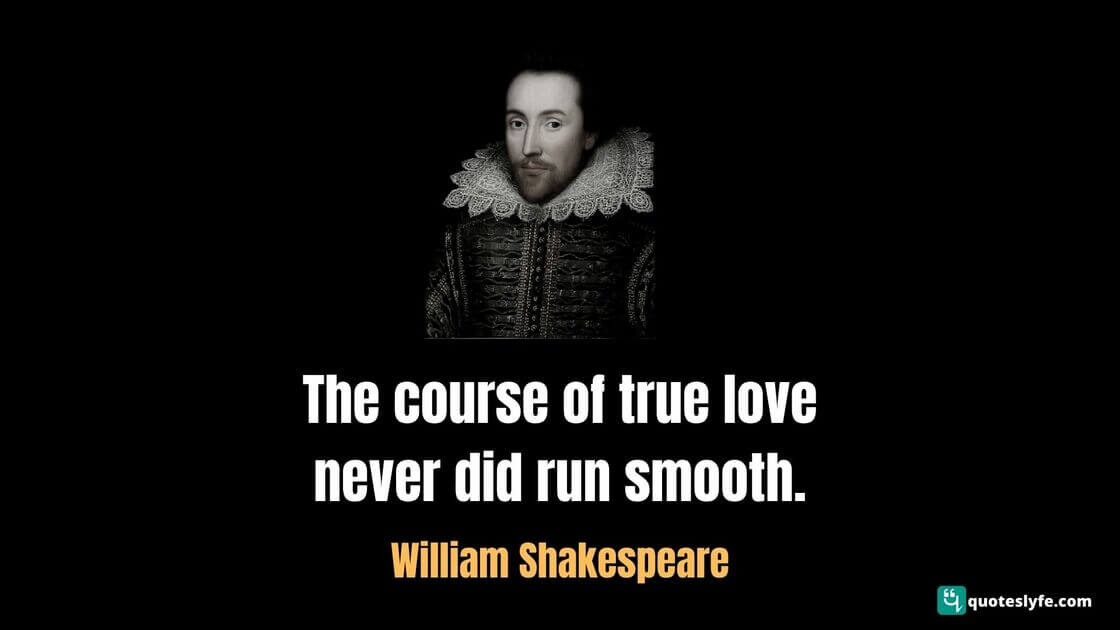 A love that is real and pure will never be easy to endure. It is going to be a destination with a rugged and rocky road, with ups and downs, and many hindrances. But that is the essence of true love, for it is all about whether or not you are able to survive the storm before you get to see the rainbow.
Besides, what good ever comes to anybody easily?
Better three hours too soon than a minute too late.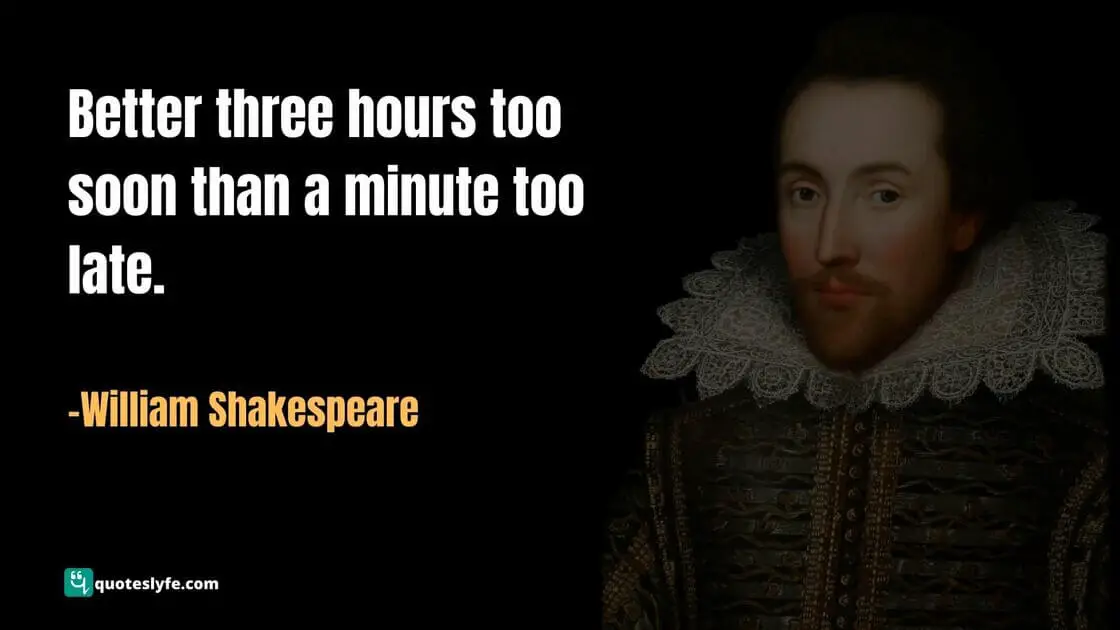 Being early is not going to raise a question on your reputation or your time management skills, but being late will dent them. This is why the former is always a better option than the latter.
Punctuality adds up to one's reputation, as it makes you look professional and serious, and polishes your personality, thereby making it more impressive. Being early thus, will only work in your favour, unlike being late, which will do the exact opposite.
How far that little candle throws its beams! So shines a good deed in a naughty world.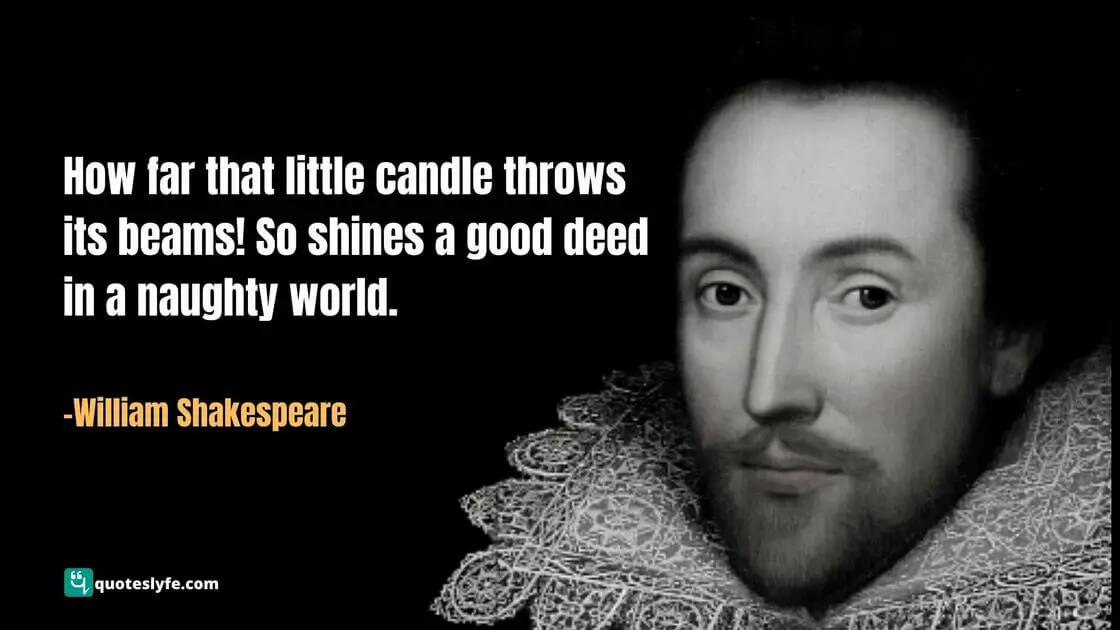 By comparing the light of a candle to a good deed, Shakespeare talks about the authenticity of the latter. In the way, the flame of even a small candle is more than enough to light up a dark room. Similarly, an act of kindness or that of a good faith, holds much more value than people think it does. In a world full of hatred and crime, even the smallest of good deeds is bound to make a change, and bring light and peace, at least to some extent.
Change, regardless of how huge or tiny it is, still remains change and is always going to be noticeable.
The empty vessel makes the loudest sound.
We often tend to underestimate people who possess knowledge lesser than us, people who choose to stay silent, and people who we think don't have any great talents or skills. But it is exactly those people, who will prove everybody wrong and shine the brightest, and fly the highest, for the vessel which is empty, when tested, tends to make the loudest sound, beating the other vessels that were already filled.
My crown is called content, a crown that seldom kings enjoy.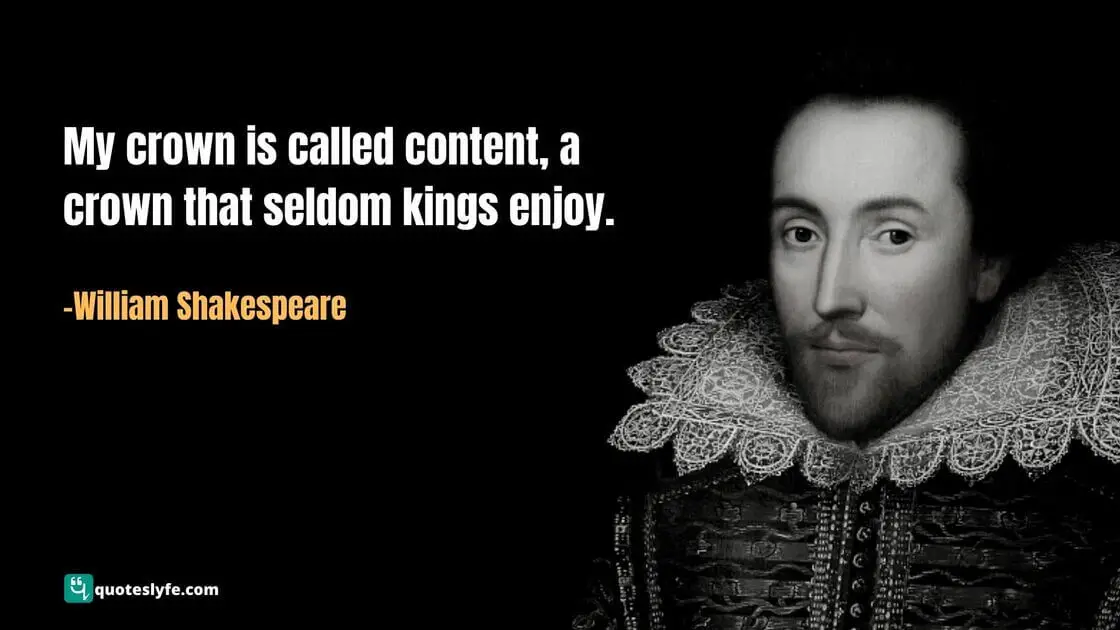 Through this quote, Shakespeare is talking about the royalty, by which he means feelings of content and satisfaction. He compares those feelings with a luxury as royal as a crown. But often kings who wear crowns, tend to be greedy and are seldom satisfied with the legacy and the kingdom they have a hold of. This is why Shakespeare says that the crown because of which he is happy, the kings only ever are.
Heat not a furnace for your foe so hot that it do singe yourself.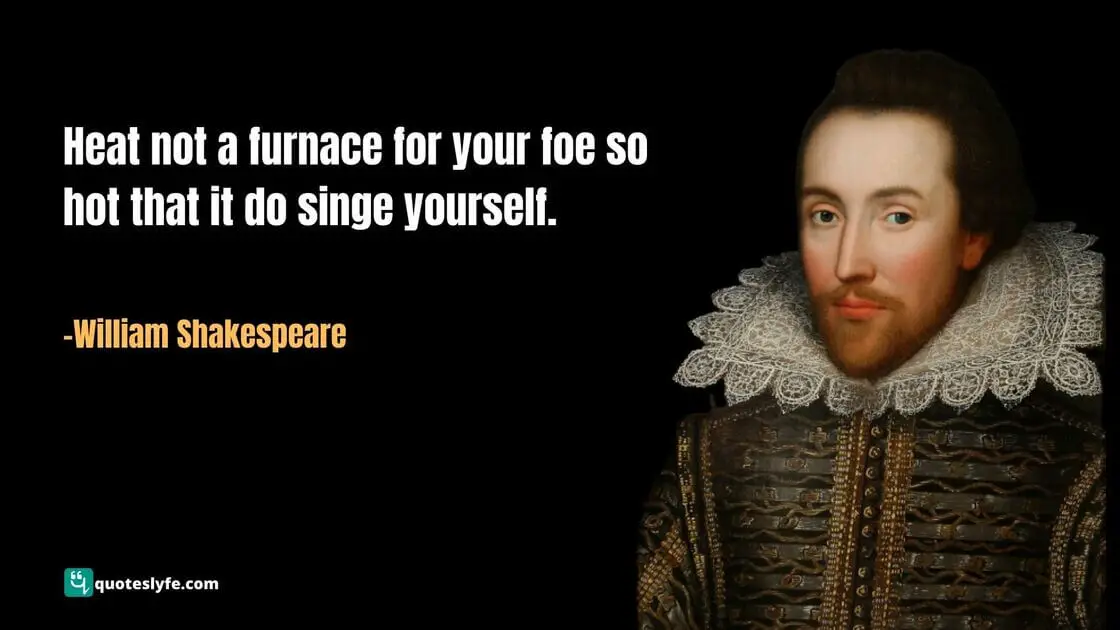 The power of hatred is so evil, that it tends to get out of hand ad backfire on oneself. This is why, one should always be careful to not get intertwined with hatred, for it will harm you more than it will your enemy. While setting traps for your enemy, make sure you don't become the victim of it yourself.
What's done can't be undone.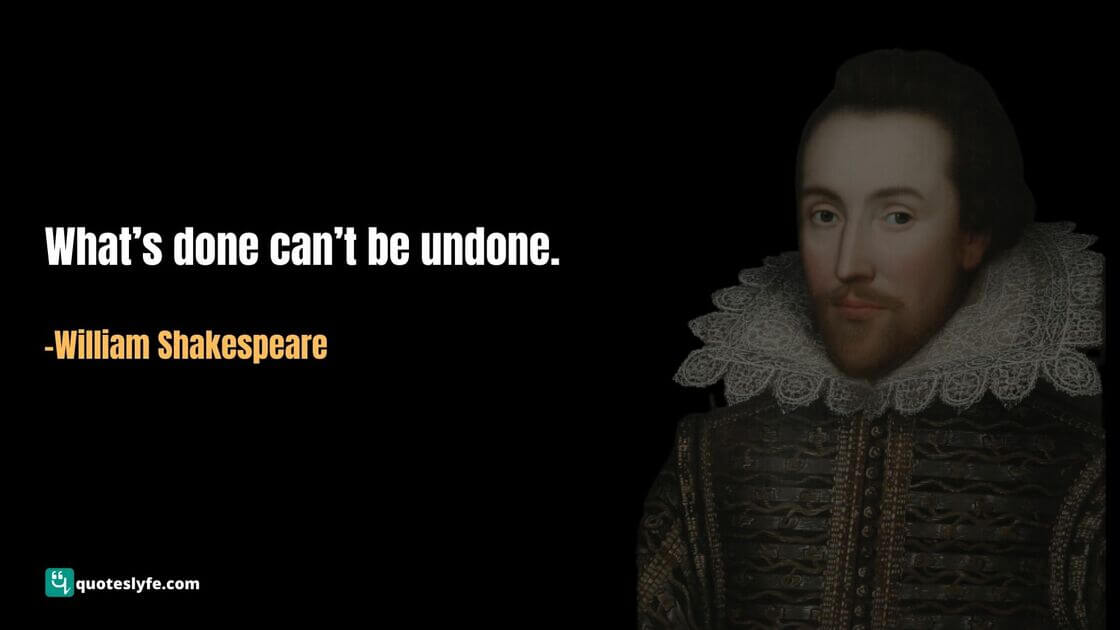 Once something is set in motion, you decide something and act upon it, or any action of yours for that matter; once you do something, there is no undoing it. Just like once you waste time, you don't get it back, in the same way, once something is done, you cannot take it back or undo it.
Therefore, always think twice before doing anything. And don't simply think about the short run, keep the future in perspective too while doing something.
Always remember, you are just one step away from making a decision that might change the whole map of your life. So, act wisely.
Give every man thy ear, but few thy voice.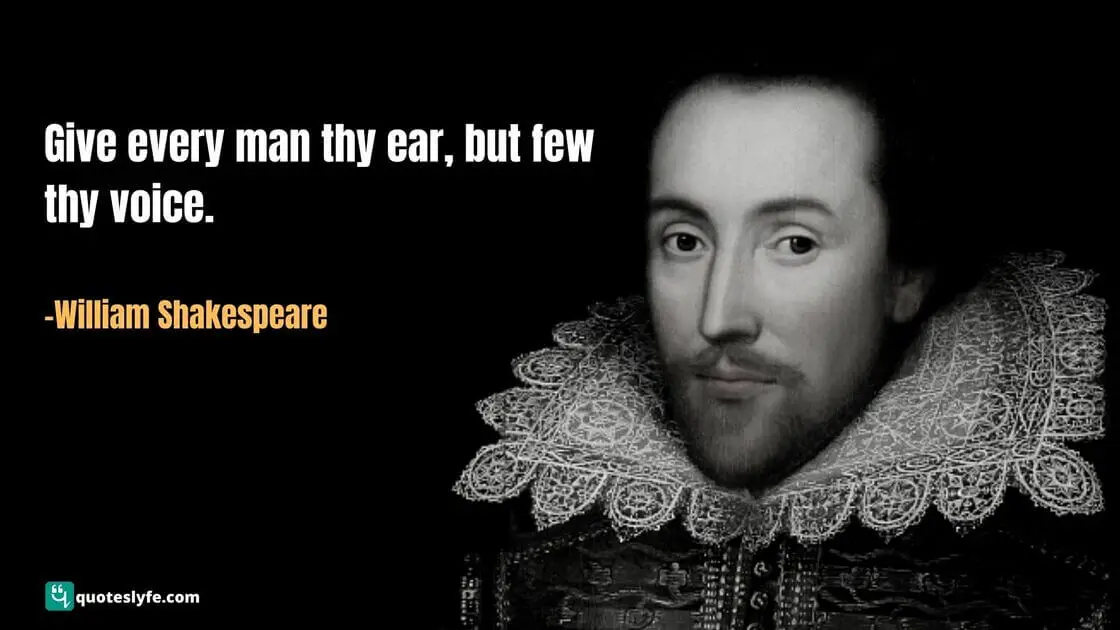 Listen to everyone and give them the chance to represent their thoughts and opinions to you. But don't speak to everyone. Make sure you only present your perspectives and opinions to a chosen few, whom you trust. Always remember that it is alright to listen to people, but not everybody deserves your voice.
Wisely, and slow. They stumble that run fast.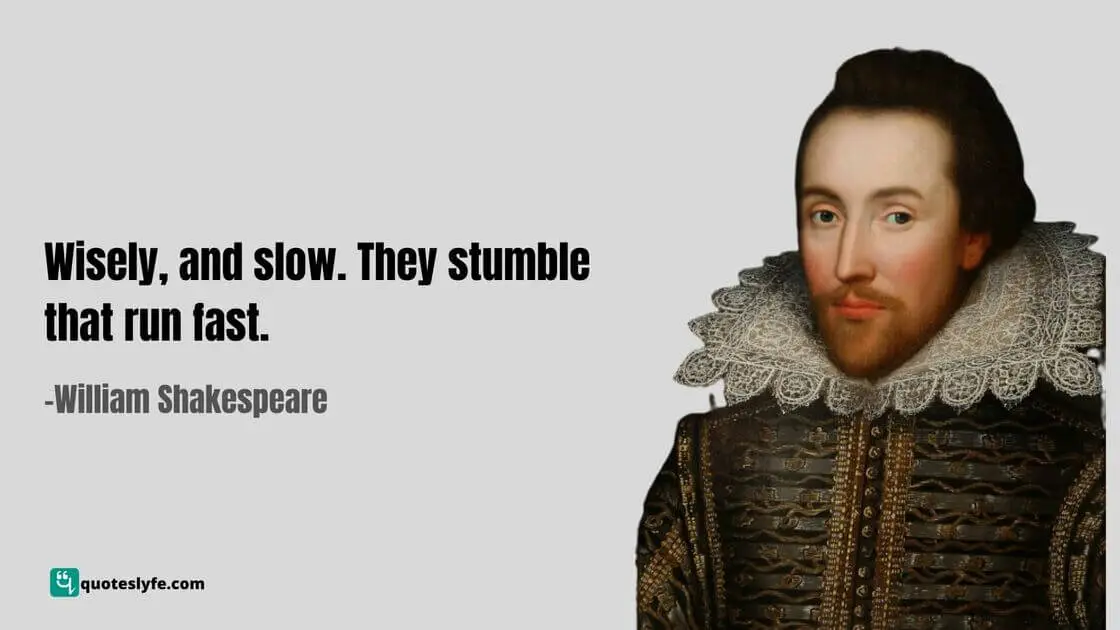 Running through the course of your life often tends to cost you, for when you run, you don't realise a lot of things and tend to stumble and trip over obstacles, instead of dealing with them and understanding them. This is why one should be wise, thoughtful, and walk through the roads of life with a rather slow pace, for being fast is not going to do you much good.
And it is even an established fact, that slow and steady wins the race.
Poor and content is rich, and rich enough.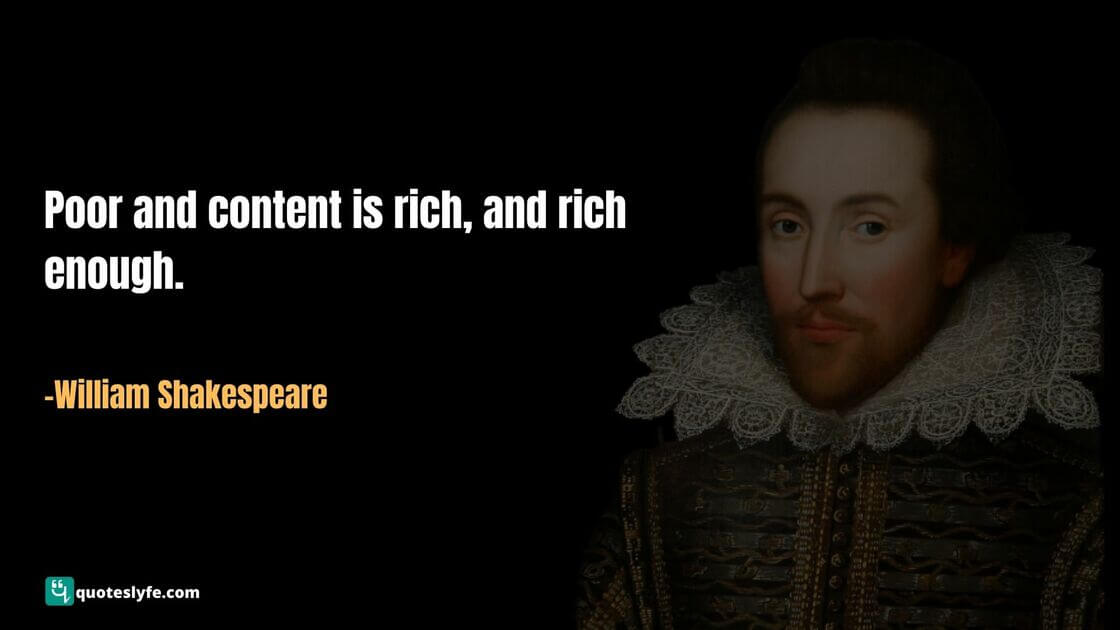 One is not "poor" if one does not have access to luxuries and wealth, for the real feeling of being rich lies in being content and fulfilled with all that you have. Therefore, someone with less money, but satisfaction for whatever they have, is considered to be richer than someone who possesses prosperity and money but is greedy and never convinced with what they have.
And oftentimes excusing of a fault doth make the fault the worse by the excuse.
When you are at fault or make a mistake, the right thing to do would be to accept it and make sure you don't let it happen again. But when you know you are at fault, and still don't take responsibility of it by finding mere excuses to fit the hunger of your ego, that is when those excuses become worse than the mistake for which you made them in the first place.
There is nothing either good or bad but thinking makes it so.
It is our minds and our thoughts; it is us who tend to exaggerate the veracity of something by judging it to be good or bad, while in reality, the way we portray things to be, they are not always that way. They only seem to appear in a particular way because our thinking makes them in that way.
The evil that men do lives after them; the good is oft interred with their bones.
The good deeds that one commences throughout their lives, often tend to disappear in their absence and get buried along with them when they die. As for the bad ones, all the wrongful acts that one indulges in stay for a very long time even after they die, for people will always remember the bad things and never the good ones. So, it is up to you, how you want people to remember you when you are gone, because being forgotten is better than being loathed.
Ignorance is the curse of God; knowledge is the wing wherewith we fly to heaven.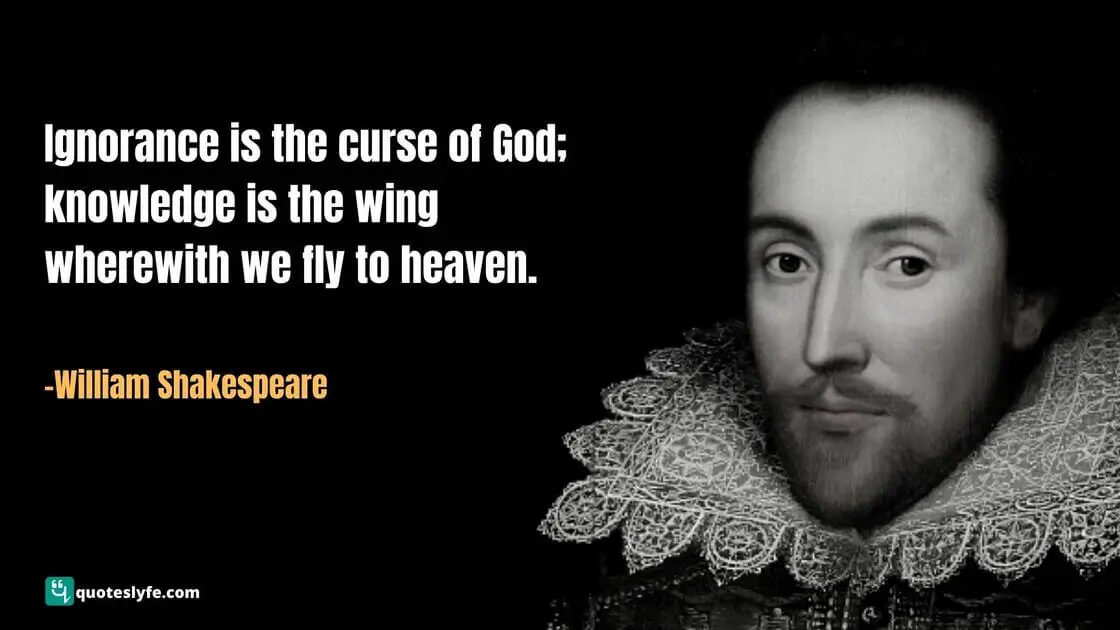 Being ignorant and not having access to knowledge and information has to be one of the worst conditions anybody can ever put themselves in. This is why it is said that ignorance is like God's curse, destructible, whereas through knowledge, we find our way to heaven.
Our doubts are traitors and make us lose the good we oft might win by fearing to attempt.
Doubts and fears are like traitors, because they never want us to excel and grow in our lives, and always makes us land ourselves into insecurities and trouble.
---
Co-author: Khushi Shah
Khushi has just passed her school and is now studying at PDPU. Apart from writing, she likes to sketch and dance. She also has other blogs where she posts proses and poetry.