A nun and a missionary, Mother Teresa was honoured in the Catholic Church as Saint Teresa of Calcutta. She dedicated her entire life looking after the poor and was also awarded the Nobel Peace Prize in 1979 for her work. She was also honoured various other awards including the Bharat Ratna, Order of the Smile, and many more.
From helping out orphanages to educating the destitute and feeding them, she based her whole life on humanitarian work and never missed one chance of doing good or serving other people.
Mother Teresa was also popular for the excellent quotations that she gave out. Some of the best Mother Teresa quotes are listed below.
If you judge people you have no time to love them.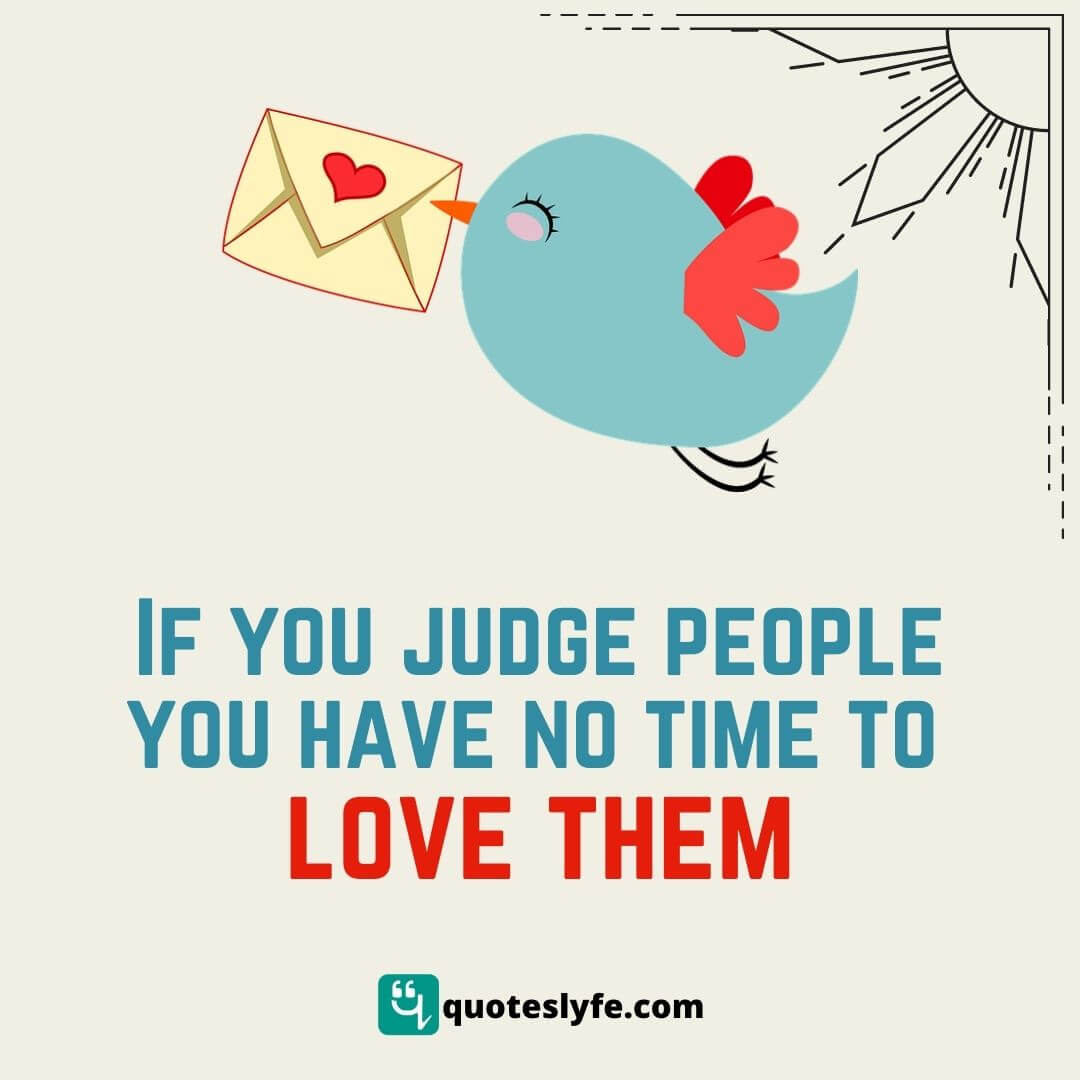 Mother Teresa dedicated her life to love and compassion, and through this quote, she asks us to do the same.
If we keep judging people and continue counting their flaws, then we won't have any time to appreciate them and love them.
Everyone is built differently and in their own unique way. So, instead of judging their bad parts, why not be grateful for their good ones!
Kind words can be short and easy to speak, but their echoes are truly endless.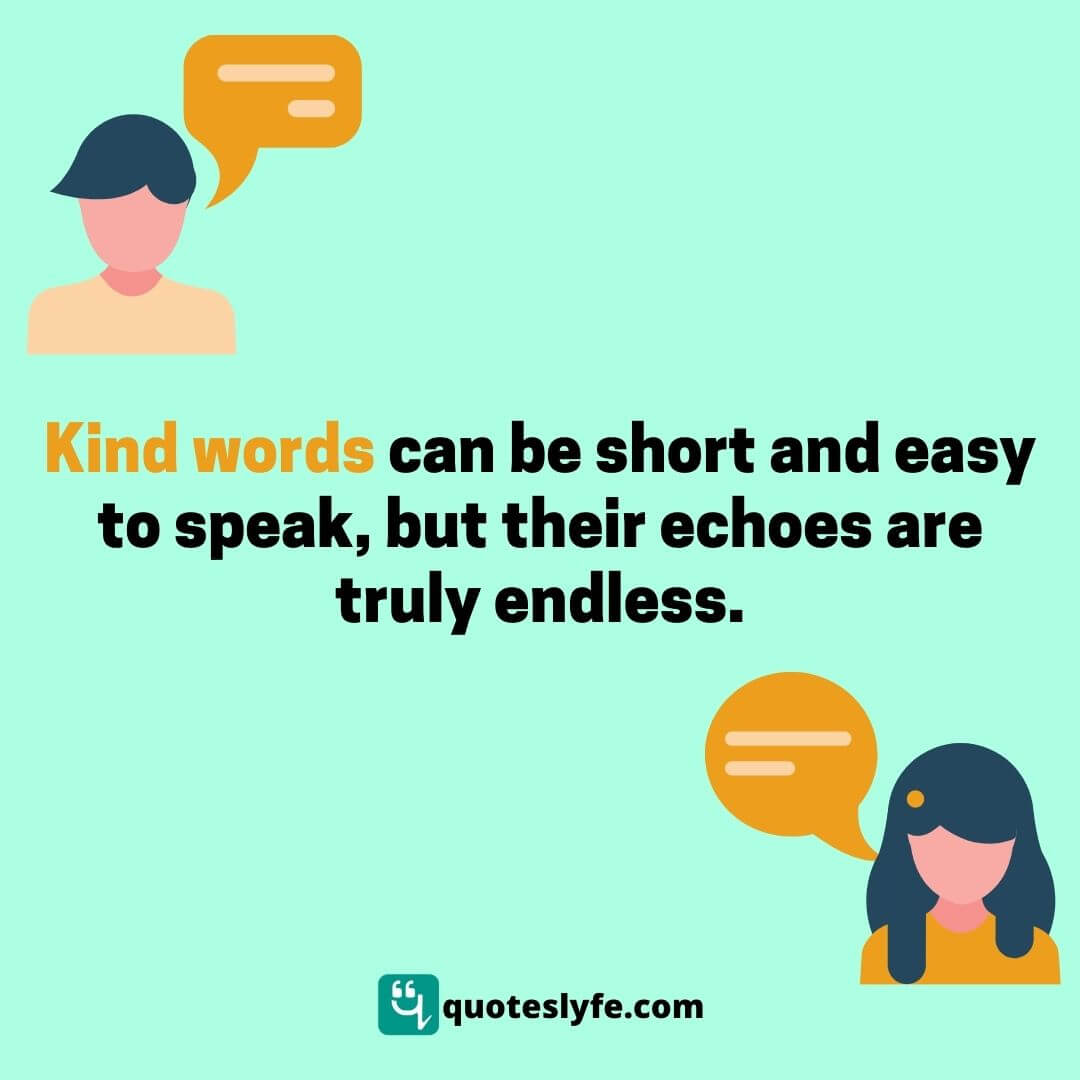 Being kind and helpful is easy, and so is saying kind and appreciative words. It almost seems like they are so easy to say that they don't hold any value. But that is not the case. The imprint that these short and sweet words tend to leave is proof that kind words hold immense value. A person will always remember if you say something nice to them.
Not all of us can do great things. But we can do small things with great love.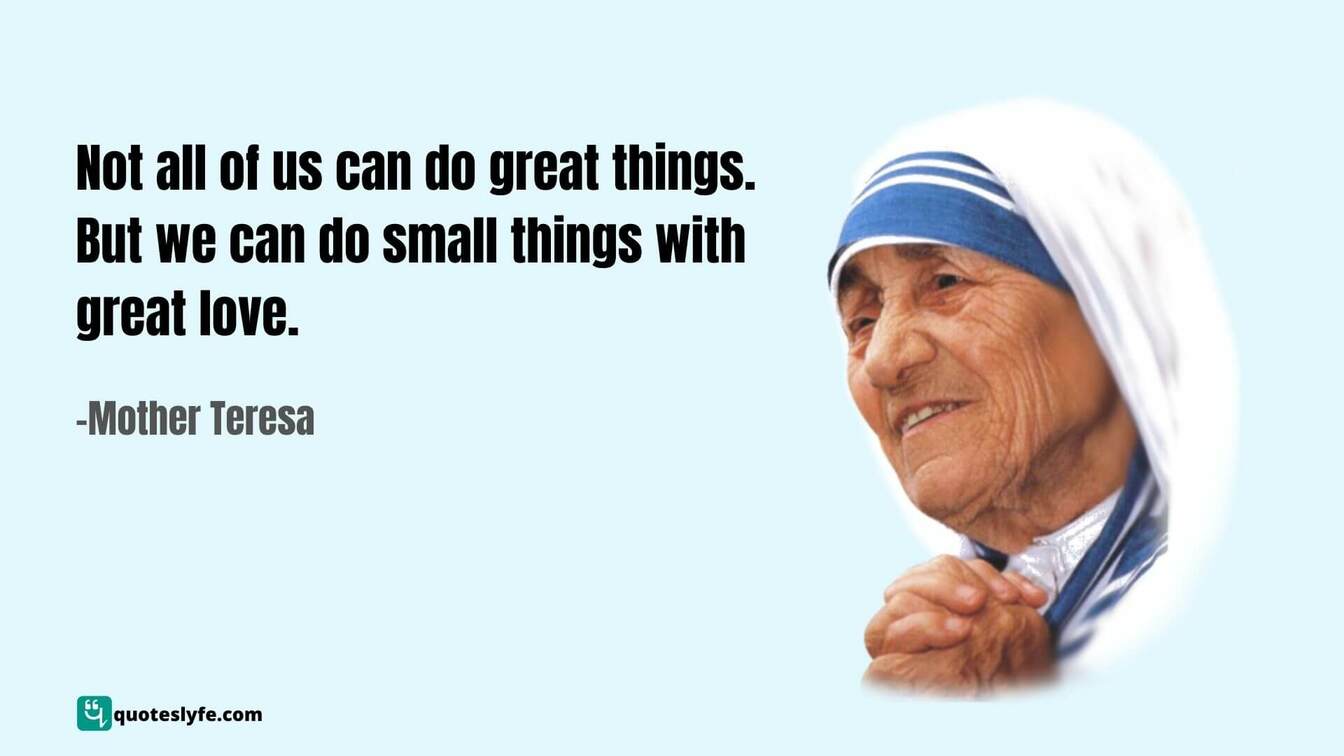 Everybody cannot indulge in acts of greatness and things that make people remember them because not everyone has the required resources present all the time, and because of other such reasons. But what we can do is carry out small acts of kindness and good spirit with great love. This way, nobody's efforts would go unnoticed.
One does not have to donate to charities and orphanages necessarily, you could simply feed and help out the poor, donate your old clothes and books, and other such small acts that tend to hold great value and power.
Do not wait for leaders; do it alone, person to person.
You don't have to wait for somebody else to start so that you can later follow them. You don't need a leader for you can yourself be that person. Especially if it's about doing something good or kind, never wait for another person to initiate and never hesitate.
What someone else can do, you can do too. So, be the person who leads instead of being the one who waits for the former.
If you can't feed a hundred people, then feed just one.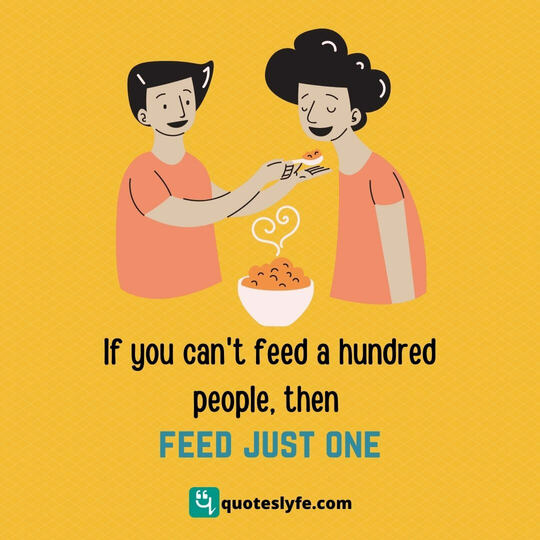 Mother Teresa yet again tells the people that one does not need to do a great thing as long as whatever it is you are doing is with great love and spirit, even if it is something small, its value would be the same.
If you do not have the resources or time to help out and feed a hundred people, you could definitely make out time and gather the resources to feed just one.
Besides, it is not about the number, it is about the effort one puts in and the heart they put into it that tends to make the difference.
Peace begins with a smile.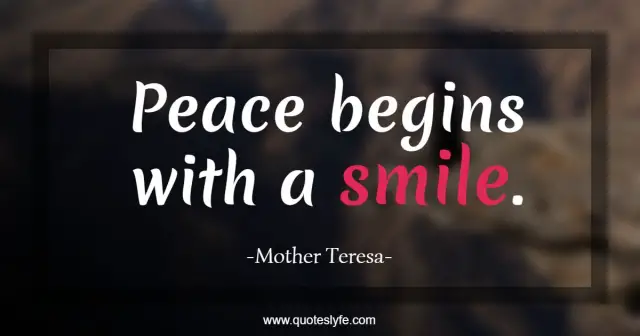 We often tend to underestimate the power a simple smile tends to hold. All you need to do to make someone's day better is pass them a bright smile and voila!
When you smile at someone, it shows warmth and tends to spread love. Smiling is one of the most underrated acts of showing love and affection and spreading peace.
Smile, not just to your loved ones, but to strangers too, and let them know that they are loved too.
So, don't forget to smile today!
We ourselves feel that what we are doing is just a drop in the ocean. But the ocean would be less because of that missing drop.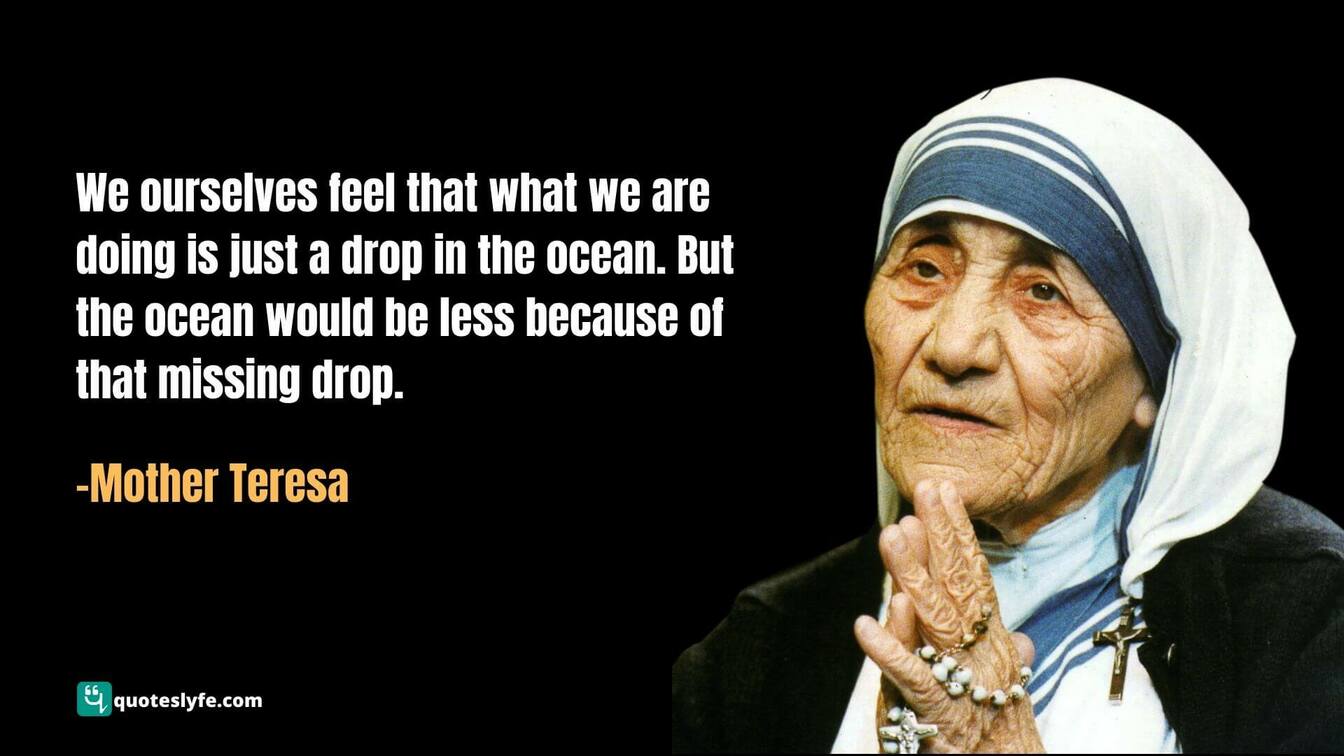 One of the most common questions to arise while trying to bring a change or do something is, "But what are one person's efforts going to change?" And the answer to that is, that it is only one person's efforts because of change starts to unravel. One person investing his/her time and energy is more than enough for others to follow.
Change starts from small steps, and from us. We might think that our efforts don't make much of a difference, but they do, and that too a huge difference.
There is more hunger for love and appreciation in this world than there is for bread.
The world is so full of hatred, bitterness, and violence, that more than food to feed people, we now need love and care to nourish each other and satiate the hunger for feeling wanted and appreciated, than fulfilling the hunger for bread.
We fear the future because we are wasting today.
We tend to worry about tomorrow so much that we forget to live today. By stressing and obsessing about the future, we tend to ruin our present too by letting the worries and inhibitions take over us. But it is simply futile, for the future is not in our control and it never will be. All one can do is think about right now and give their best at that moment.
The sole reason why we get scared of the future is that we are wasting our present, so all one needs to do is give their all today, and you wouldn't have to worry about tomorrow!
Let us continue reading some more inspiring Mother Teresa quotes.
It's not how much we can give but how much love we put into giving.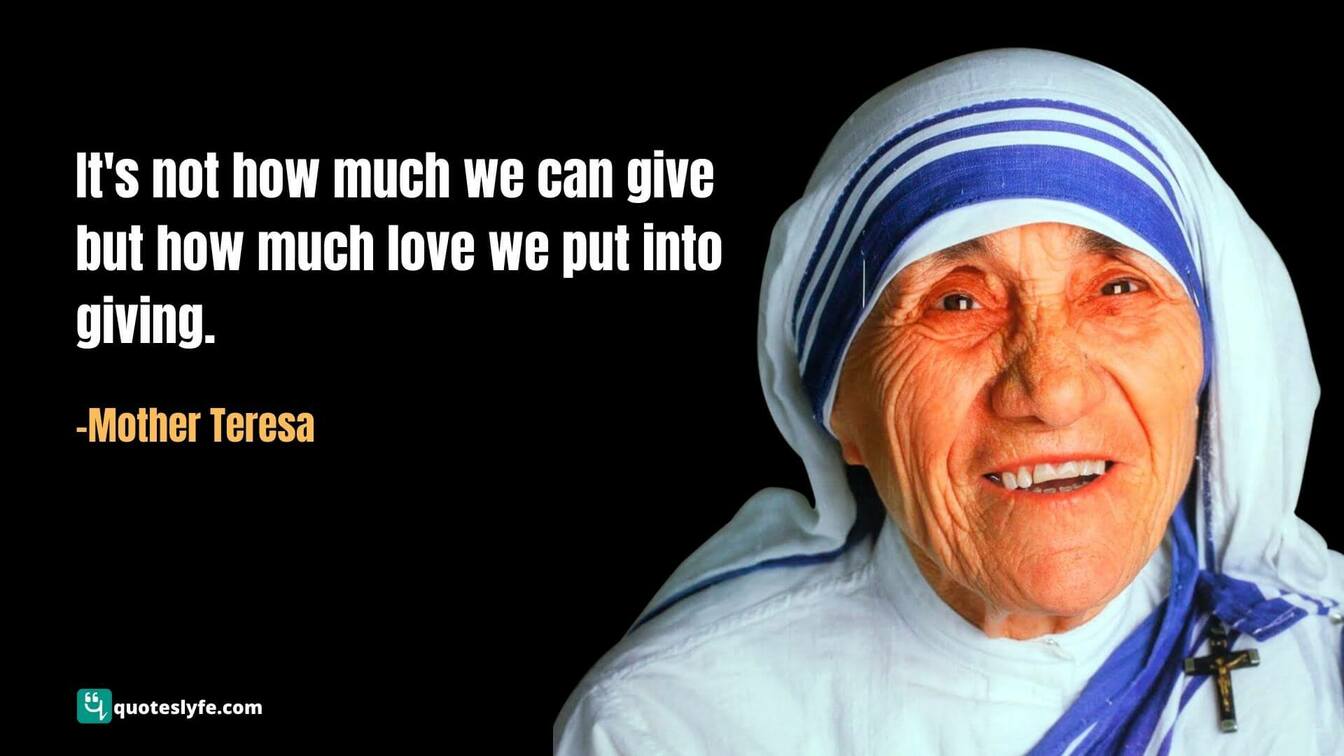 The quantity or the number of efforts doesn't make much of a difference because its more about how you do something and with how much love you do it. Even something as small as helping someone out holds huge value, all you have to do is make sure you carry an act out of goodwill.
It is the effort, and the thought put behind it that counts the most.
Work without love is slavery.
If you work, make sure you put all your heart, energy, and efforts righteously into it and not just do it for the sake of doing it. If you do something when you don't want to, it becomes an act being carried out forcefully, and if you do something without love, it ends up in the same scenario. Without love and without actually wanting to do something, the work you do is useless and holds no significance; it would just as if someone is making you do it rather than you doing it because you want to.
Some people come in our life as blessings. Some come in your life as lessons.
There are going to be some people who come in your life and make it brighter and help you to see life for what it is. They are going to have a great influence on your overall well-being too. But then there are others who will enter your life solely to teach you lessons, to teach you to be more cautious and to stay on guard. These people will teach you to always be forgiving but never forget, so that you stay careful the next time.
If we really want to love, we must learn how to forgive.
Loving and forgiving go hand in hand. One cannot carry out one without another. If you wish to love, you have to learn to be able to forgive and move on because if you don't let go and forgive, you will have to carry the bitterness of that what hurts you and the hatred will not let you love freely. This is why one can never love if he/she cannot forgive.
Discipline is the bridge between goals and accomplishment.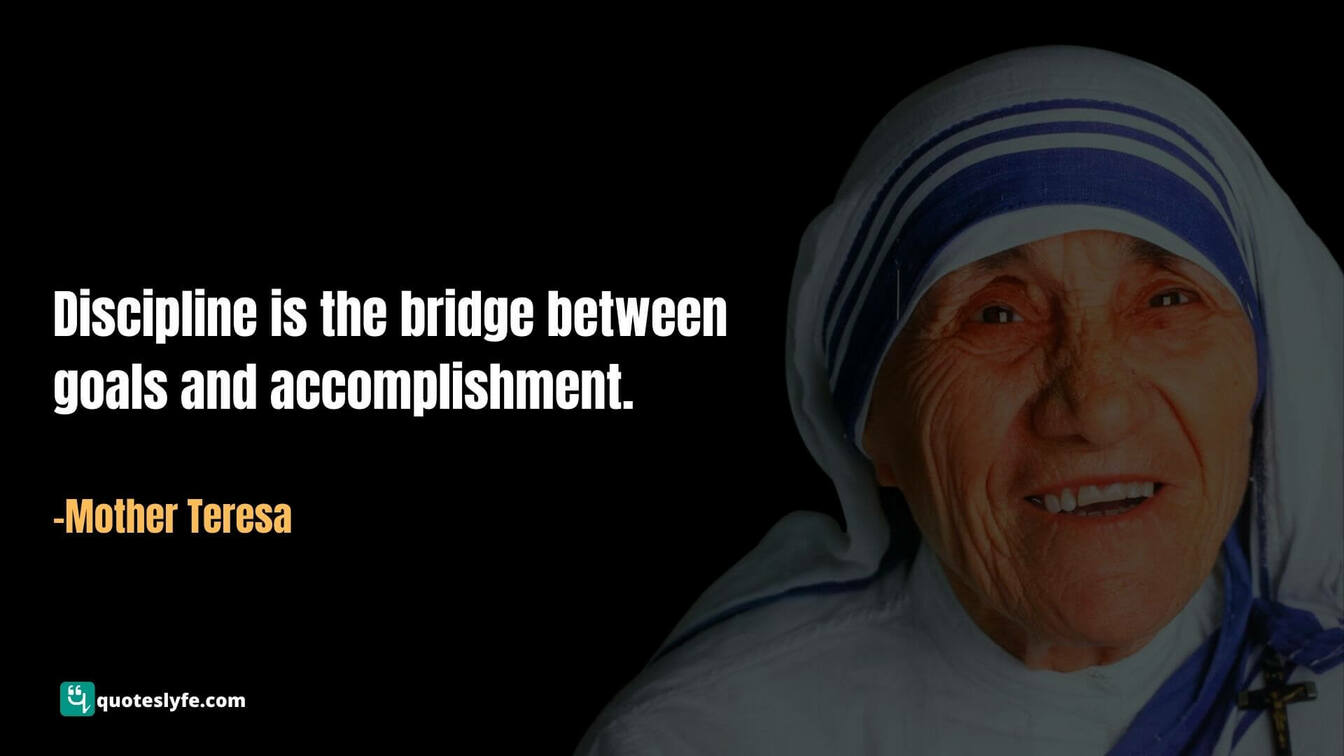 Discipline acts as the sole bridge between the act of accomplishing something and being able to fulfil it and reach your goal. Discipline comprises of order, self-regulation, control, dedication, hard work, following rules, etc.. Without all these qualities, one would not be able to devour the taste of success, for you need to break blood and sweat before you get to the best parts.
If we are humble, nothing will change us, neither praise, nor discouragement.
If one stays humble through the course of their life, they need to be worried about neither appreciation nor discouragement. This is because when you are respectful and modest, you know your worth and where you stand, and even if someone tells you anything, you tend to take it under consideration and think about it. But if you aren't humble, you let it affect you, which then leads you to act upon it hastily, without even thinking twice.
Do not allow yourselves to be disheartened by any failure as long as you have done your best.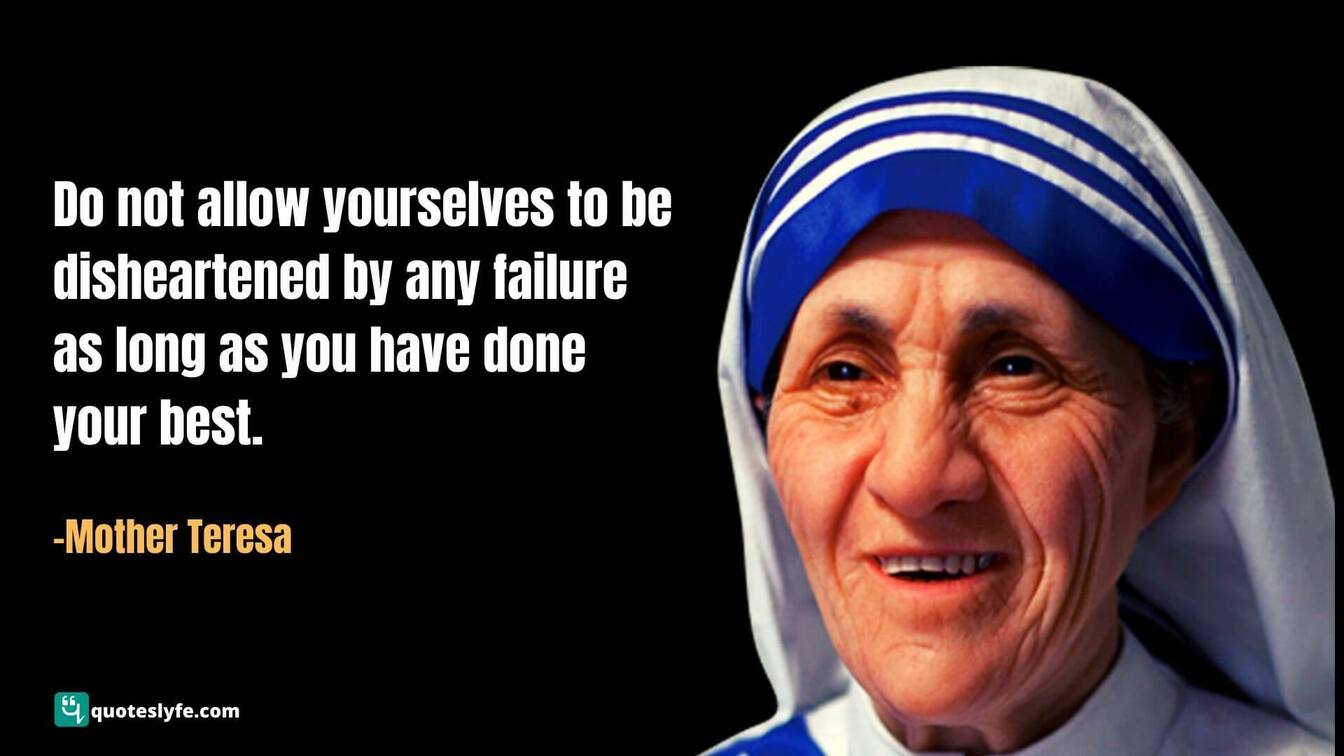 One should always learn from their mistakes and downfalls, rather than letting them discourage you because it is exactly these failures that will help you learn and grow further in life.
One need not worry about failing either if one has given their best performance. Once you have put into something you're all, then regardless of the result, you should be proud of yourself for it is the honest effort that counts more than the end product.
Yesterday is gone. Tomorrow has not yet come. We have only today.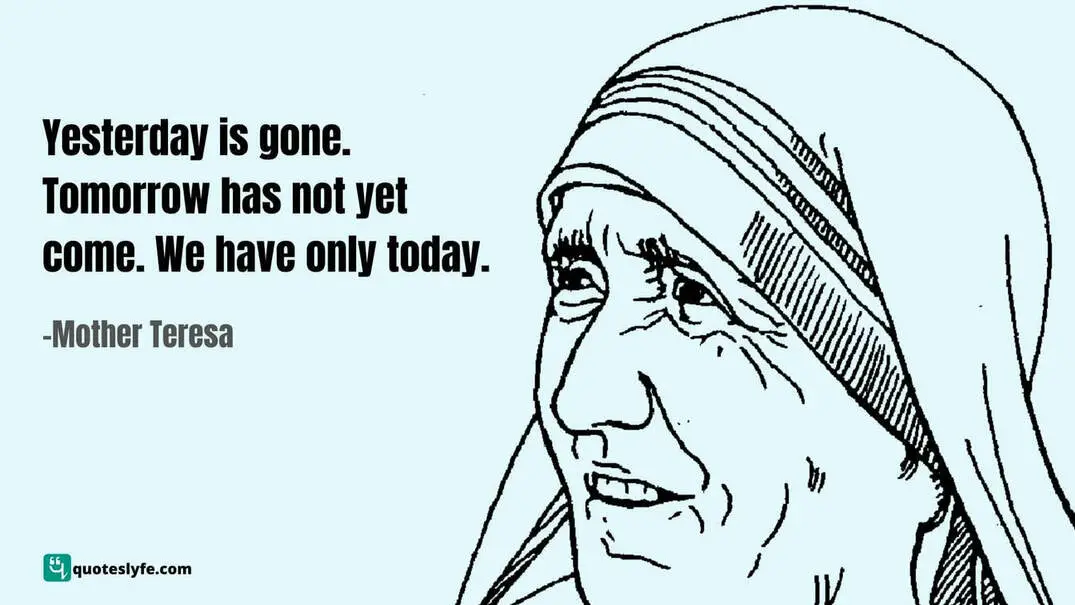 The past has already been done, and it is gone; there is nothing you can do about it. The future is yet to come, and there isn't anything you can do about it either. Neither your past nor your future is in your hands, but only your present is.
You can only do something about your today and make sure that you live this moment to the fullest instead of regretting your yesterday or anticipating about tomorrow.
Loneliness and the feeling of being unwanted is the most terrible poverty.
Yes, poverty in an economic term and in relation to money, shelter, and food is terrible, but being poor in terms of love and happiness is the worst kind of poverty. You might find a way to come to terms with the former, but the feeling of loneliness and unwanted will eat you up from the inside, which is way worse.
So, let nobody feel alone and spread as much love and kindness as you can because this is what people need more than anything right now; this is what the world needs the most.
God doesn't require us to succeed, he only requires that you try.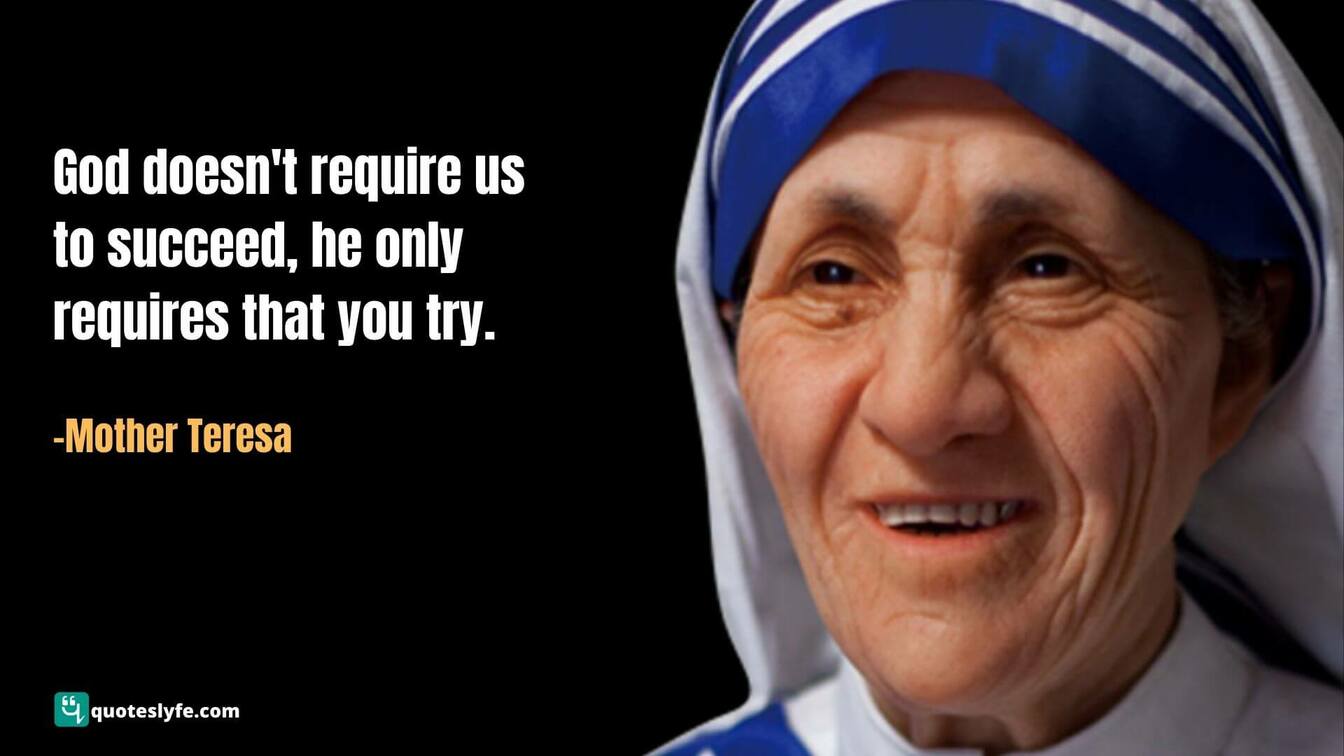 The sheer willingness to at least try to do something is more than enough. No matter what the result is, whether you fail or you succeed, the fact that you put your efforts and time into it and that you tried, is way more important than the end product.
Always remember, it is the effort that makes a huge difference and not the result.
I can do things you cannot, you can do things I cannot; together we can do great things.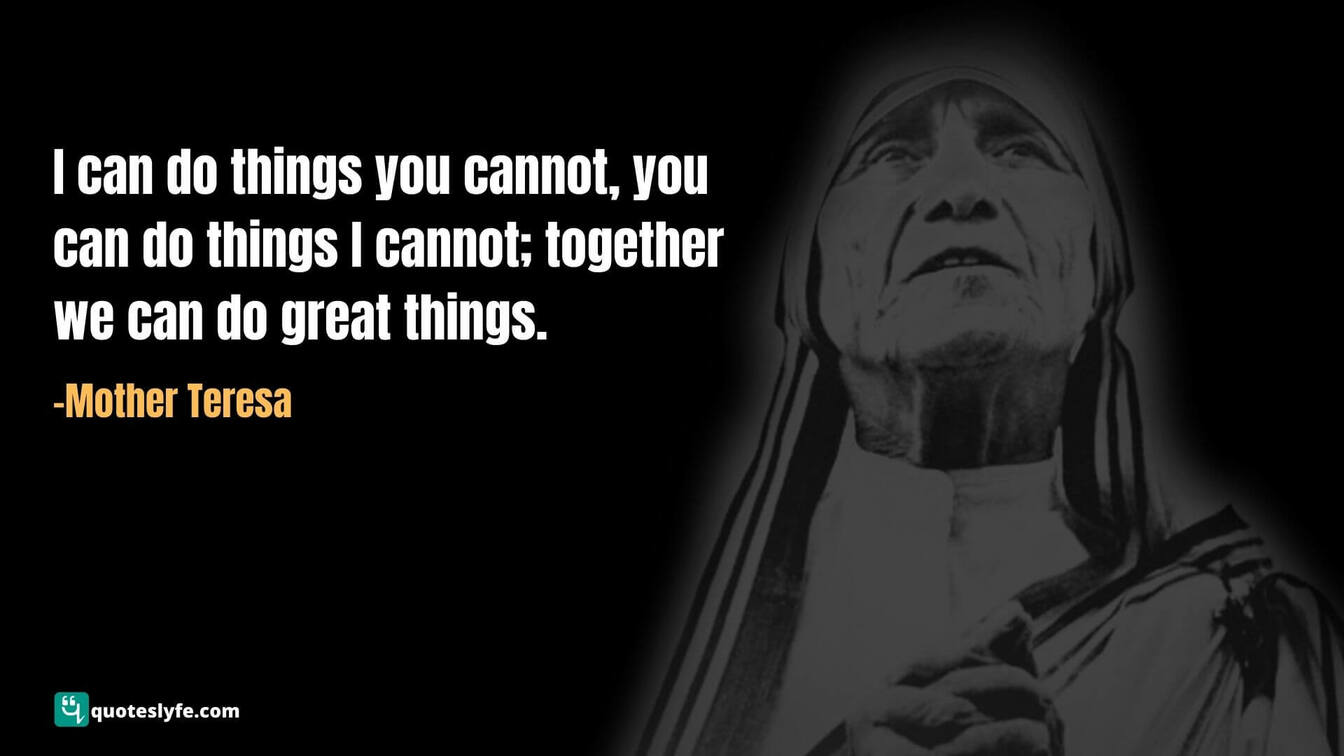 There are always going to be certain things that some people might be able to do while you cannot or some things that you can do, but others can't. But there is no reason as to why one should get disheartened. In fact, this is all the more reason that we join forces and work together because as a community, we stand stronger than ever but alone we stay powerless.
Conclusion
In this article, we have discussed some of the top motivating and inspiring Mother Teresa quotes on Life, Humanity, Poverty, Kindness, etc. with their meanings. These quotes will inspire you to do something good for the humanity and help the needy.
---
Co-author: Khushi Shah
Khushi has just passed her school and is now studying at PDPU. Apart from writing, she likes to sketch and dance. She also has other blogs where she posts proses and poetry.