Buddha is a famous spiritual leader and a spiritual teacher who lived in India. He is called as the one who is spiritually awakened, and he plays a significant part in the famous religion Buddhism. He has said to escape the cycle of birth and death because of his enlightenment, and he is not a god but an extraordinary enlightened man. He is known for his preaching and teachings. Here are some of the famous Buddha quotes.  
We are what we think. All that we are arises with our thoughts. With our thoughts, we make the world.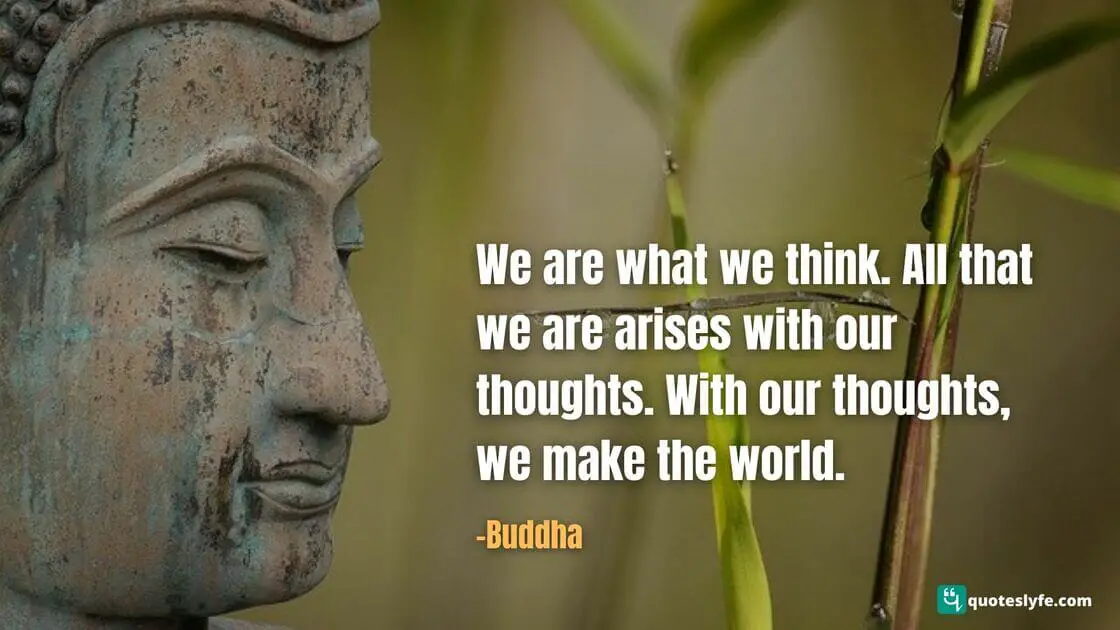 As we know, Buddhism is one of the most spiritual religions and it is more based on Egalitarian society. It is widely believed that the world itself was created out of a single thought process. Therefore if you want to make something happen in your life, make sure you create thought and make it come true.
Three things cannot be long hidden: the sun, the moon, and the truth.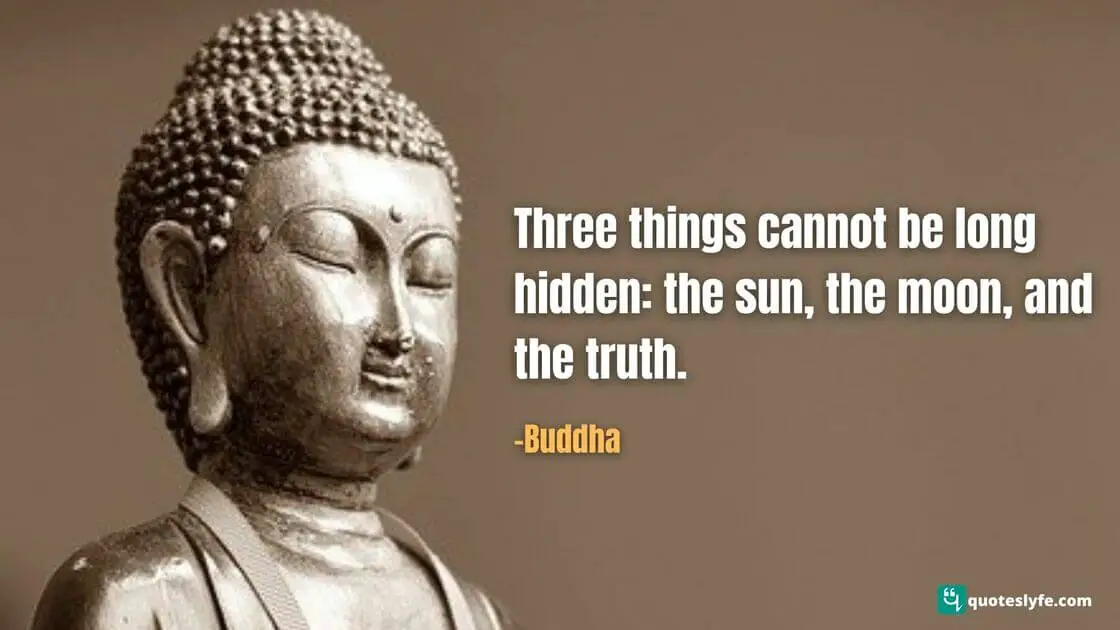 We live in a world where there are so many misconceptions, cheating, lies and the truth, which is the ultimate is missing. However, we know that certain aspects of our life like the sun and the moon cannot be hidden away. Similarly, we cannot live a life and say that the ultimate truth doesn't exist. 
The mind is everything. What you think you become.
Spirituality is a good way for a person to lead their life, and as far as spirituality is concerned, the mind of a person is the creator of the universe. If a person wants to become successful, happy and complete, their thoughts will ultimately help them. With your thoughts, you become what you want.         
We are shaped by our thoughts; we become what we think. When the mind is pure, joy follows like a shadow that never leaves.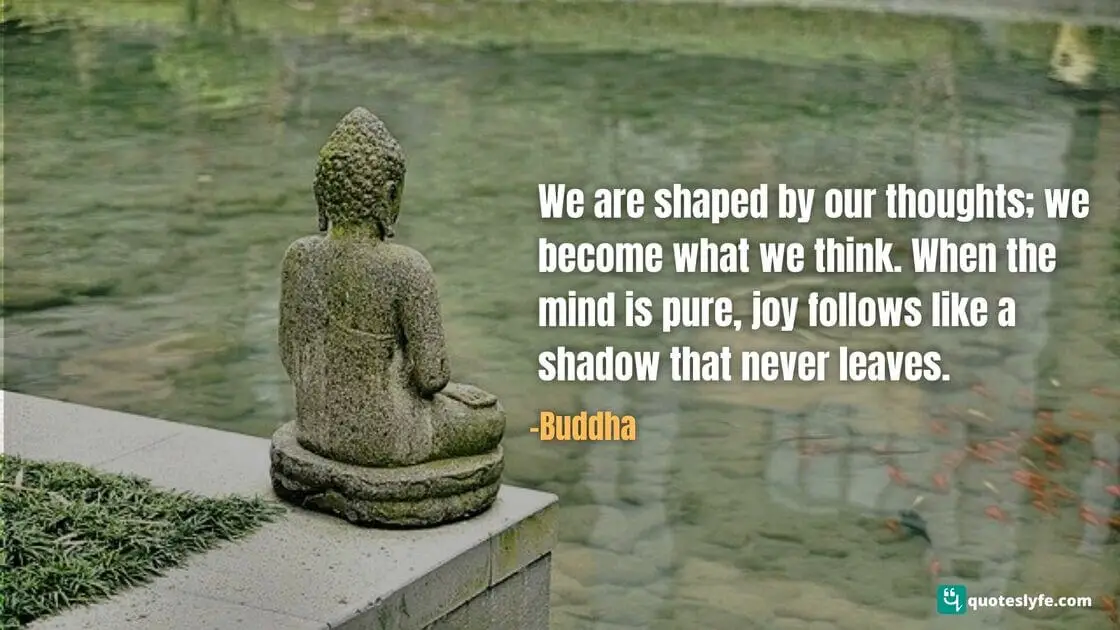 Thoughts mould us and our future. Therefore we become what we think. It is vital to keep our mind fresh, happy and clean. If our mind is pure, then inevitably we become complete, and joy will become our shadow which will never leave us.
Do not dwell in the past, do not dream of the future, concentrate the mind on the present moment.
Living in a materialistic world, we tend to always plan and think about the future. We grow up in a culture where we are always questioned: "Where do you see yourself in five or ten years?" However, it is not the right attitude, and we must not be a part of the future or past, but be in the present moment and live it to the fullest.
You only lose what you cling to.
We always tend to attach to things, people, situations, worldly things, and we keep running after it constantly. We keep it as a yardstick and run towards it. However, after some time it will be too late when you realise it was not worth it as we might lose it. It is safe not to cling too much to any things, situations or people.
Peace comes from within. Do not seek it without.
There are many situations in our life where we get upset, unhappy and disappointed. After any problematic situation, as humans, we tend to crave to go back to normal and peace. Searching for your peace in other people, situations are not advisable. Instead, seek it within yourself. 
It is a man's mind, not his enemy or foe that lures him to evil ways.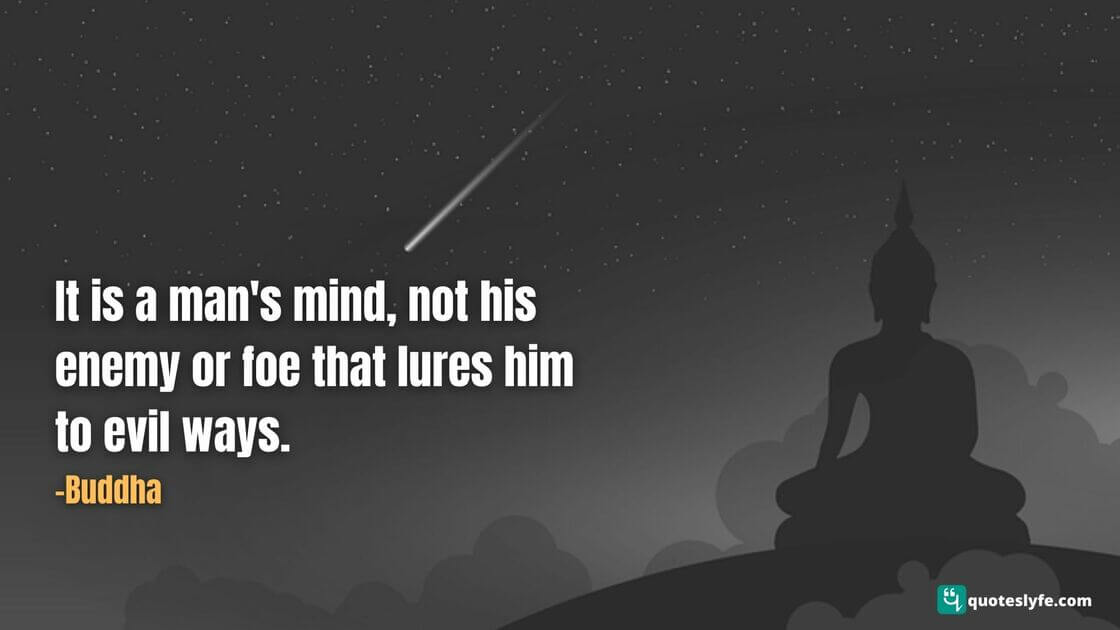 As the saying goes, "An Idle Brain is the Devil's Workshop", the mind when we are idle we tend to think of things which are not maximum healthy. Enemies are someone who pulls our legs and wants us to fail no matter what. We try to find enemies outside, but most of the time it is our mind, and we fail to identify it.
All that we are is the result of what we have thought.
One must learn to count their blessings as much as they can as it will make them grateful. In the present life, everything you have, you eat and sleep on was created by your mind and you as a person with mind manifested it using your thoughts single-handedly.  
You, yourself, as much as anybody in the entire universe, deserve your love and affection.
We are always educated from a very young age to respect others, behave modestly etc, but we are never taught the importance of respecting yourself and loving yourself. Self-love is a practice everyone must follow to feel good in their skin and to love themselves.
Continue reading more Buddha Quotes.....
Everything that has a beginning has an ending. Make your peace with that and all will be well.
Life is like a coin which has two slides, and both sides represent birth and death. From our birth to any menial task we do in daily life, everything has a beginning and an ending. As humans, we must understand it and embrace it as we age.
The root of suffering is attachment.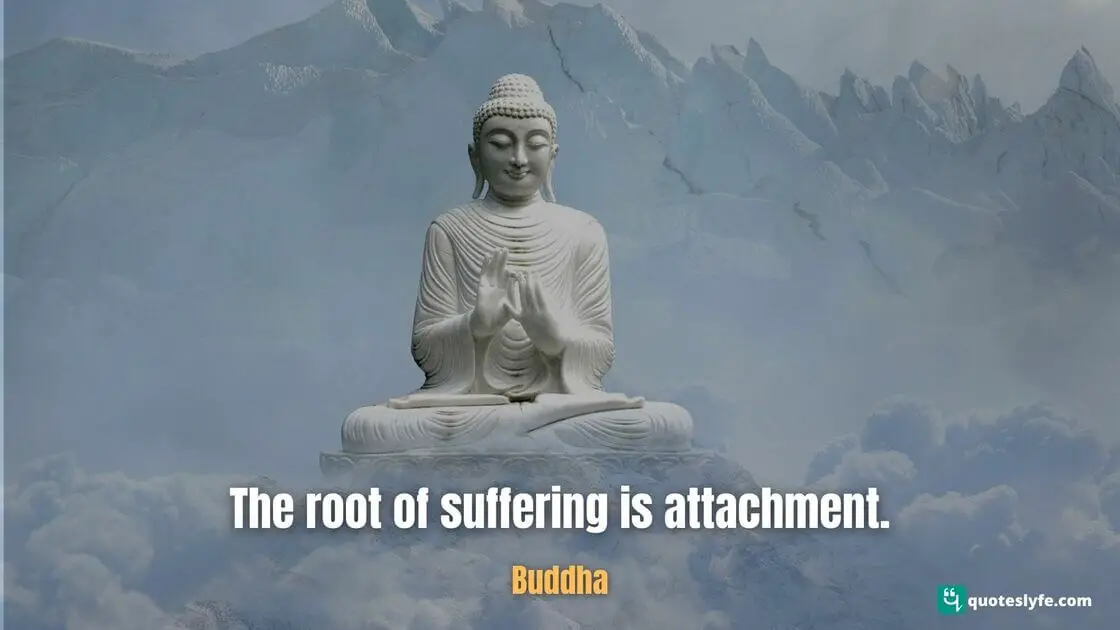 Attaching oneself to a situation, a person, a single outcome can be advantages at certain times. Usually, if things don't go well, the ultimate suffering we face will be because of the attachment we latched ourselves into in our life. 
The only real failure in life is not to be true to the best one knows.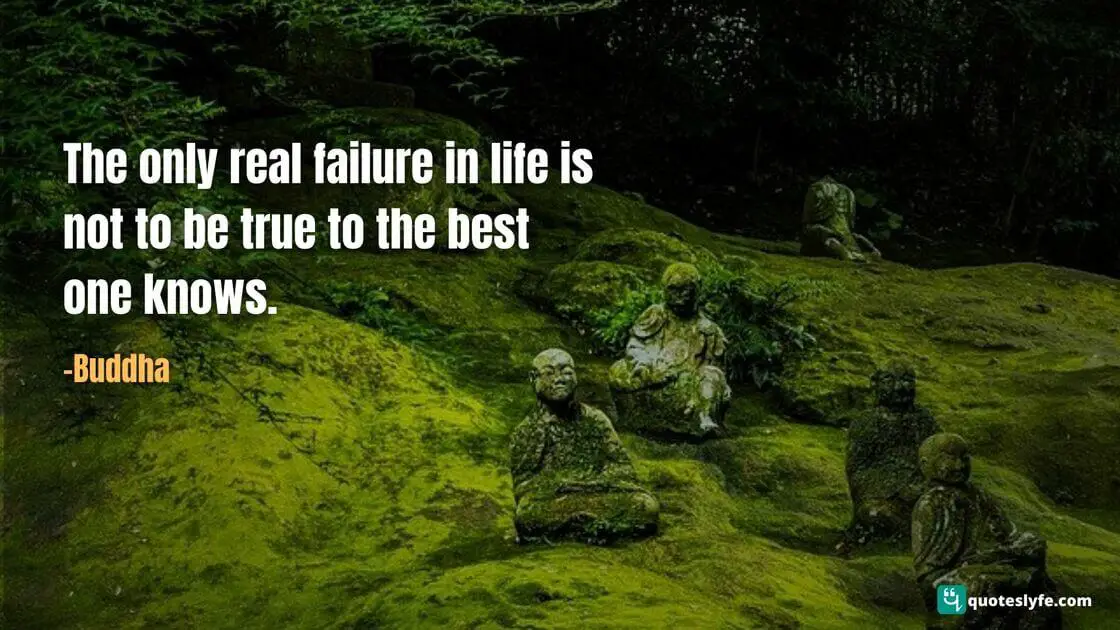 A person's failure is measured in terms of materialism. If a person fails to earn a degree, a job, settle at a certain age, then they are seen as a failure. In reality, a person fails in life only if he or she is not true or loyal to the person who knows them the best.
Purity or impurity depends on oneself. No one can purify another.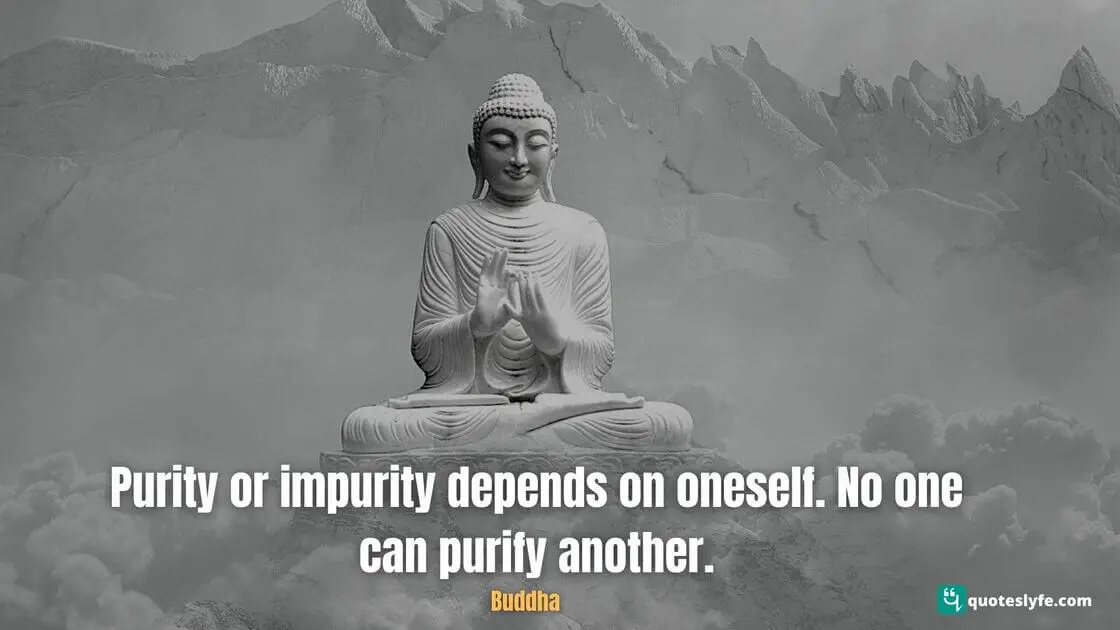 As far as any religion is concerned, the concept of pure and impure is debated continuously and questioned. At the end of the day, the solution is left in the hands of God, almighty to decide it. Buddha says that the idea of purity or impurity varies from person to person, and no one can purify one another. 
However many holy words you read, however many you speak, what good will they do you if you do not act upon them?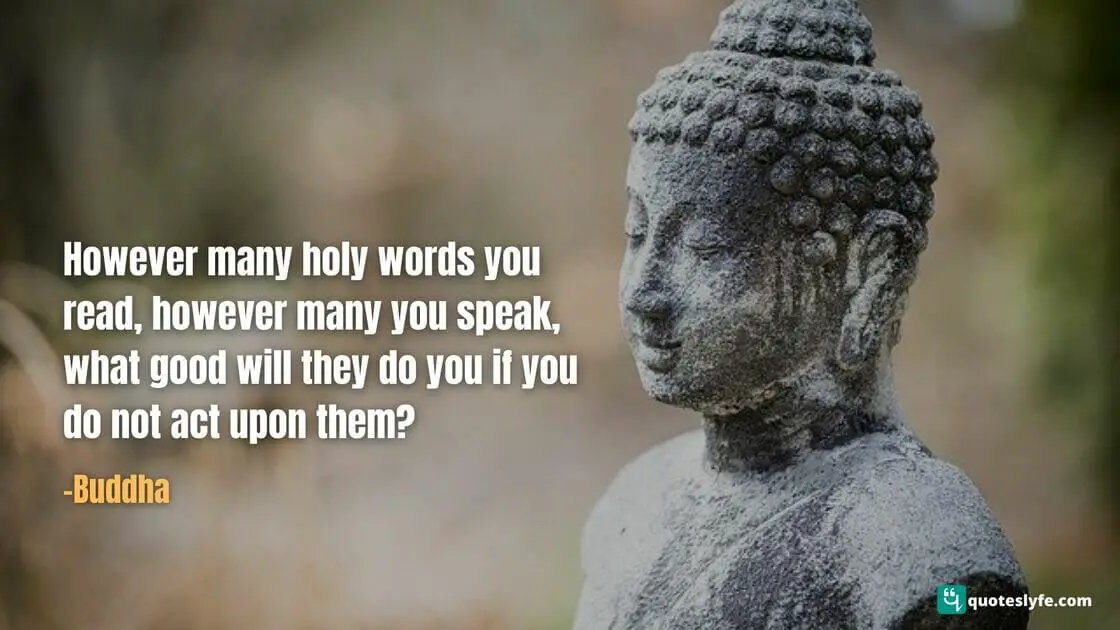 Every single religion in this world has a holy book. For instance, people who believe in Christianity and Hinduism have The Bible and the Bhagavad Gita. Reading the holy books is not important when they do not act as what they read, talk and preach. Only when you act, goodness will spread.
Ardently do today what must be done. Who knows? Tomorrow, death comes.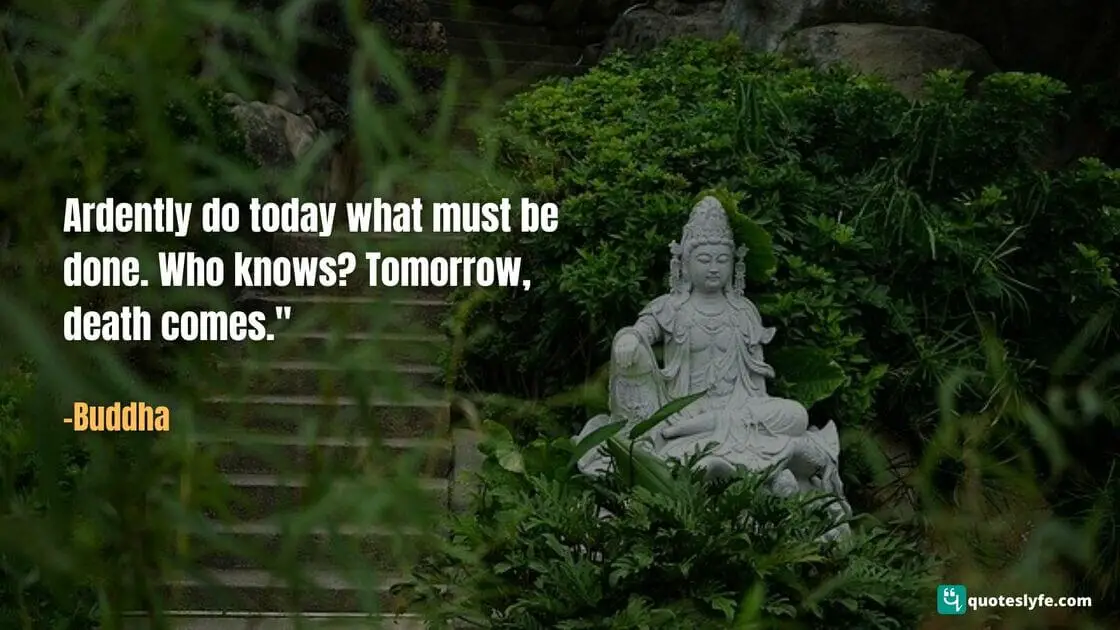 Living in the present is essential as we do not know what waits for in the future. The unclear and surprising nature of the future, death emphasises us to realise to live today to the fullest and do everything which is supposed to be done. 
Radiate boundless love towards the entire world — above, below, and across — unhindered, without ill will, without enmity.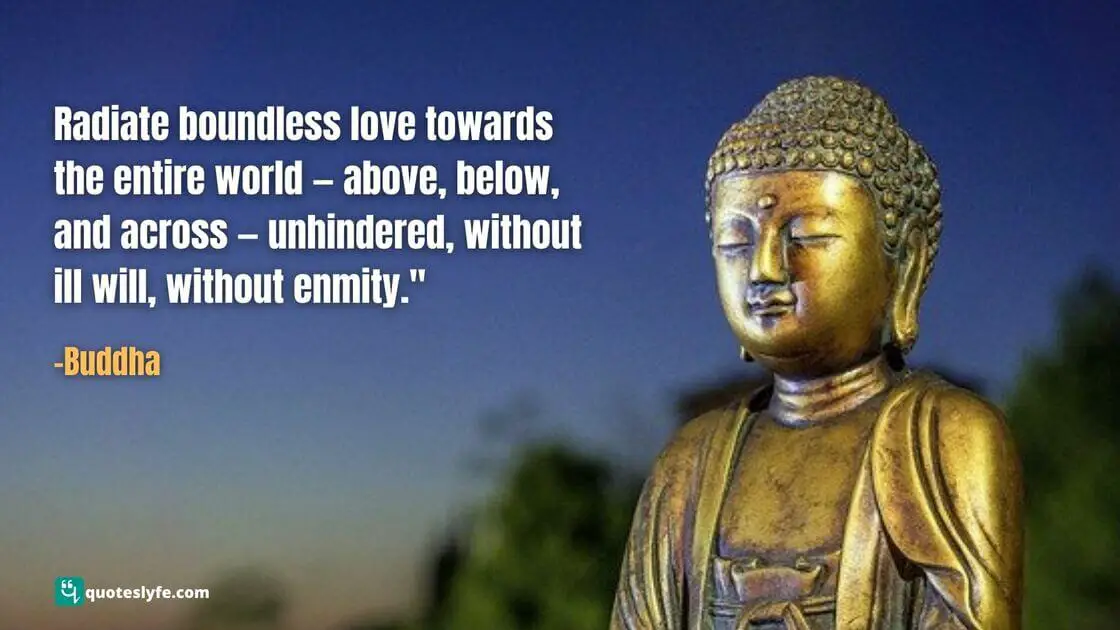 The entire world we live revolves around the positivity we feed into the universe. As we radiate and love, positivity and happiness to everyone in this world, there will be no hindrance to disturb the world peace and no enmity will prevail. 
To support mother and father, to cherish wife and children, and to be engaged in peaceful occupation — this is the greatest blessing.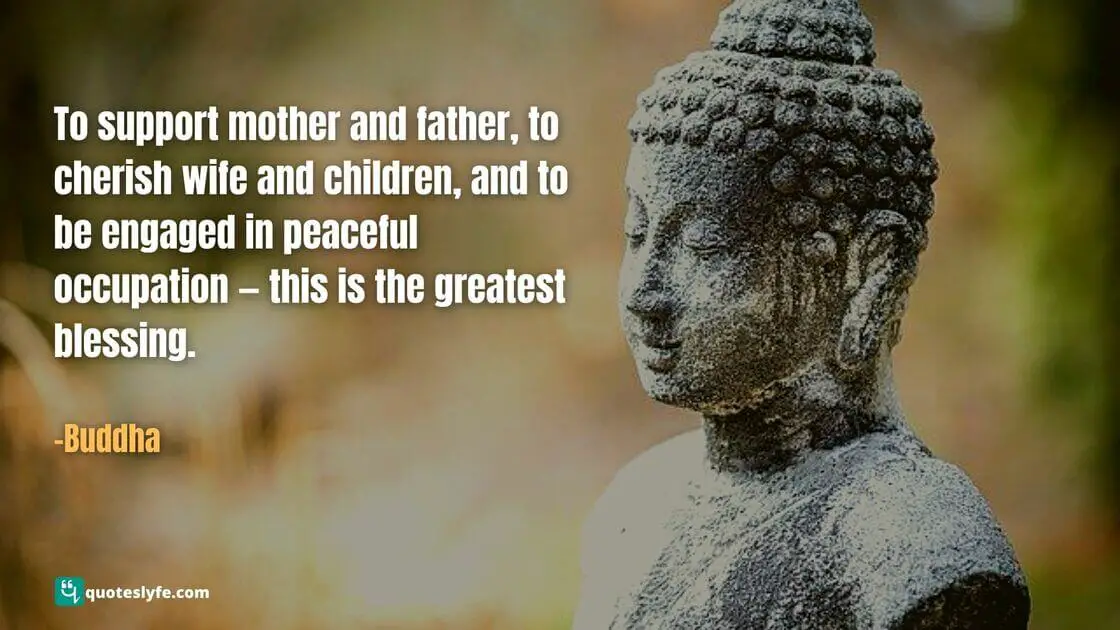 In this fast-paced mechanic world, we tend to forget the reason why we are successful. Parents, life partners and children are part and parcel of who we must pay attention to, spend time and shower our life with. This is the best occupation one can ever have than being a professional. 
Know from the rivers in clefts and crevices: those in small channels flow noisily, the great flow silent. Whatever's not full makes noise. Whatever is full is quiet.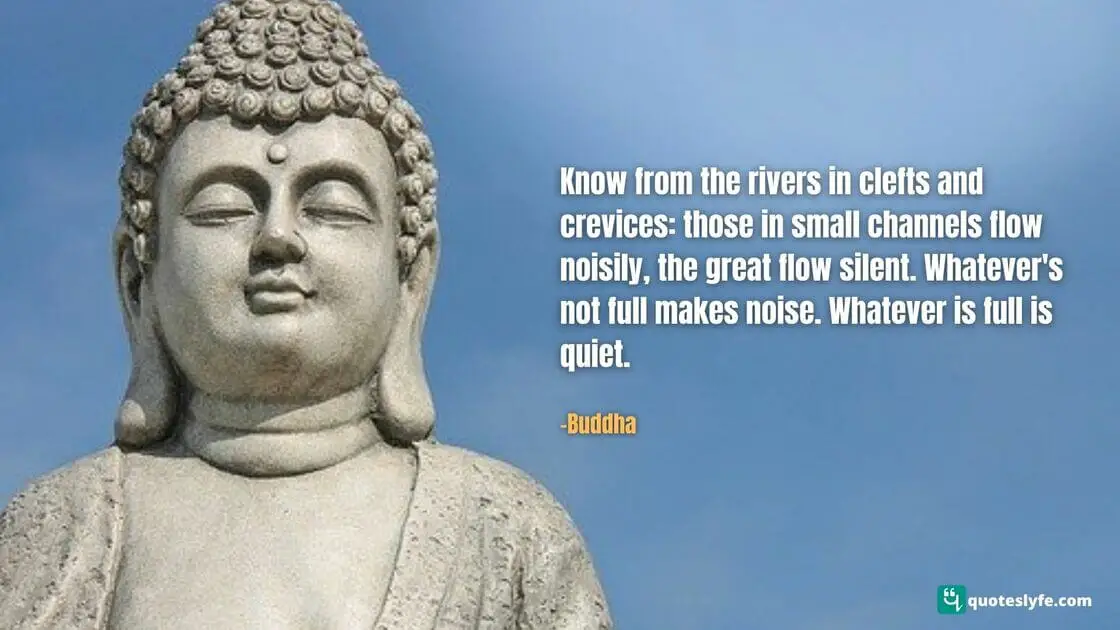 As the English saying goes "Empty vessels make more noise", Buddha uses rivers as imagery to get across the message to his followers. People who are most intelligent, intellectual and knowledgeable remain quiet and composed, which shows they are down to earth. 
Whatever precious jewel there is in the heavenly worlds, there is nothing comparable to one who is Awakened.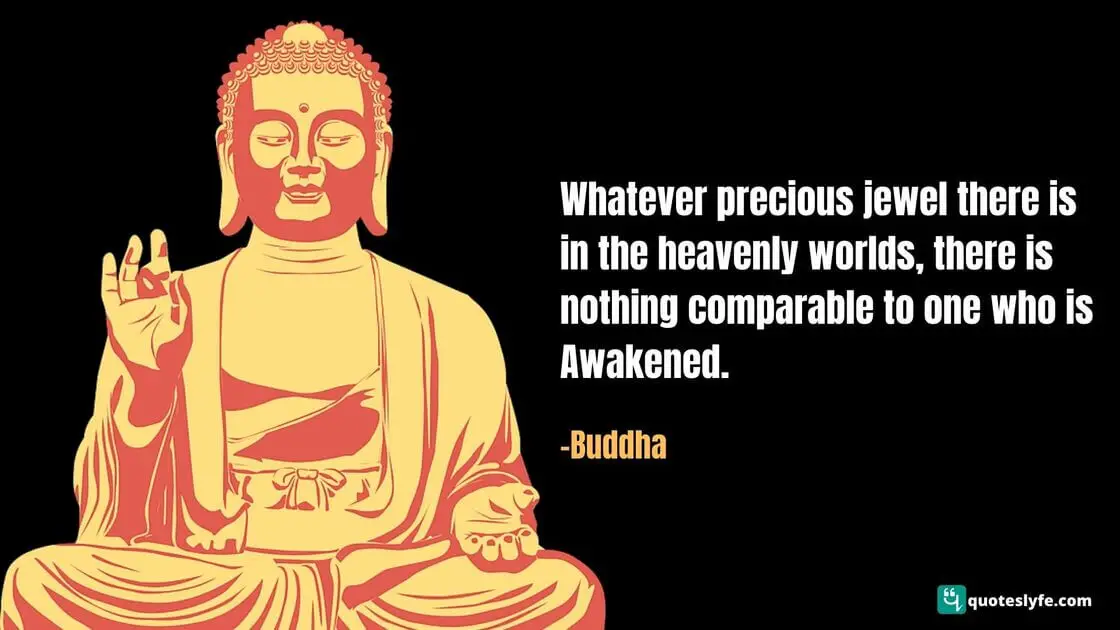 Our world is filled with so many valuables like precious stones, money, treasures, and we crave to find it and enjoy it. These valuables and pleasures are nothing compared to the person who is spiritually awakened and knows what is going around the world spiritually. 
The main teachings of Buddha are summarised just by reading his profound zen quotes. Overall, these were just a few Buddha quotes on life which will help people from different strata of life at all times. 
Best Gautama Buddha Quotes and Sayings on Life, Love, Karma, Peace and Happiness
Check below some of the famous Gautama Buddha Quotes and Sayings of all time:
What we think, we become.

Through zeal knowledge is gotten through lack of zeal knowledge is lost.

Holding on to anger is like grasping a hot coal with the intent of throwing it at someone else you are the one who gets burned.

Those who are free of resentful thoughts surely find peace.

Endurance is one of the most difficult disciplines but it is to the one who endures that the final victory comes.

All that we are is the result of what we have thought. The mind is everything. What we think we become.

A man should first direct himself in the way he should go. Only then should he instruct others.

The secret of health for both mind and body is not to mourn for the past not to worry about the future nor to anticipate troubles but to live the present moment wisely and earnestly.

Health is the greatest gift, contentment the greatest wealth, faithfulness the best relationship.

Thousands of candles can be lighted from a single candle, and the life of the candle will not be shortened. Happiness never decreases by being shared.

The only real failure in life is not to be true to the best one knows.

You, yourself, as much as anybody in the entire universe, deserve your love and affection.

Whatever words we utter should be chosen with care for people will hear them and be influenced by them for good or ill.

Work out your own salvation. Do not depend on others.

Without health life is not life it is only a state of langour and suffering - an image of death.

Even death is not to be feared by one who has lived wisely.

To keep the body in good health is a duty... otherwise we shall not be able to keep our mind strong and clear.

Virtue is persecuted more by the wicked than it is loved by the good.

Three things cannot be long hidden: the sun, the moon, and the truth.

I was born into the world as the king of truth for the salvation of the world.

In a controversy the instant we feel anger we have already ceased striving for the truth, and have begun striving for ourselves.

It is better to travel well than to arrive.

Let my skin and sinews and bones dry up, together with all the flesh and blood of my body! I welcome it! But I will not move from this spot until I have attained the supreme and final wisdom.

Peace comes from within. Do not seek it without.

Better than a thousand hollow words, is one word that brings peace.

Do not overrate what you have received, nor envy others. He who envies others does not obtain peace of mind.

Do not dwell in the past, do not dream of the future, concentrate the mind on the present moment.

He who loves 50 people has 50 woes he who loves no one has no woes.

I do not believe in a fate that falls on men however they act but I do believe in a fate that falls on them unless they act.

With fools, there is no companionship. Rather than to live with men who are selfish, vain, quarrelsome, and obstinate, let a man walk alone.

You will not be punished for your anger, you will be punished by your anger.

No matter how hard the past is, you can always begin again.

True love is born from understanding.

To become vegetarian is to step into the stream which leads to nirvana.

Those who have failed to work toward the truth have missed the purpose of living.

May all that have life be delivered from suffering

However many holy words you read, however many you speak, what good will they do you if you do not act on upon them?

Believe nothing, no matter where you read it, or who said it, no matter if I have said it, unless it agrees with your own reason and your own common sense.

With our thoughts we make the world.

Happiness comes when your work and words are of benefit to others.

Few among men are they who cross to the further shore. The others merely run up and down the bank on this side.

Three things can not hide for long: the Moon, the Sun and the Truth.

To force oneself to believe and to accept a thing without understanding is political, and not spiritual or intellectual.

Speak the truth do not become angered and give when asked, even be it a little. By these three conditions one goes to the presence of the gods.

Silence the angry man with love. Silence the ill-natured man with kindness. Silence the miser with generosity. Silence the liar with truth.

The Gift of Truth excels all other Gifts.

Even as a solid rock is unshaken by the wind, so are the wise unshaken by praise or blame.

Doubt everything. Find your own light.

Look not to the faults of others, nor to their omissions and commissions. But rather look to your own acts, to what you have done and left undone.

Just to say 'I believe' or 'I do not doubt' does not mean that you understand and see. To force oneself to see and accept a thing without understanding is political and not spiritual or intellectual.

Your purpose in life is to find your purpose and give your whole heart and soul to it

It is a man's own mind, not his enemy or foe, that lures him to evil ways.

Peace comes from within. Do not seek it without.

Mirror mirror on the wall, show the real me or naught at all.

There is nothing so disobedient as an undisciplined mind, and there is nothing so obedient as a disciplined mind.

There is no fire like passion, there is no shark like hatred, there is no snare like folly, there is no torrent like greed.

As you walk and eat and travel, be where you are. Otherwise you will miss most of your life.

If you do not change direction, you may end up where you are heading

Our life is shaped by our mind, for we become what we think.

It is better to travel, than to arrive

How blissful it is, for one who has nothing. Attainers-of-wisdom are people with nothing. See him suffering, one who has something, a person bound in mind with people.

Just as a snake sheds its skin, we must shed our past over and over again.

You are the community now. Be a lamp for yourselves. Be your own refuge. Seek for no other. All things must pass. Strive on diligently. Don't give up.

Emotion arise from Desire, hence an Illusion.

Like the moon, come out from behind the clouds! Shine.

How wonderful! How wonderful! All things are perfect, exactly as they are.

Tune as the sitthar, neither high nor low, and we will dance away the hearts of men.

You only lose what you cling to.

Whatever a monk keeps pursuing with his thinking and pondering, that becomes the inclination of his awareness.

Purity or impurity depends on oneself, No one can purify another.

Attachment leads to suffering.

All phenomena do not inherently exist because of being dependent-arisings. All phenomena do not inherently exist because of being dependently imputed.

We live in illusion and the appearance of things. There is a reality. We are that reality. When you understand this, you see that you are nothing, and being nothing, you are everything. That is all.

He who envies others does not obtain peace of mind.

Like a caring motherholding and guarding the lifeof her only child, so with a boundless heartof lovingkindness, hold yourself and all beingsas your beloved children.

To live a pure unselfish life, one must count nothing as one's own in the midst of abundance.

What is the happiness ? Is it really happiness ? Nothing stable, just happen, stay and decay... Everything is impermanence, dissatisfaction and nothing can ever belong to itself

Resolutely train yourself to attain peace.

All descriptions of reality are temporary hypotheses.

Whoever sees me sees the teaching, and whoever sees the teaching sees me.

Friendship is the only cure for hatred, the only guarantee of peace.

Anger will never disappear so long as thoughts of resentment are cherished in the mind. Anger will disappear just as soon as thoughts of resentment are forgotten.

Know well what leads you forward and what holds you back, and choose the path that leads to wisdom.
---
Co-author:  Akshaya Saravana Kumar
Akshaya is currently pursuing Masters in English Literature. She is an avid reader, an animal lover and a movie freak. She loves to spend her past time travelling to strange places in different time zones with her imagination and fall in love with fictional characters.