Raksha Bandhan, the word encapsulates the entire meaning of the festival. A promise to take care and protect. Although traditionally it was only meant for a brother-sister relationship, today we have marked this festival to celebrate our relationship with anyone who vows to stand by us forever. It might be between friends, non-blood relatives, a disciple and a Guru or a father and a daughter. 
It is observed on the last day of Shraavana according to the Hindu lunar calendar (July/August) on a full moon day. It is mostly celebrated in Hindu families all across India and few adjoining Hindu regions. RakshaBandhan 2022 will fall on Thursday, 11 August.
The postal services around this time gets busy as sisters who are staying far away from their brothers send rakhis and roli with a letter, and in return, brothers send a gift or transfer some amount of money as a shagun. The market gets filled with stalls selling rakhis, gifts and sweets.
People wake up early this day, get dressed and prepare a thali for pooja containing rakhi, roli, rice grain, diya and sweets. Generally, sisters fast until the completion of the ritual. It starts with putting tilak on brother's forehead, doing aarti and wishing for his long life, tying rakhi and then feeding him sweets. In return of rakhi, brothers give some gift. This is followed by a lavish feast. 
In this article:
Raksha Bandhan 2022 Wishes and Messages for Brother
Raksha Bandhan 2022 Wishes and Messages for Sister
Raksha Bandhan (Rakhi) Quotes
Raksha Bandhan PNG Images
Raksha Bandhan Images and Wallpapers
Raksha Bandhan Posters
Raksha Bandhan: History, Celebration, Interesting facts
Happy Raksha Bandhan 2022 Wishes and Messages for Brother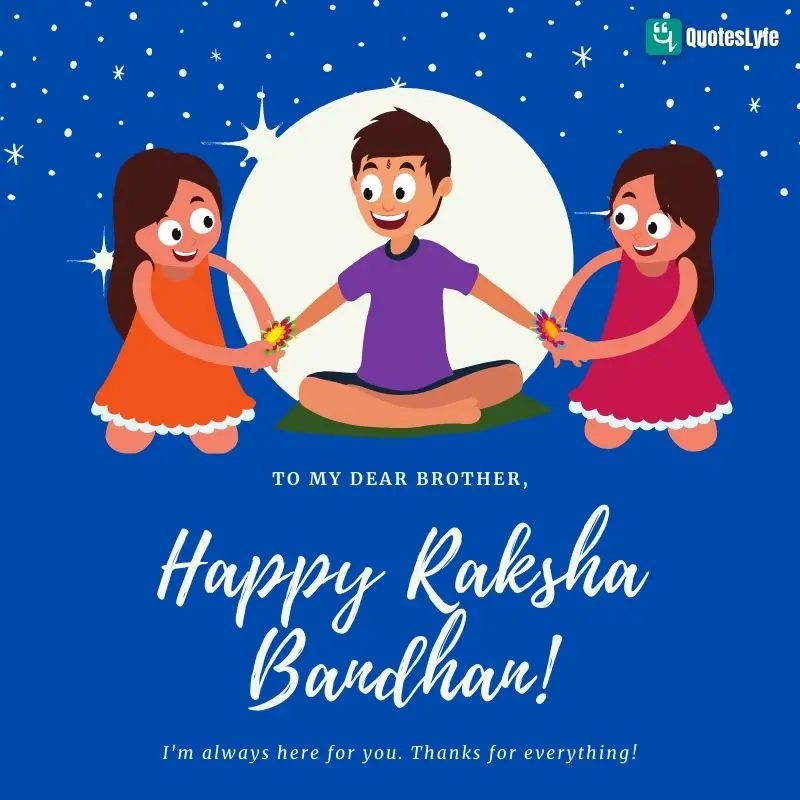 You have always been my best friend, holding my hand, making sure the road I travelled on free of obstacles. There cannot be a better brother than you in this whole world. Wishing you the best in life always. Happy Raksha Bandhan 2022!
I pray for your happiness, prosperity, and long life, sweetest brother. Sending loads of love and best wishes. Happy Raksha Bandhan 2022.
Dear bhaiya, let us make this Raksha Bandhan a memorable one by creating beautiful memories.
This Raksha Bandhan, I pray to God to give my handsome brother good health, long life, the world of happiness, positivity, peace and all that he desires for. Happy Raksha Bandhan to my lovely brother!!
Happy Raksha Bandhan to my childhood leg-puller, my lovely brother, my guardian and the only person who knows me inside-out. Thanks for always being there. Happy Raksha Bandhan 2022 bro!
My darling brother, I know I fight with you a lot, but today, at an auspicious occasion of Raksha Bandhan, I just want to tell you that you are my world and being your sister is an honor to me.
Happy Raksha Bandhan my brother!!! This Raksha Bandhan, I promise to you that I will never leave to tease you, but whenever you need me in difficult times, I will always be there by your side to protect & support you.
Dearest bhaiya, you are the one who completes my life with your love and affection, care and support…. I wish that you are blessed with choicest blessings of Almighty…. Happy Raksha Bandhan 2022 to you.
No one can love, respect, tease, protect and understand me as you do my good-looking brother. Happy Raksha Bandhan 2022!
Brothers are like lampposts along a dark and lengthy road called life. They don't make the distance any shorter but they illuminate the path and make travelling worthwhile. Love u Brother.
You have always been my motivation making the impossible of things possible always. That's my bro, no less than a superman making paths smoother. I love you bro.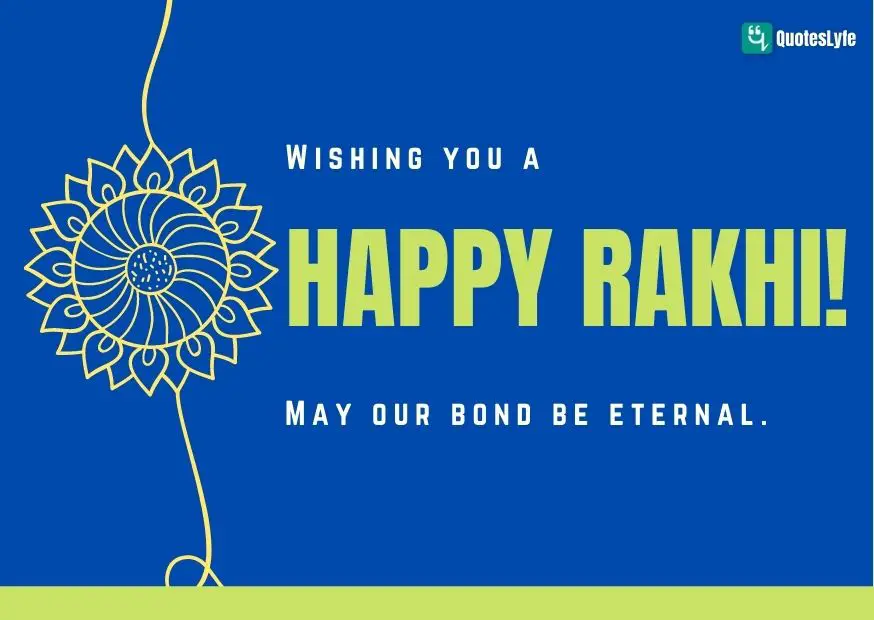 Every Raksha Bandhan you promise me to take care of me and live up to it without fail…. Happy Rakhi.
When your hearts are close, distance doesn't matter. Though I am not there to tie Rakhi on your wrist but my warm wishes are always there with you. May you have a joyous and successful life. Miss you.
You are the best gift that I received from my parents. Love you so much brother! Happy Raksha Bandhan!
O...my brother- Until you are there in my life, I don't need a friend.
My dear brother, you are the reason for my smile. I thank the universe for choosing me your sister.
You are the luckiest boy because you have a sister like me. Happy Raksha Bandhan 2022 bro!
You supported me while I was in distress; you protected me when I was scared and all other things you did to make me happy. Thanks are just insufficient to express my gratitude. Happy Raksha Bandhan 2022 to you Brother!
Today is the day to celebrate our bond of love… the day to thank God for sending us as brother and sister… the day to make promises and fulfill them…. Wishing you a very Happy Rakhi.
You are all-in-one package for me. You are my friend, a companion and also a protector. Love you, dear brother. Happy Raksha Bandhan 2022.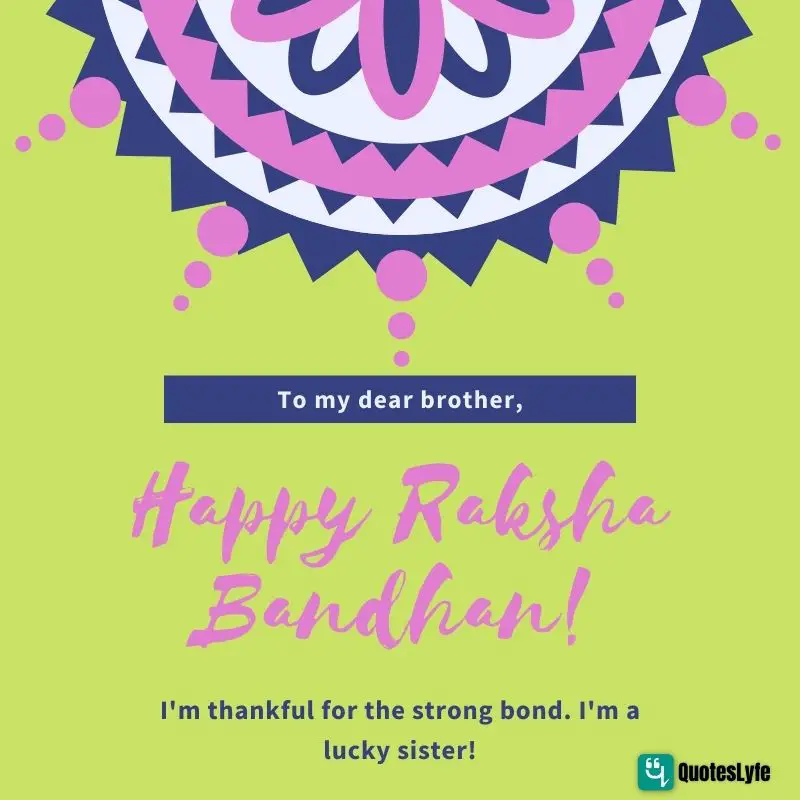 A very big thank you for being my companion, my protector and being equally weird with me. You are the best brother in this world. Happy Raksha Bandhan 2022!
You are the only person who supports me in my hard times; you are the one who shakes a leg with me in my happiness. There was no single day in my life when you weren't there. I really love you my big brother.
Dearest Bhaiya, you are not just a brother to me but you are also the best friend I have. When you are around nothing seems impossible. Always be there to make me happy and feel blessed. Love you lots.
With a brother like you, I have to worry about nothing because I know you are there.
On the occasion of Raksha Bandhan, I just want to say that you are the best brother in the world and I am so lucky to be born as your little sister. You are the most precious of all. Happy Rakhi bhaiya.
Thanks for always being my pillar of strength. I am very blessed to have a brother like you. Happy Raksha Bandhan 2022!
Happy Raksha Bandhan 2022 Wishes and Messages for Sister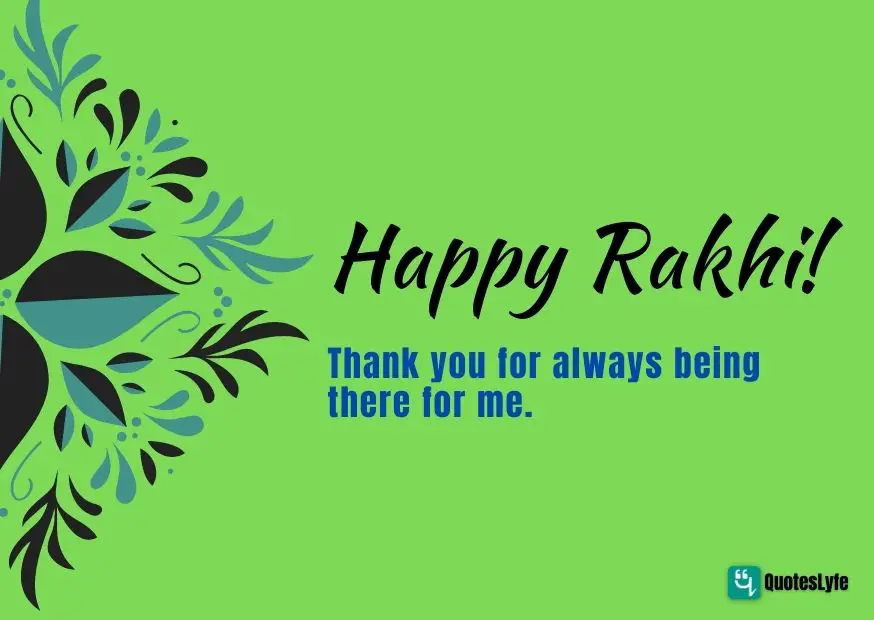 On the occasion of Rakshabandhan, I wanna promise you my darling sister that I will be standing next to you in all thick and thin. Happy Rakshabandhan 2022!

You take my hand and lead me along paths I would not have dared explore alone. Thanks for all the adventures my lovely sister.

The most amazing thing about having a sister is like having a best friend in life. Thank you for always being there for me Sis. Happy Rakshabandhan 2022!

Sometimes I think you can read my mind. If you can read my mind, then you already knew that anyway.

I don't deserve to have you as my sister. You have done so much for me since I was little.

You truly make a wonderful sister. May you aways be happy and joyous. Happy Rakhi.

Dearest sister, this Raksha Bandhan, I promise to always be your savior and will always be by your side no matter what. Sending loads of blessings and gifts just for you!
No matter how old you grow, for me you will always remain my adorable little sister. Happy RakshaBandhan!Dear sister, you are my best friend and I would never want to part from you. Happy Rakhi!

Many years ago, God gave me a wonderful gift and that was you, dear sister. Happy Rakshabandhan 2022!

Dear sister, it is because of your guidance that I have achieved success in life. Happy Rakshabandhan 2022!

Having a sister like you is like having a best friend in life! Let's promise to make more jovial memories together. Happy Raksha Bandhan 2022 lovely sis! 

Wishing my best buddy a very happy Rakhi. Enjoy the day, dear sister.

My life is beautiful because of you, it is pleasing because of you, I am frivolous because of you, and you are happier because of me. Happy Rakshabandhan my sweet-sweet sister.

This holy thread you tie on my wrist will strengthen our bond more and fills my heart with more love for you. You are the best sis in the world! Happy Raksha Bandhan!

May God grant you a happy, long and healthy life. Happy Rakshabandhan 2022, dear sister!

From a chubby kid with a running nose to a beautiful woman, you have come a long way sister. Happy Rakhi!

We have celebrated many Raksha Bandhan festivals together, and each one is better than the other. You are the one who makes it exceptional! Happy Rakshabandhan to you, dearest sister. 
Raksha Bandhan Quotes
Children of the same family, the same blood, with the same first associations and habits, have some means of enjoyment in their power, which no subsequent connections can supply.– 

Jane Austen

A brother is a friend God gave you; a friend is a brother your heart chose for you.- 

Proverb

.

It's hard to be responsible, adult and sensible all the time. How good it is to have a sister whose heart is as young as your own. -

Pam Brown

Bless you, my darling, and remember you are always in the heart - oh tucked so close there is no chance of escape - of your sister. - 

Katherine Mansfield

A sibling may be the keeper of one's identity, the only person with the keys to one's unfettered, more fundamental self.– Marian Sandmaier

It snowed last year too: I made a snowman and my brother knocked it down and I knocked my brother down and then we had tea. - 

Dylan Thomas

.

Being a big sister is to love your brother, even if he does not want it or love you in return.- 

Unknown
Having a sister is like having a best friend you can't get rid of. You know whatever you do, they'll still be there.– 

Amy Li

Brothers and sisters are as close as hands and feet.– 

Vietnamese Proverb

My brother may not always be at my side but he is always in my heart – 

Unknown

There's no other love like the love for a brother. There's no other love like the love from a brother. -

Astrid Alauda

A friend is a brother who was once a bother. – 

Unknown

My big brother still thinks he's a better singer than me.– 

Rod Stewart

Our brothers and sisters are there with us from the dawn of our personal stories to the inevitable dusk. – Susan Scarf Merrell

As we grew up, my brothers acted like they didn't care, but I always knew they looked out for me and were there! - 

Catherine Pulsifer

Sometimes being a brother is even better than being a superhero- 

Marc Brown

It takes two men to make one brother. - 

Israel Zangwill
Raksha Bandhan PNG Images
---
Raksha Bandhan Images and Wallpapers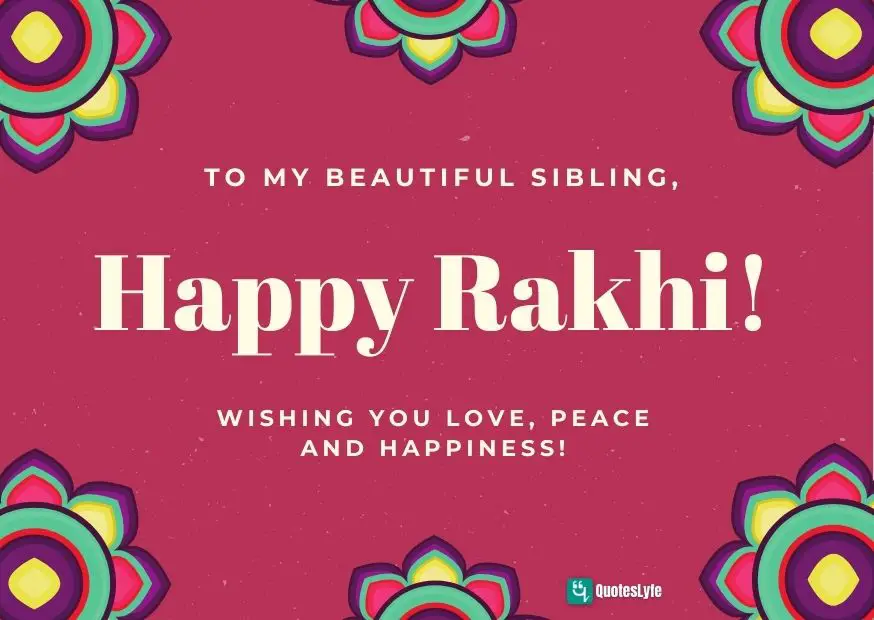 Raksha Bandhan Posters
Short Raksha Bandhan Wishes and Messages
It's lovely... that we got to grow up together...like two peas in a pod... Happy Rakshabandhan to my sweet as sugar brother.
The bonds we share matter a lot to us—warm and joyful New Year Strong sisterhood, Dear Sister. Happy Raksha Bandhan 2022.
Remembering the strong bond of togetherness shared by you and me. Thanks for being the best protector.. Happy Rakshabandhan.
You are all for one and one for all.
Life is beautiful because you are a part of my life dear brother. Happy Raksha Bandhan 2022.
A brother is the best friend you receive from the universe. Happy Raksha Bandhan!
Happy Raksha Bandhan Wishes to You!  We gain and lose things everyday. But trust me on one thing — you'll never lose me.
Dear Bhaiya you are being badly missed. Love you to the moon and back.. Happy Rakhi 2022.
You are a companion, a friend and also a savior. Love you, dear brother. Happy Rakshabandhan
History of Raksha Bandhan
Most popular story related to the origin of Raksha Bandhan comes from the great Indian epic, Mahabharat. It is believed that when Lord Krishna had hurt himself my mistake, Draupadi took out a piece of her sari and wrapped it around his injury, preventing it from bleeding. In return, Lord Krishna promised to always protect her. Hence, the ritual of tying rakhi in return for a promise to protect was born. Later, when Pandavas lost her to Kauravas in the gambling bet, Krishna saved her.
Rani Karnawati, married to Rana Sangram Singh was the queen of Chittorgarh. Rana Sangram Singh died in Battle of Khanua, making her the temporary ruler, a regent in the name of her son Vikramjit. Bhadur Shah of Gujarat decided to attack Chittorgarh. For the protection of her kingdom, she appealed Rajput rulers as well as Mughal Emperor Humayun. She is said to have sent a rakhi to the Mughal Emperor asking to protect her as well as her kingdom. The King was touched by the gesture and rode to her rescue. However, by the time his armies were able to defeat the Bahadur Shah's, most of the Chittorgarh was in ruin with many soldiers defeated and dead, including the women who have committed Jauhar. One of them being Rani Karnawati. 
A similar story, related to Alexander the Great dates back to 326 BCE. On invasion, his wife has sent a sacred thread to Porus, the king of Kaikeya kingdom. It is believed because of that rakhi and the sentiments it held, Porus didn't attack Alexander personally in the battle.
It is also believed in ancient times the notion of the festival wasn't limited to just brother and sisters. According to the religious text, Bhavishya Puran, wife of Lord Indra - Sachi (also known as Indrani) tied a sacred thread on his wrist as a protection against powerful demon Bali. 
There is another story related to King Bali. Lord Vishnu's wife, Goddess Laxmi tries to prevent his husband from going to Bali's palace after Vishnu conquers three worlds from the king. King feels honoured when she ties a rakhi on his wrist and grants her a wish; to this, she asks to send her husband back home.
There is a story that links the birth of Goddess Santoshi to this festival. When Ganesha's sons- Kshema and Laabha saw their aunt Devi Mansa getting showered with gifts just for tying a thread on their father's wrist, they got intrigued. On being explained by Ganesha, the importance of the thread they too wanted a sister with whom they can share the same bond and celebrate the festival. Thus, Ganesha's daughter Goddess Santoshi was created. 
The creation of river Yamuna could also be traced back to a story of the brother-sister bond shared by Yama and Yamuna. They both were born to Surya (The Sun God) and his wife Samjna. But she couldn't endure her husband's radiation and fled back to her father leaving behind a shadow woman- Chaaya in her place. Chaaya and Surya also have a son whom she loves more than Yama, which makes him revolt against her. Chaaya reacts to this with a curse that his foot should fall off. As a result, Yama becomes the God of Death and is banished to the Underworld. Yami weeps at this separation from her brother so much so that Gods decide to make her Yamini, the Goddess of night and with her tears, the river Yamuna is created. 
Celebration of Raksha Bandhan
In West Bengal and Odisha, the festival is called as Jhulan Purnima where they offer prayers to Lord Krishna and Radha and sisters tie rakhis.
In fishermen community- Koli community of Maharashtra, they worship Lord Varuna, the Hindu God of Sea. They throw coconuts into the sea as an offering to God as sisters follow the same tradition of tying amulets. Their festival also goes by the name of Narali Pournima.
Some places in the North, like Jammu, also see kite flying on the days around Janmashtami and Raksha Bandhan.
There is an old tradition of Salono which involves priests trying sacred threads and amulets as a guard against all evils. In Haryana, along with rakhi tradition, Salono is also observed.
The Newar community of Nepal also celebrate the festival. It is observed by mainly Shaiva Hindus and Buddhists. As sisters tie the thread on their brother's wrists, men change the sacred thread over their chest- janai. Hence, it is also called Janai Purnima or Rishitarpani.
Some Interesting Facts About Raksha Bandhan
The festival is celebrated annually at the official President's house- Rashtrapati Bhavan where many children and students from different schools and organisations are invited. They also tie rakhis on the President's wrist. This year Indian president Kovind celebrated the festival with nurse community who have been fighting the pandemic and protecting civilians. The irony wasn't lost on the President as he pointed out the same and thanked them for their services.
Rabindranath Tagore, one of India's greatest freedom fighter, encouraged people of different religions to partake in the festival to encourage harmony and unity. 
Not just Hindus, but people from other faiths also celebrate this festival.
Besides India and Nepal, it is also celebrated in Pakistan, Mauritius, USA, Sri Lanka and UAE.
This year also saw an incentive taken by the Indian Post to deliver rakhis on time, especially since many siblings weren't able to see each other due to lockdown. They issued a new 'rakhi' envelope so that it is easier in sorting and can be delivered on time.
A novel method of celebrating Raksha Bandhan was witnessed by India this year. Few residents of Gurugram city tied rakhis on trees of Aravalli forest as an expression of their love and gratitude for nature and a promise to protect them.
When is Happy Raksha Bandhan 2022?
Happy Raksha Bandhan 2022 will be on Thursday, 11 August, 2022.
Happy Raksha Bandhan (Rakhi) dates and the day from the year 2021, 2022, 2023, 2024, 2025 and 2026
Year
Day and Date
 
Raksha Bandhan 2021
 
Raksha Bandhan 2022

Thursday

,

11 August 2022

 
Raksha Bandhan 2023

Wednesday

,

 30 August 2023

 
Raksha Bandhan 2024
 
Raksha Bandhan 2025
 
Raksha Bandhan 2026
Friday, 28th August 2026
 
Conclusion
Hence, the festival of Raksha Bandhan is not just limited to your brother or sister, but an opportunity to make a deep bond of respect and care with others too. It is a way to strengthen your relationships by incorporating the true meaning of the festival- a promise to protect the other person in every situation. It preaches to live in harmony with people even if their ideologies and belief systems are different than ours. Above all, the festival asks us to tie a knot of deep unbreakable commitment to come forward when a person or a creation demands to be rescued.
This article presents the Best Raksha Bandhan Wishes, Quotes, Messages, Images, Cards, Greetings, Wallpapers, GIFs, PNG, and Pictures. Share these messages and quotes with your brother and sister on Whatsapp, Facebook, Snapchat, LinkedIn, Twitter, Instagram, and on other social media accounts.
---
Co-author:  Shreya Arya
A digital marketing enthusiast with experience in HR and hospital management, Shreya has wide interests ranging from philosophy, psychology to latest trends in automation. She is also a freelance content writer and loves lending beautiful words to ideas and feelings.