Mahatma Gandhi was one of the most significant and revered freedom fighters. Born in 1869 as Mohandas Karamchand Gandhi, he went on to become a lawyer, anti-colonial nationalist and social activist. He led the nationalist movement against the Britishers and made Indian independence possible. He worked towards uplifting poor, expanding women rights, increasing harmony between all the communities of the Indian population, ending untouchability and most importantly demanding the self-rule for India.
He was regarded all over the world for his non-violent movement. He promoted a self-reliant India and led the Dandi March and Swadeshi policy. He encouraged civil rights and non- cooperation movements. He is regarded as Father of the Nation in India, and his image appears on the currency notes of India. Here are some of the best Mahatma Gandhi quotes and sayings.
Happiness is when what you think, what you say, and what you do are in harmony.
There could be two meanings derived from these words. Firstly, it is about syncing your actions with your words. It's about saying what you truly believe in, with your actions being in accordance with your words. Else if your actions are in contrary to your beliefs or your preachings, you are dishonest to others as well as yourself.
The second meaning of these words could be about not being able to execute your ideas and planning. Whatever dreams and ambitions we garner, we are not able to work towards it for any reason and get stuck into living a purposeless life. This can never provide any kind of peace and happiness.
You must be the change you wish to see in the world.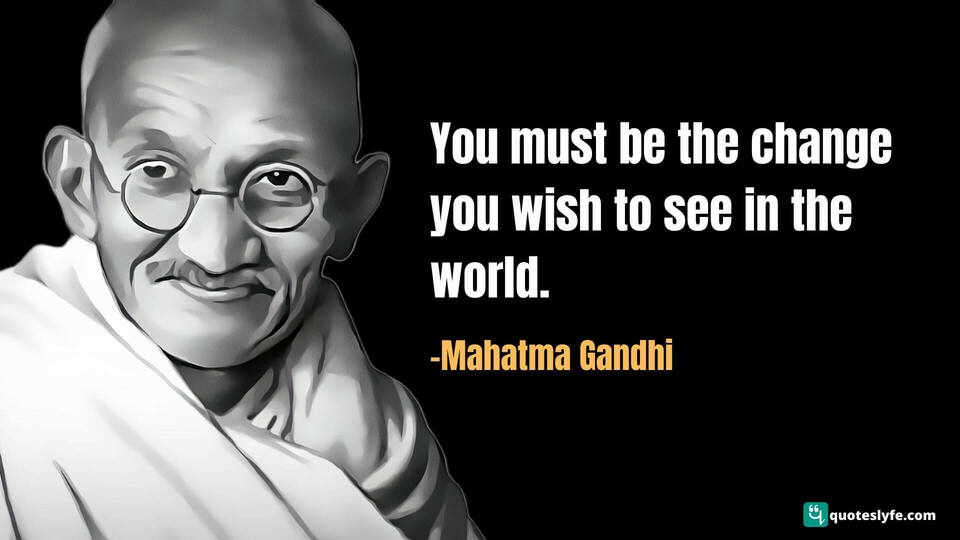 You can't expect the world to change unless you do. For the world to change, they need a leader whom they can follow, whose values they can imbibe. You need to show them what it's like to bring about a revolution, be it personal or national. Walk the talk.
Live as if you were to die tomorrow. Learn as if you were to live forever.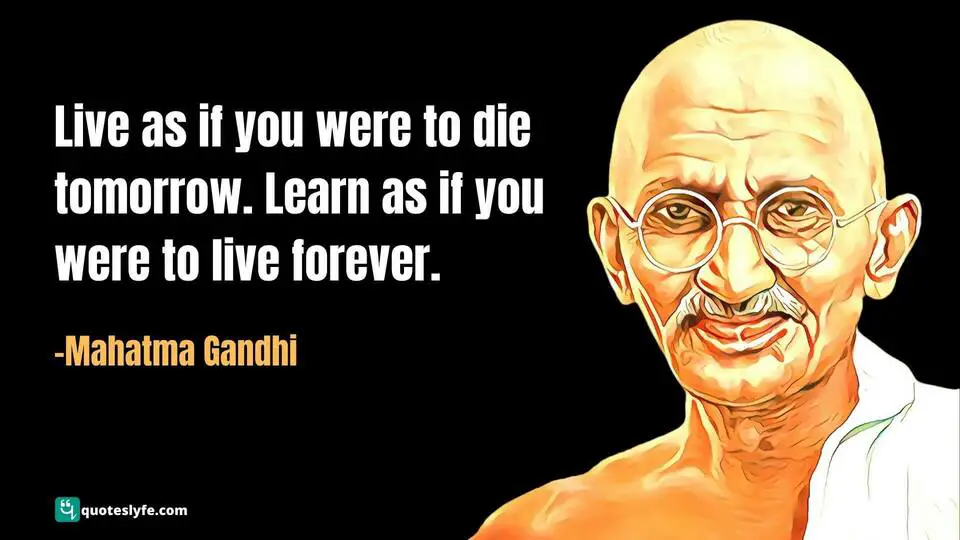 A person doesn't become successful unless he values his time. Always remember that you are getting closer to the end of your life every second. So, don't waste your time doing anything that is not going to make you happy or add to your cause. However, learn as you have forever. Learning shouldn't be done for short-term and should be remembered and carried over for years.
Nobody can hurt me without my permission.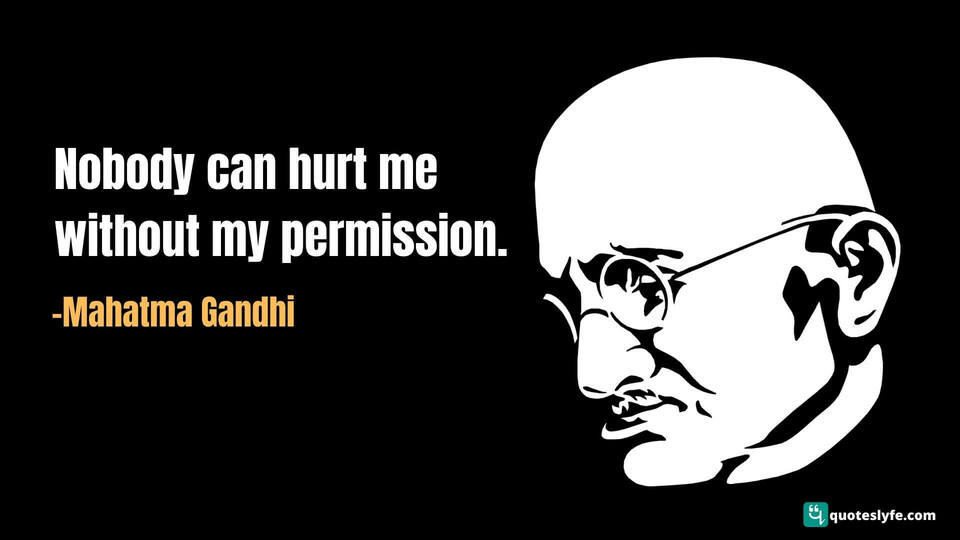 Resilience is vital for success and happiness. You have to recover quickly when a problem strikes. Not just that, you have to become tolerant of failures and criticism. Don't let the harsh judgement break your resolve or discourage you in any manner. Resolve not to let destructive criticism ruffle you. This can help you remain motivated and optimistic.
A coward is incapable of exhibiting love; it is the prerogative of the brave.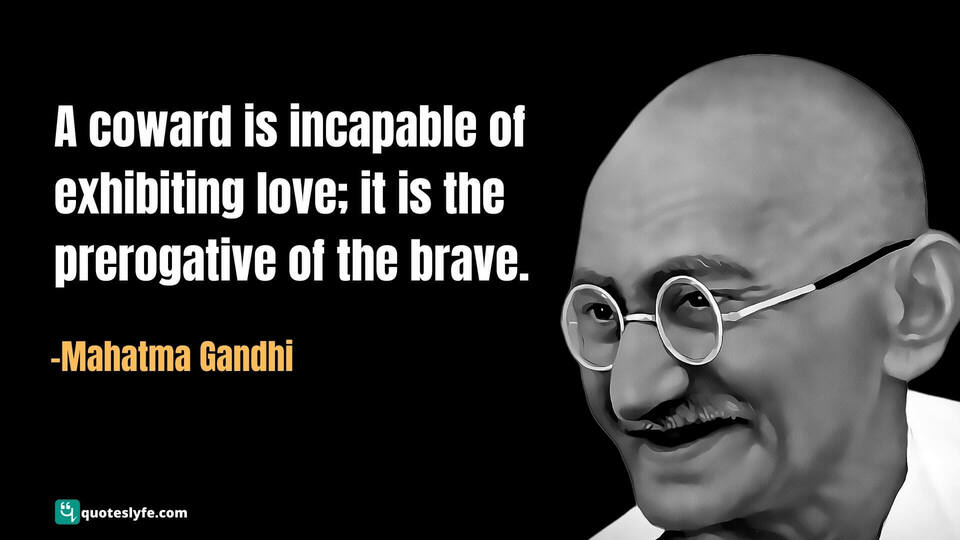 Love, more than often warrant for sacrifices. You can not truly love someone (including your nation) if you are not brave enough to fight for its safety and upliftment. To make sacrifices for its freedom. Only a courageous person can commit to another person unconditionally, stand by him or her even when things get tough. Same applies to your work too. Love is not for weak-hearted.
An ounce of practice is worth a thousand words.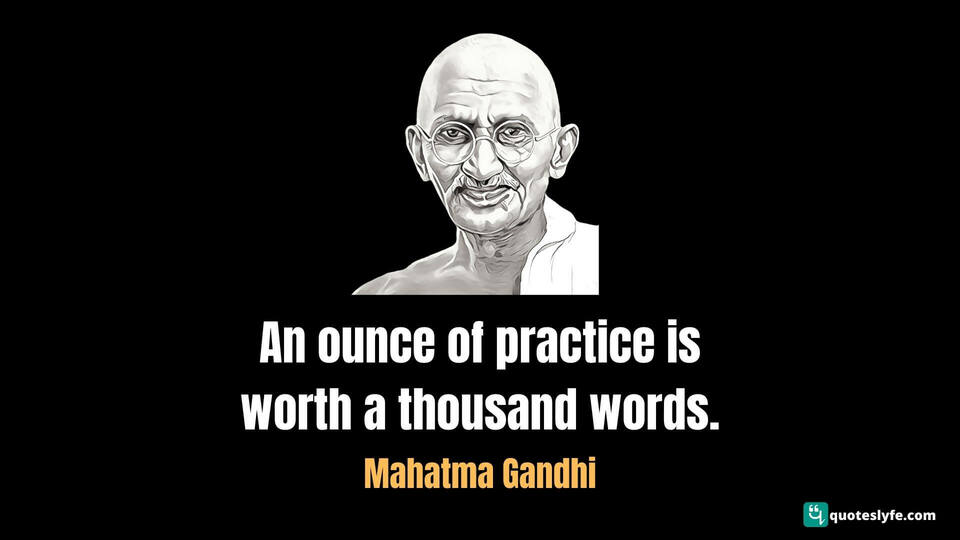 Words don't get the things done. Even the best of plans won't lead you anywhere unless executed. Same goes for hollow preachings. Spoken words get lost into the ether; it is actions that give substantial results.
This thought should be remembered by politicians with their ambitious manifesto that hardly sees the light of day. It is also a good lesson for everyone, including writers like us, who can alter their lives by acting on the words written by them.
Freedom is not worth having if it does not include the freedom to make mistakes.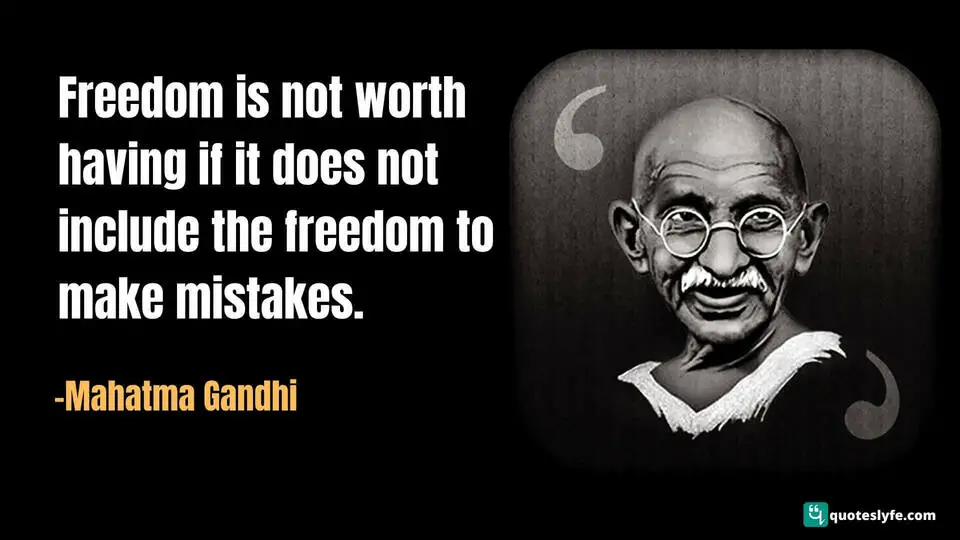 As they say, to err is human and freedom to do so is necessary for any kind of growth. We all know that the formula to success to trial and error, learning through your mistakes. So, when you are liberating a person, you are telling them it's okay if you fail.
A small body of determined spirits fired by an unquenchable faith in their mission can alter the course of history.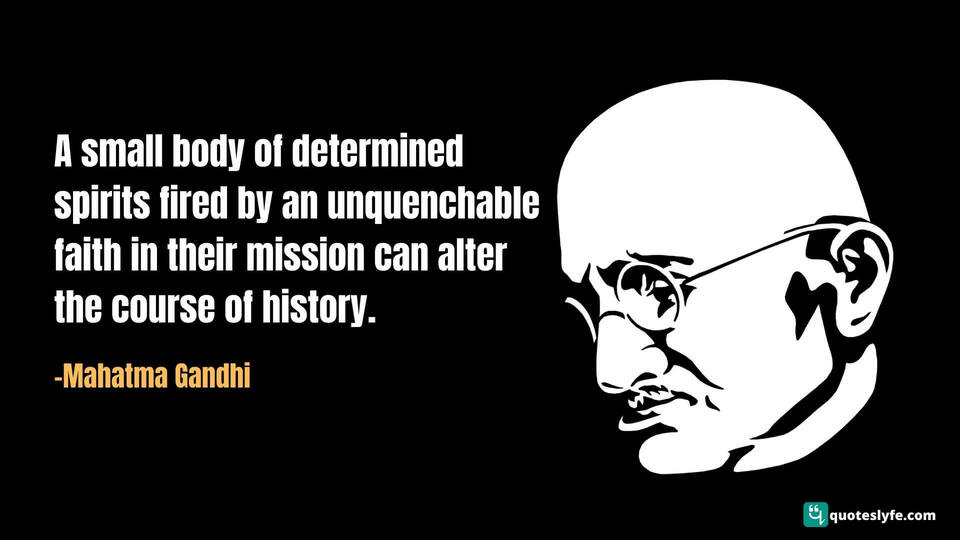 All you need to achieve your dreams is willpower, hard work and never-dying faith. It doesn't matter how you look like, or where you come from or how strong you are physically, as long as you don't abandon your faith in success, sooner or later you will achieve what you have been working for.
There is a sufficiency in the world for man's need but not for man's greed.
This suits best to explain the condition to which the environment has reduced today. Our insensitivity towards mother nature is apparent and criticised yet we fail to limit the damage. We are so deep into all wrong practices that we don't even know from where we need to start damage control. We mistake our luxuries for wants, and in this ignorance, nature suffers.
An error does not become truth by reason of multiplied propagation, nor does truth become error because nobody sees it.
Recently, the methods of mainstream media and social network have been questioned and rightly so. There have been conjectures and propaganda circulated through multiple channels, which general public mistakes for truths. Public opinion is not a touchstone for truthfulness. Similarly, just because a fact cannot be backed by others doesn't make it less of a fact.
Let us continue reading some more Mahatma Gandhi quotes.
In prayer it is better to have a heart without words than words without a heart.
He is trying to warn us against the hollow religious practices. Rituals and heavy Vedic texts mean nothing if they are not carried out with love and faith. Similarly, prayer won't do much good if your devotion is missing from it. A prayer created out of your love for God is what truly matters.
The difference between what we do and what we are capable of doing would suffice to solve most of the world's problems.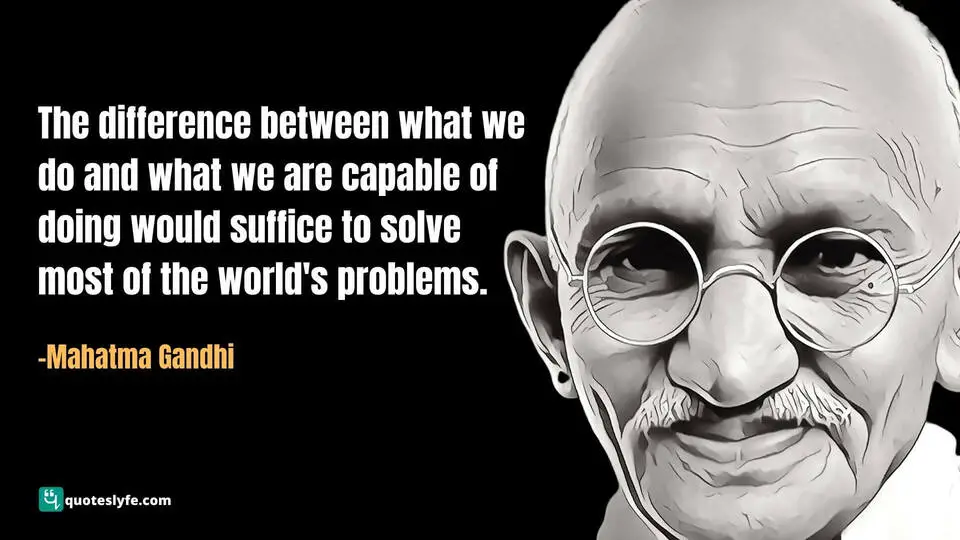 Do you believe if each one of us realised their true potential, the world would have lesser evils?
He did. He had faith in people and their capabilities. He thought we have the potential to change the world for better. Unfortunately, we also have the power to make the situation worse. Depends on us, if we are going to use our power for petty personal goals or something bigger and noble.
Non-cooperation with evil is as much a duty as is cooperation with good.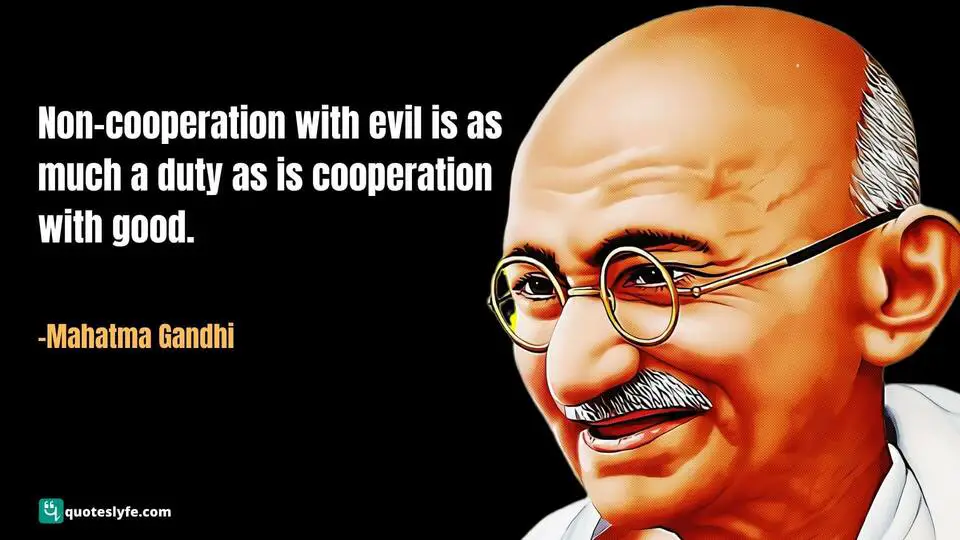 That was the whole essence of his revolution against the behemoth of the British Empire. Non-cooperation. He stuck to his non-violent methods even when he was threatened and jailed. It wasn't just an incentive towards making Britishers leave India, but non-cooperation was his value. It was unimaginable for him to cooperate with or be part of any kind of evil. The treatment of Indians by British authorities was unacceptable, and he could no longer cooperate with the law that upholds such behaviour.
Action expresses priorities.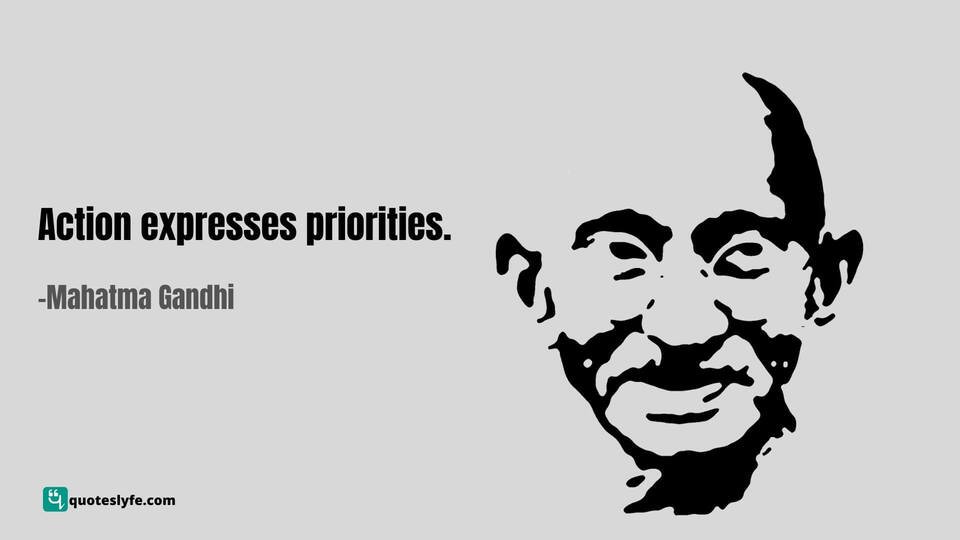 Our actions tell us who we truly are. Irrespective of what we say or think, what we do shows the reality of our commitment to things. The things we spend time on executing are the ones we prioritise or feel are significant. So, you must set your priorities straight.
It is the quality of our work which will please God and not the quantity.
It is not just about the quality over quantity tip. He is trying to tell us that all that makes our life 'big' like ultra wealth, fame etc. are quantity like. They won't add any value to our lives; they are not going to make us happy or contented. Try to indulge in things that touch your heart like being generous, humble and striving to make others life easier.
You may never know what results come of your actions, but if you do nothing, there will be no results.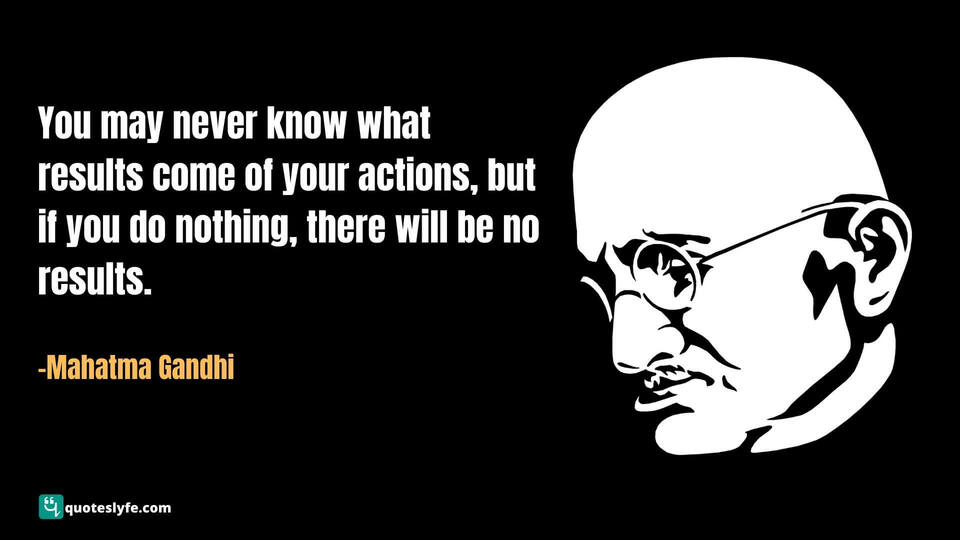 You might fail if you try, but there is always at least a minute chance of victory. However, if you get afraid of failures and never try, you have already failed by default. So, don't let the fear of failure cripple you from starting the journey.
No culture can live if it attempts to be exclusive.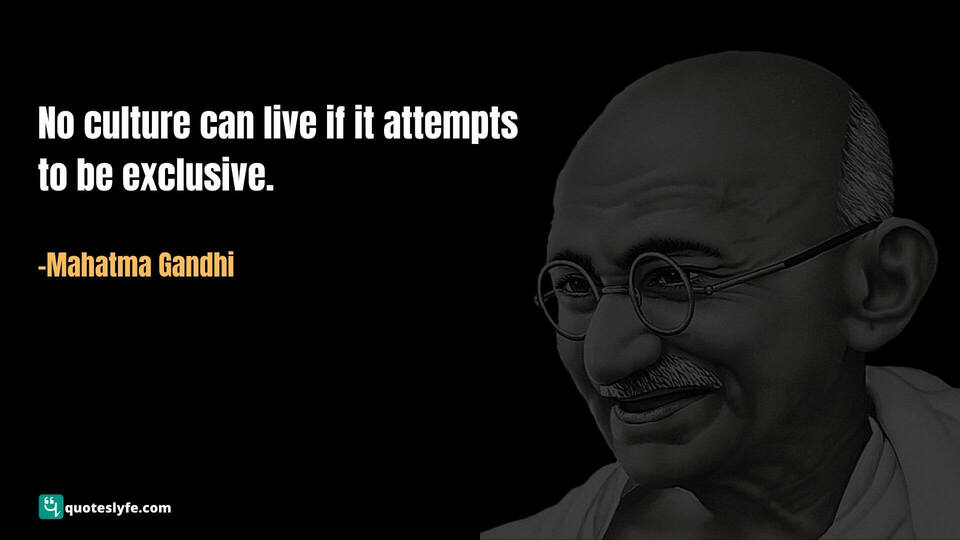 This is a great lesson right now when the world is thrown into riots and pandemonium over racist and religious differences. We know, whenever there is diversity, there will be a difference of opinions, mindset and culture. But this is what makes us better. We need to find a way to live in harmony and be compassionate even with people who don't share the same skin colour, same God or speak the same tongue. Not only harmony is necessary for world peace but also for world progress as no nation or culture or society can progress in isolation.
The greatness of humanity is not in being human, but in being humane.
There is nothing great about being human if you have forgone its most important essence- compassion. Being able to mass a wealth, built a beautiful house, have a happy family, be revered and honoured is a great feat. Still, you have fallen short of being a human if you have never been kind towards others and held sympathy and love for a fellow human.
There are people in the world so hungry, that God cannot appear to them except in the form of bread.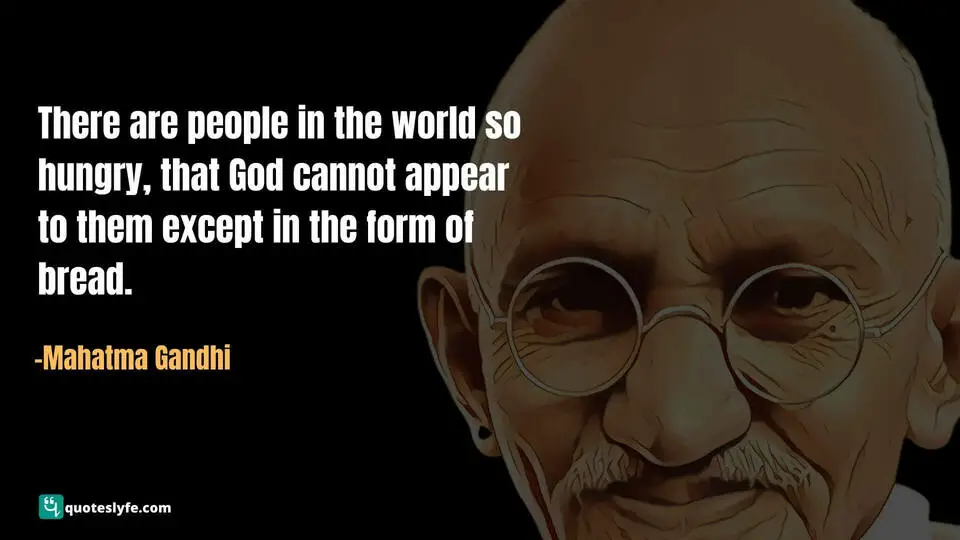 A touching thought that paints a visceral view of our world. According to the last year WHO stats, at least 820 million people that is 10 per cent of the world population is starving. The disparity is so stark, where a part of the population is continuously being bombarded with technological advances while another part, do not have enough food to sustain themselves. For them, big abstract ideas of success, religion, power don't mean much. The only thing sacred to them is their body and its sustenance. The idea of God doesn't get more pure and simple than this.
Power is of two kinds. One is obtained by the fear of punishment and the other by acts of love. Power based on love is a thousand times more effective and permanent then the one derived from fear of punishment.
There is something known as positive and negative reinforcement. Which tells us that we take actions for either of the two reasons-when we are desperate to add something positive into our life or when we badly want to remove something negative from our life. This concept can be related to motivation through love and fear. You can gain power over people if you are intimidating. But it will be short-lived. Once, you are gone, you lose your hold over them too. However, if you have inspired compassion in people, they will follow you even after you are long gone.
Gandhiji was the epitome of this. We still remember him today as our nation's father. Thousands of people rallied behind him towards freedom because of the compassion he had for them, and they had for him. And our love for this great man still lives on as every year on his birthday we celebrate it by hoisting the flag and narrating his life lessons and contributions to our country.
Conclusion
In this article, we have discussed some of the top Mahatma Gandhi quotes on Life, Power, Humanity, Culture, Work, etc. with their meanings. These quotes will inspire you to do something good and will always act as a source of motivation.
Co-author: Shreya Arya
---
A digital marketing enthusiast with experience in HR and hospital management, Shreya has wide interests ranging from philosophy, psychology to latest trends in automation. She is also a freelance content writer and loves lending beautiful words to ideas and feelings.