Bill Gates needs no introduction. The American business magnate and co-founder of Microsoft Corporation was the richest man on the planet for almost two decades until two years ago. He has donated millions to the cause of better health and education and eradicating poverty. Earlier this year, he was also announced to be stepping down from Microsoft Board so he can dedicate more time to his Bill & Melinda Gates Foundation, which is the world's largest private charitable foundation.
Currently, Gates has a net worth of US$113.7 billion and is the second-wealthiest person in the world. 
Let's see some of the best Bill Gates quotes.
Money has no utility to me beyond a certain point.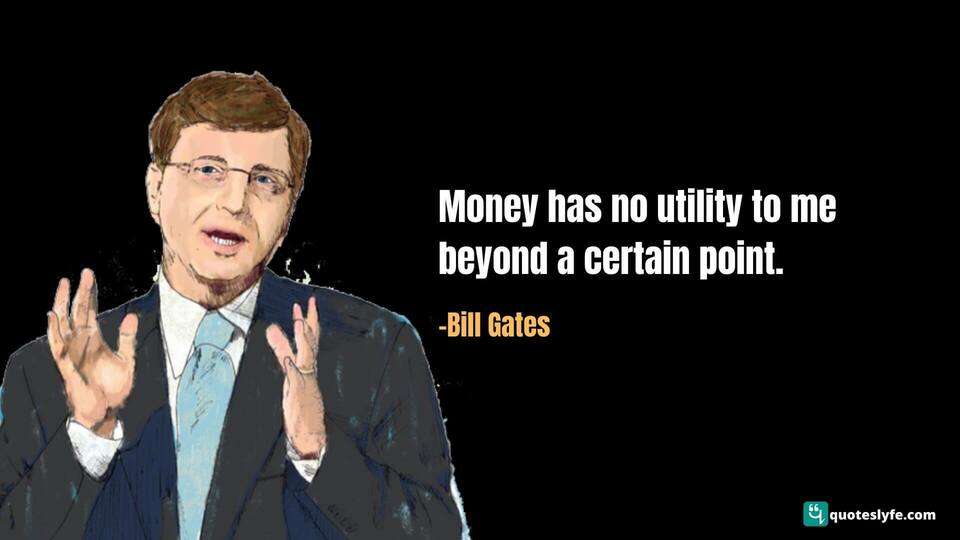 When one of the richest guys on the planet tells about the limitation of the importance of money, we ought to listen. Money is very important to have a happy life. It is required to have a stable, secure and healthy life. But that's it; there is only so much money a person would require. After that, it is only being used to satisfy one's greed. 
Success is a lousy teacher. It seduces smart people into thinking they can't lose.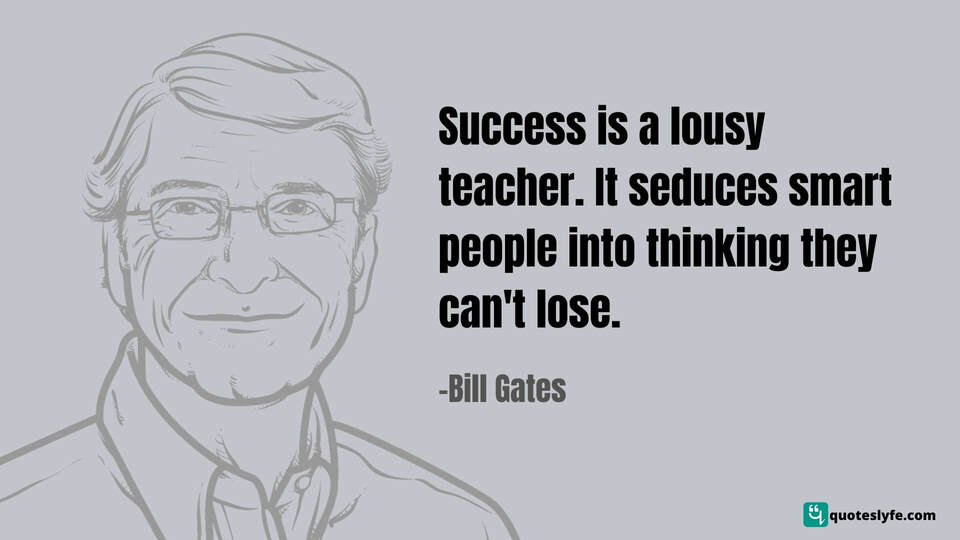 Success can lead to people believing that just because they haven't failed this time, they won't ever. Don't let success delude you into believing that you are invincible. Failure is an inevitable component of our journey to success.
Don't compare yourself with anyone in this world…if you do so, you are insulting yourself.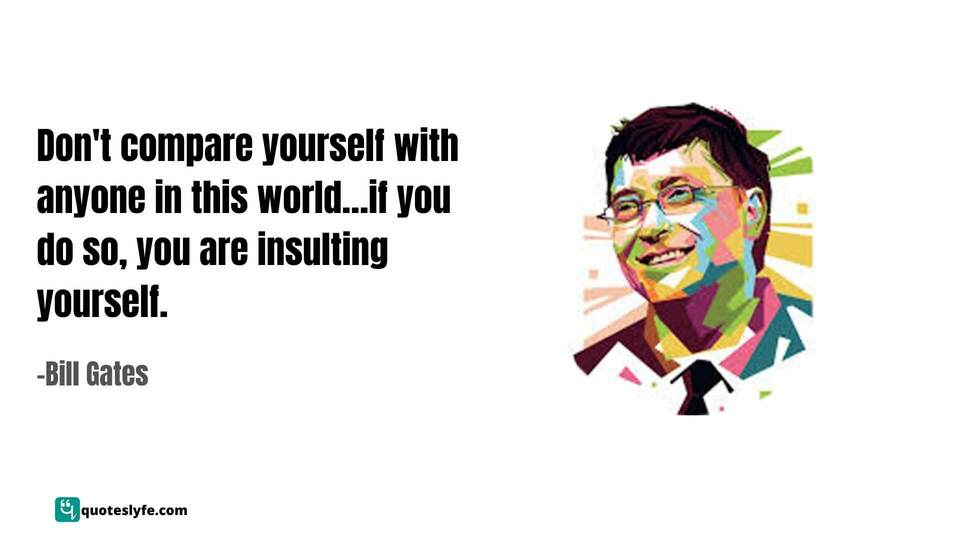 Treasure your uniqueness. Try to be a better version of yourself instead of aspiring to become someone else. Be kind to your self and practice self-love. If you are different from others, then probably because you were born for a different niche or purpose. Don't disregard that purpose because there are people who are counting on you to embrace your rare talents and skills and use it to bring good to the world. 
If you are born poor it's not your mistake, but if you die poor it's your mistake.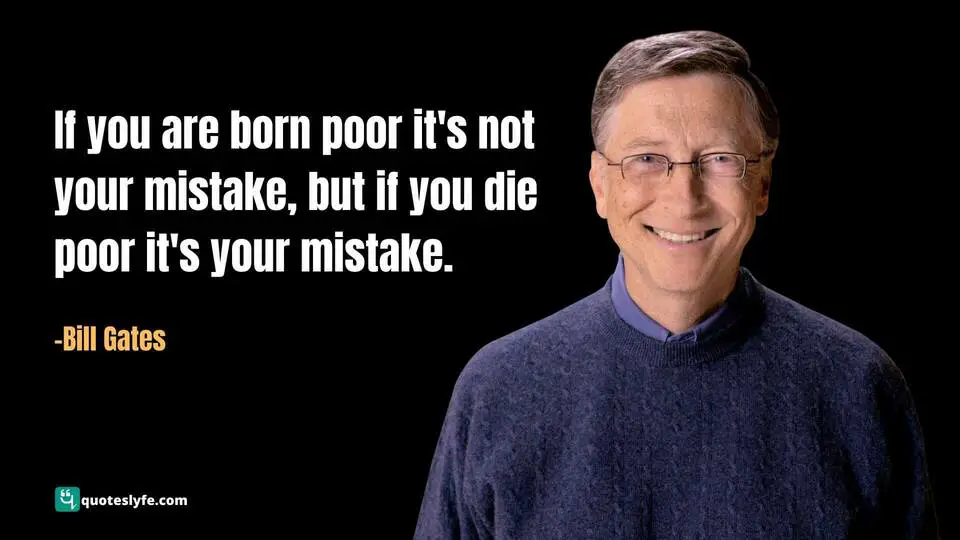 There are many things in our lives that we don't have any control over like the family we are born in. But there are many other things that we do have control over like choosing to work hard. Make the choices that will lead you to a happier, contented life. Just because you are born in a family that cannot make available all the resources for you doesn't mean you lost your shot at success. There are a thousand examples of how people with humble means rose to the top with sheer hard work and dedication.
It's fine to celebrate success but it is more important to heed the lessons of failure.
The important lessons in our lives are taught through failures when we are at our lowest. Don't get too disappointed and cynical else you will fail to learn these lessons. Acknowledging them is the only way that you will progress in life.
Treatment without prevention is simply unsustainable.
He has always been a big proponent of immunisation and donated billions of dollars to vaccines and other drugs to fight against diseases like AIDS. He believes there is no other long term solution to sicknesses like tuberculosis except vaccines. 
As we look ahead into the next century, leaders will be those who empower others.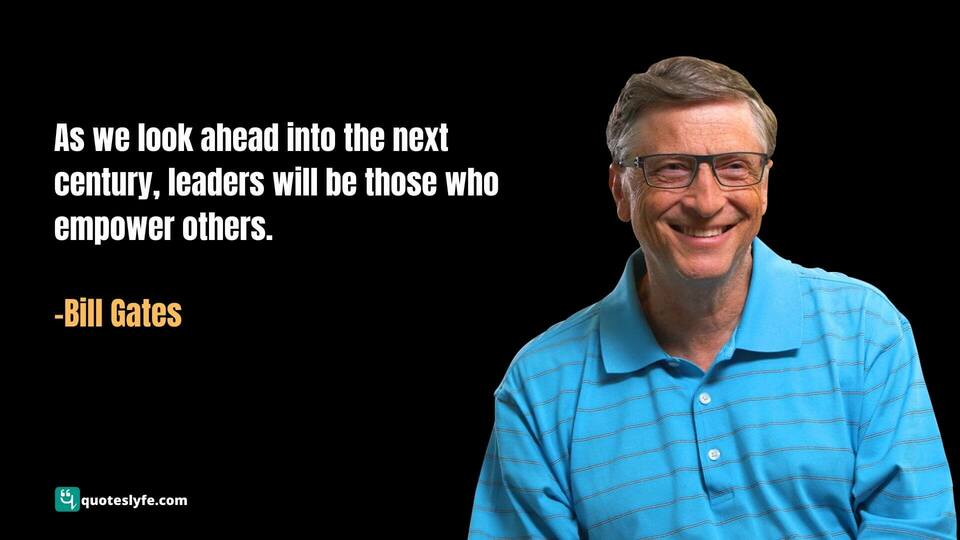 Today, when it comes to human resources, we see much disillusionment among employees. The jobs are stressful, not enough paying, or does not offer much professional growth. In the coming years, the business will realise the importance of a satisfied workforce. They will use business processes that not only help the company but also values its employees and provide them with a suitable place for their career development.
The general idea of the rich helping the poor, I think, is important.
He believed that there would be no sustainable development globally until poor sections of the society are uplifted. Supporting the development of these sections shouldn't be just an option for the rich. It should be imperative, their responsibility to work for the betterment of the people who lack enough resources to make a good life for themselves.
Legacy is a stupid thing! I don't want a legacy.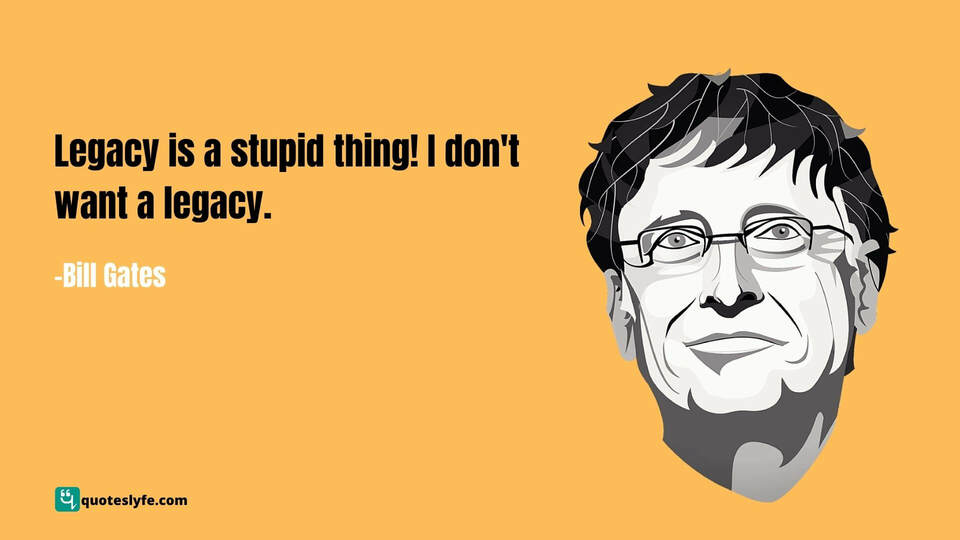 He doesn't believe in legacy and will leave only a 'minuscule' part of his total wealth to his kids. He says he will bequeath enough that his kids are properly educated, and that should be sufficient for them to make a career on their own. He wants his wealth and efforts to be able to reap empowered people and a healthy, educated society. 
The belief that the world is getting worse, that we can't solve extreme poverty and disease, isn't just mistaken. It is harmful.
Negativity and ominous beliefs are only going to paralyse us into inaction. We need to believe in a better future, one that is free of poverty and diseases. Only then we will work towards it.
Continue reading some more Bill Gates Quotes...
I really had a lot of dreams when I was a kid, and I think a great deal of that grew out of the fact that I had a chance to read a lot.
Most of the successful people harp on the importance of reading. Not only it informs us about the world but also help us come up with different ideas, new solutions to different problems and issues around us. It helps us broaden our view by taking in other's perception. 
In the long run, your human capital is your main base of competition. Your leading indicator of where you're going to be 20 years from now is how well you're doing in your education system.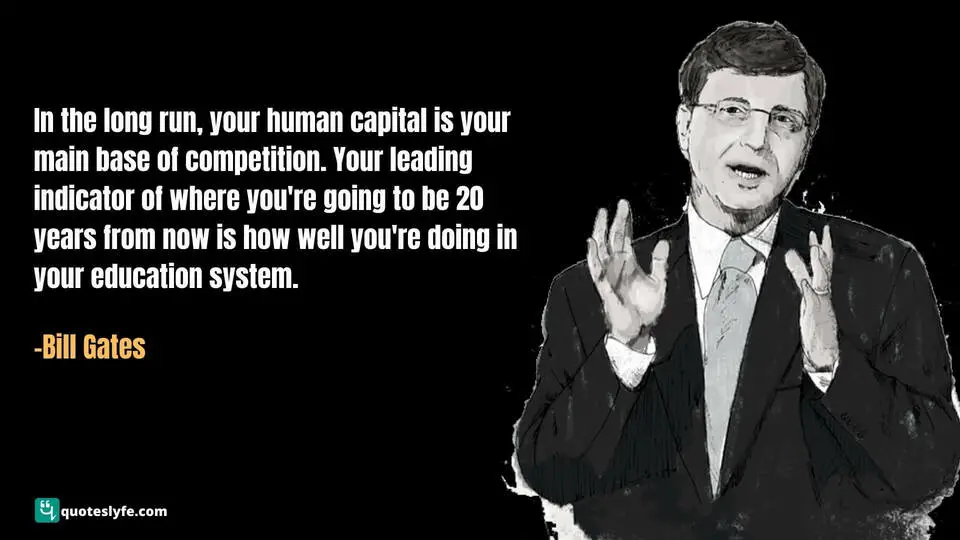 The future of a nation lies in its human capital, how much skilled, educated population it has. Only a well-educated population can build a great economy, which is required for the safety and stability of the country. 
Intellectual property has the shelf life of a banana.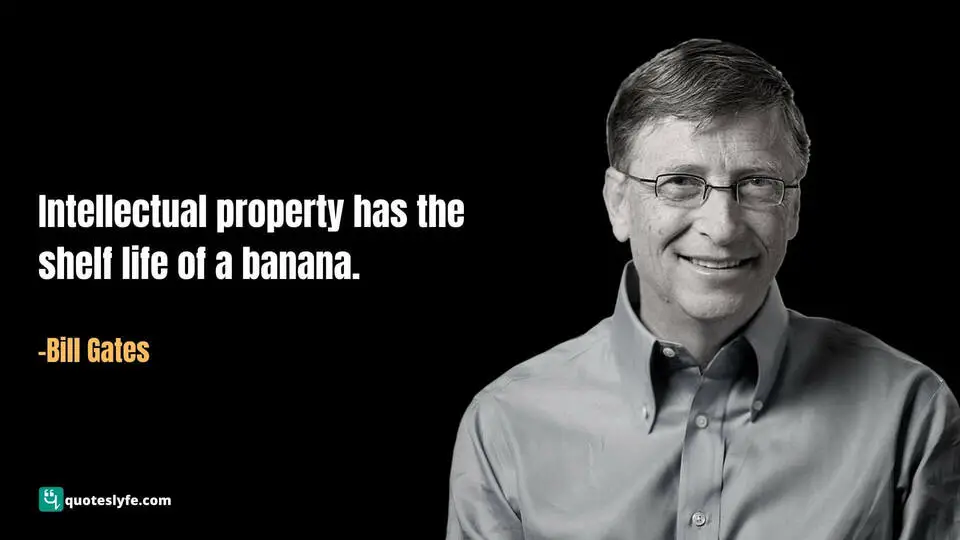 Intellectual property won't reap profits for the long run. Intellectual property is an idea which can easily be adopted and altered by others. So, to have a constant competitive advantage over other companies, you need to continuously keep on evolving your product and invest in new intellectual properties.
If I'd had some set idea of a finish line, don't you think I would have crossed it years ago?
Success is a process of evolution and constant improvement. You continuously set bars for yourself, reach it and then set it little higher, that's how we improve. You have to work every day and perform better than yesterday. If you stop at a predefined bar, you won't experience long-term improvement. 
Innovation is moving at a scarily fast pace.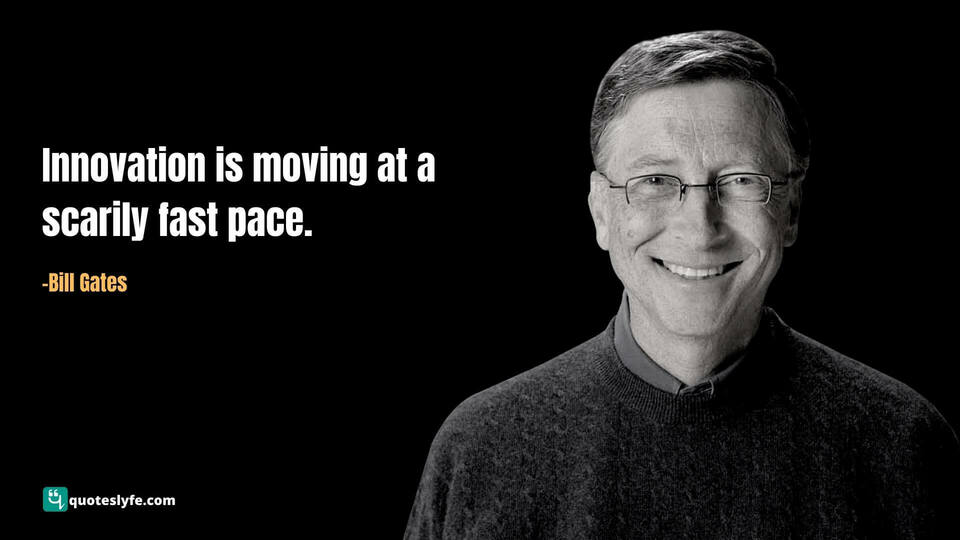 He tries to correct the people who believe that the world is not innovating fast enough. This is an answer to all the naysayers who believe that the course of inventions is very slow. He believes scholars, scientists and visionaries are introducing new ideas and technologies across the world at an alarming rate. So much so that we already see a few drawbacks of it. For example, due to technical advances, many industries are suffering and in turn, affecting our economy. One such industry being newspaper and printing press.
I think it makes sense to believe in God, but exactly what decision in your life you make differently because of it, I don't know.
He is saying that it doesn't matter if you believe in God or not; most of the things we choose in life are generally independent of this belief. Gates never truly accepted or refuted the existence of a supreme creator. He believes much of our notions and beliefs about religions arose due to the ignorance of our ancestors about things like science. And since we are more informed than them, we have chalked up many 'divine works' as simple principles of science. Still much remains in this universe that is awe-inspiring and forces us to believe in God. 
But he does believe that all of his life decisions were never based on his belief or disbelief in God.
However, there might some people who would disagree with it. Some strongly believe that faith in God can lead to better mental and emotional health. It can make you mentally stronger and help you be more confident in grabbing more opportunities.
Expectations are a form of first-class truth: If people believe it, it's true.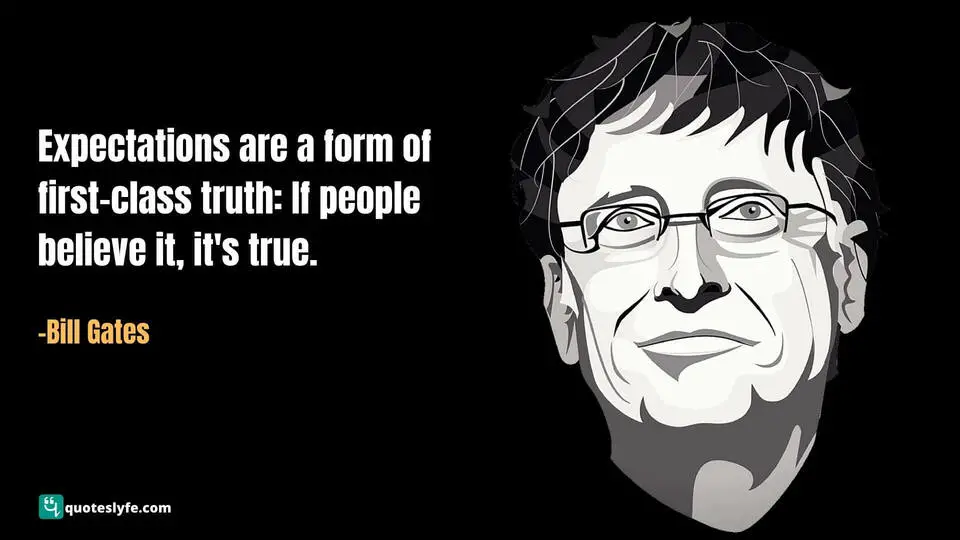 Most of the 'truths' are based on the deep-rooted beliefs we hold. People will go on believing something to be true simply because they expect so. They won't try to cross-examine and evaluate the facts. We should be aware of such expectations. 
Being flooded with information doesn't mean we have the right information or that we're in touch with the right people.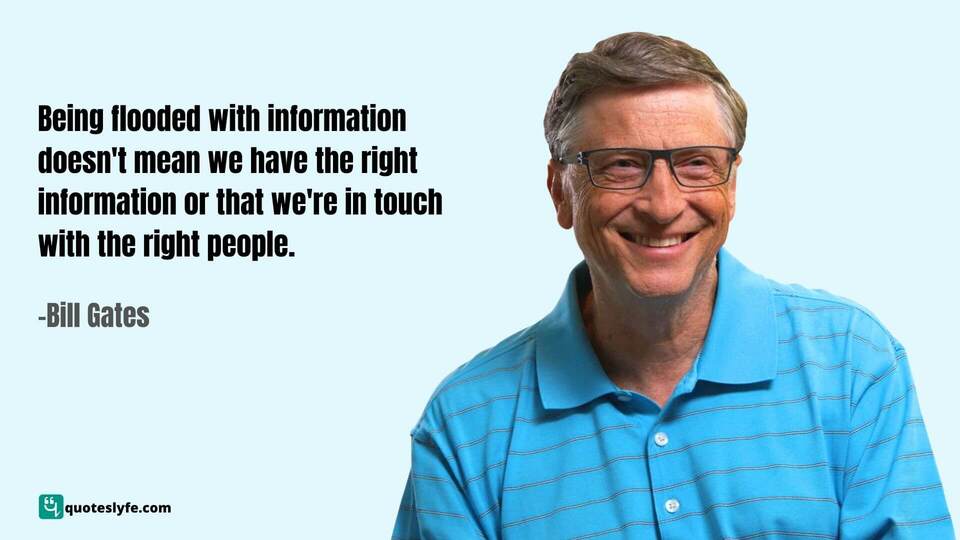 It is important to verify the source of your information since some of them are not reliable. Big businesses are created and demolished based on information. Even public opinion and belief system is made based on the information they are fed. So, it is important your sources are accurate, and you are surrounded by the right people who can help you with correct judgement. 
At Microsoft, there are lots of brilliant ideas but the image is that they all come from the top - I'm afraid that's not quite right.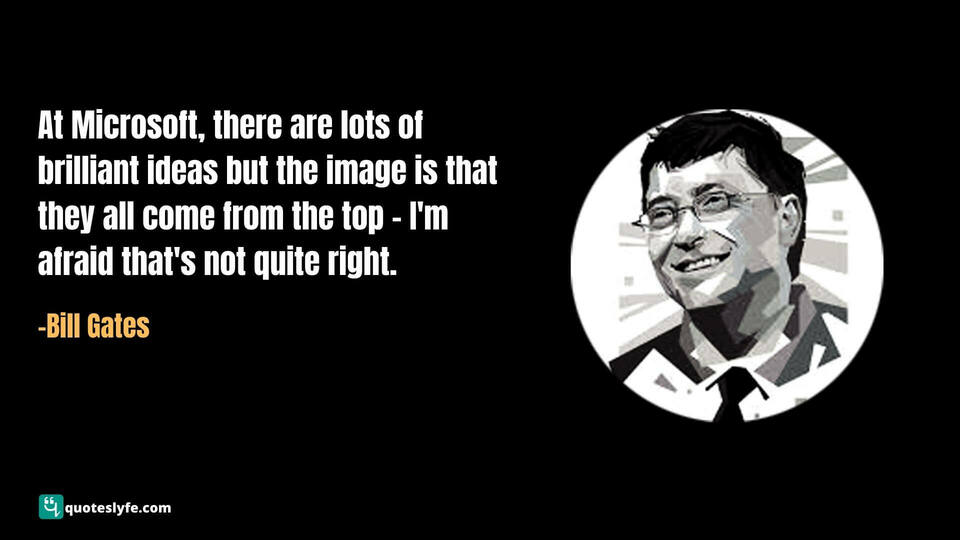 In a company, all level of employees should feel welcomed enough to put forth their ideas. He says in Microsoft, many believe that all good ideas come from him and other top management, which is not true. He credits his entire team who works with him, in generating new ideas and plans. He encourages the same in all workplaces. Even the lowest level of employees in the corporate hierarchical structure should feel welcomed enough to come forward if they have some good idea that can improve the business processes, especially since they are generally the ones who are aware of the ground realities and issues. 
Life is not fair to get, used to it!
Life is not always going to play by the rules. Sometimes it will try to cheat and defeat you by employing unfair means. Be ready for it. Don't expect things are always going to turn out as you planned. More often than not, unexpected setbacks will beset your path. Don't lose your faith in your purpose and yourself. Be prepared for the worst but don't let it cloud your spirits. 
Bill Gates Quotes On Technology
Let's investigate the Bill Gates quotes about technology to understand his point of view.:
The first rule of any technology used in a business is that automation applied to an efficient operation will magnify the efficiency. The second is that automation applied to an inefficient operation will magnify the inefficiency.

Measuring programming progress by lines of code is like measuring aircraft building progress by weight.

Life is Not Fair, Get Used to it.

DNA is like a computer program but far, far more advanced than any software ever created.

Technology is just a tool. In terms of getting the kids working together and motivating them, the teacher is the most important.

Information technology and business are becoming inextricably interwoven. I don't think anybody can talk meaningfully about one without the talking about the other.

Your most unhappy customers are your greatest source of learning.
Bill Gates Quotes On Success
Want to be successful in life?
Want to understand what's Bill Gates perspective about success? Then check these Bill gate quotes about success:
Patience is a Key Element of SUCCESS.Success is a Lousy Teacher. It Seduces Smart People into Thinking they Can't Lose.

I failed in some subjects in exam, but my friend passed in all. Now he is an engineer in Microsoft and I am the owner of Microsoft.

When you have money in hand, only you forget who are you. But when you do not have any money in your hand, the whole world forget who you are.It's life.

I never Took a Day off in my Twenties. Not Yet.

Airplane travel is nature's way of making you look like your passport photo.

If you are born poor it's not your mistake, But if you die poor it's your mistake.

Our success has really been based on partnerships from the very beginning.

I really had a lot of dreams when I was a kid, and I think a great deal of that grew out of the fact that I had a chance to read a lot.
Bill Gates Quotes On Leadership
Let's learn the lesson of leadership from these fantastic Bill Gates quotes about leadership:
We all need people who will give us feedback. That's how we improve.

If you think your teacher is tough, wait till you get a boss.

I am an Optimist, but I am an Impatient Optimist, the World is getting Better but it is not Getting Better fast Enough and It is not Getting Better for Everyone.

People always fear change. People feared electricity when it was invented, didn't they?

I Believe that if you show People the Problems and you Show them the Solutions they will be Moved to act.

I choose a lazy person to do a hard job. Because a lazy person will find an easy way to do it.

If You can't Make it Good at least Make it Look Good.

Of my mental cycles, I devote maybe 10% to business thinking. Business isn't that complicated. I wouldn't want that on my business card.

As we look ahead into the next century, leaders will be those who empower others.
Conclusion
In this article, we have read some of the best Bill Gates quotes on Success, Technology, Money, Leadership and Education with their meanings.
---
Co-author:  Shreya Arya
A digital marketing enthusiast with experience in HR and hospital management, Shreya has wide interests ranging from philosophy, psychology to latest trends in automation. She is also a freelance content writer and loves lending beautiful words to ideas and feelings.